Twenty years or so ago, a lot of people were still deeply suspicious of wine in a bottle with a metal screw cap.
Now most of us know better, recognizing the benefits of this sturdy and clean closure even on pricey wines.
Boxed wine is gaining consumer confidence, too, at least for picnic and casual enjoyment. Ane even the beer-bottle-style crown cap no longer surprises us on a light white wine or Prosecco.
Does all this change mean that it's time for us to take a fresh look at the idea of wine in a pop-top can?
Looking down Memory Lane, I remember reviewing a line of wine in small, single-serving cans back in the 1980s. At that point, canned wine was an idea whose time apparently had not come. I remember it with a marked lack of fondness, a white distinguished only by neutrality, and a red that came close to being actively vile.
But the times they are a'changing, and a surprising number of producers are mustering new canning technology – the same technology that has fostered a quick surge in canned artisanal beers – to put forward canned wines of surprisingly good quality. Earlier this year, Wine Enthusiast magazine published a favorable-to-glowing tasting report on 11 Canned Wines For A Thirsty Crowd, and found a lot to like. "The overall verdict," they concluded: "Yes, we can."
The other day in a good local wine shop, Old Town Wine and Spirits, I noticed a couple of wines in cans, attractively priced at $8.99 each, tucked away among the rows of more traditional glass bottles. Assured by the savvy proprietor, Gordo Jackson, that they were "solid," I brought them home, chilled them in the fridge for a couple of hours, and opened them with dinner.
Guess what? They're pretty good. A Central Coast Chardonnay and an Edna Valley Grüner Veltliner (yes, that's what I said), both labeled Alloy Wine Works from Paso Robles-based Field Recordings Wine, were credible and varietally correct, enjoyable with dinner if not so inspiring as to make you hear choirs of angels sing. That doesn't happen often, after all.
The back of the Chardonnay can briefly summarizes the producer's intent: "Alloy Wine Works is the perfect balance of inventive spirit and rural charm. In this can is pure craft wine. Not because we want to seem 'hip' or 'relevant,' but because we want to."
You'll find my tasting reports below. I'd buy them again.
Today's Sponsor:
Wine Grape Varietal Table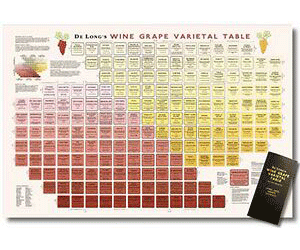 Steve and Deborah De Long's Wine Grape Varietal Table is one of the most innovative wine-enthusiast notions I've seen. It mimics the familiar periodic table of the elements to categorize a world of wine grape varieties. A wine reference disguised as a fine-art print, it's a great gift for a wine-loving friend – or yourself – and makes a fun wall display for cellar or study or tasting room. Click here to order now.
The De Longs also produce stunning, quality poster-size wine maps of France, Italy and other regions for $14.95 to $29.95. Click here to view and order any of the De Long wine maps.
Today's Tasting Reports
Alloy Wine Works (Field Recordings) 2015 Central Coast Chardonnay ($8.99/500ml can)
Clear straw color. Fresh scents of pears and green apples and yeasty rising bread dough lead into a tart and tangy and very slightly sweet flavor highlighting lemony citrus and, yes, pie crust, with meyer lemon hanging on in a very long, acidic finish with warm 14% alcohol. I would never have expected a wine this balanced and well-made to come from a can. It's not my favorite style of Chardonnay, but I'd score it well on points in wine judging. (June 29, 2017)
Alloy Wine Works (Field Recordings) 2016 "Hans Grüner" Edna Valley Grüner Veltliner ($8.99/375ml can)
This wine surprises me on two levels: It's a much better wine than I would have ever expected to find in a can, and it's a much better Grüner Veltliner than I would have ever expected to taste from a vineyard that's far from Austria. It's a clear, light brass-color wine, with fresh white-fruit and green herbal aromas that I expect from a good GV. The same goes for the flavor, which shows clean, crisp white fruit, snappy citrus and a distinct touch of stony minerality with a light 12.1% alcohol. Zippy lemon-lime persists in a very long finish. (June 29, 2017)
FOOD MATCH: Mild white fish or fresh oysters or clams would make a natural match with the "Hans Grüner", but its snappy acidity and balance make it a natural with a broad range of fare. The Alloy Chardonnay worked very well indeed with Italian sausage sauteed with green peppers and onions.
WHEN TO DRINK:
I'm not prepared to pontificate about aging potential for canned wines, but even with their surprising quality, I'm not going to suggest cellaring right now. The Chardonnay can briskly expresses the winery's intent that you buy it, open it, and drink it: "Enjoy by tonight, tomorrow and this weekend." We're sure it will last longer than that, though.
VALUE:
Remember that these cans are smaller than standard wine bottles. The 500 ml Chardonnay can is two-thirds of a bottle, placing it in competition with a $13.50 Chardonnay; it's certainly more than reasonable at that price point. The 375ml Grüner Veltliner can is one-half of a bottle, working out to an $18 full bottle, which again is competitive with a good everyday Grüner but not a fancy single-vineyard model. Both prices seem fair.
WEB LINK
These links will take you to the web pages for Alloy Wine Works with its canned wines, and Field Recordings, Alloy's parent company, which also has many other wine-making properties.
FIND THESE WINES ONLINE:
Click here to review vendors and prices for all of Field Recordings' wines including the Alloy Wine Works cans.
Alloy Wine Works sells its wines directly to the consumer in four-packs.
Wine Forum and Social Media
If you have questions, comments or ideas to share about today's article or wine in general, you're always welcome to drop by our online WineLovers Discussion Group, the Internet's first and most civil online community.
Discussions are open for public viewing, but you must register to post. If you're a Facebook user, you can join our forum with a single click! All you need to do is visit the forum and click "Social Login" at upper right.
We'd also be delighted to have you "Like" our WineLovers Facebook Page. This way you can get Facebook notifications when there's a new The 30 Second Wine Advisor issue or a topic of particular interest on the WineLovers Discussion Group (WLDG).
Subscriptions and Administrivia
Unsubscribe:
We're sorry if you must leave us, but simply click the "unsubscribe" link at the bottom of your Email edition to be instantly removed from the mailing list.
Change address:
The quickest and easiest way to change your email address is simply to unsubscribe from your old address and register again from the new one: Subscribe to The 30 Second Wine Advisor (free).
Read 18 years of past articles in the Wine Advisor Archives.
Sponsorship Opportunities:
For information, email Robin Garr at wine@wineloverspage.com