Wind power may seem like a modern source of alternative energy, with neat rows of whirling modern turbines generating clean, bountiful power from an unending resource. But wind power may also have been among humankind's first efforts to harness nature: Sails were in use 7,000 years ago; windmills date back maybe 2,500 years.
And what, you might ask, does this have to do with wine?
Simple! A surprising number of vineyards and wine regions – including some very favored vines – have a traditional connection with windmills. It's a connection that shows up in wine names, regional names, and – often with the image of a traditional windmill – on the labels.
Does the presence of a historic windmill affect the nature or quality of the wine? I'm going to say no. But in a world with as much devotion to tradition as fine wine, I wouldn't discount the value of history and institutional memory as trace elements in our enjoyment.
Head down an internet rabbit hole and you'll quickly find windmill-named wines all over the world. Just to name a few, listed alphabetically, there's:
• Brown Brothers The Windmill in Southeastern Australia
• Bunkers Windmills in the Margaret River region of Western Australia
• Duck Walk Vineyard's Windmill wines from New York's Long Island
• Michael David Winery Windmill Estates in Lodi, California
• The Windmill Project in Israel
• Windmeul Kelder Cellar in Paarl, South Africa
• Windmill and Old Well Wines in Belgium
And, of course, just about any French wine with "Moulin" ("mill") on the label is likely signaling its connection with a windmill.
Which brings us to this week's featured wine and perhaps my favorite windmill-related wine region of all and the subject of today's tasting: Moulin-à-Vent, one of the best of the many excellent named villages in Beaujolais.
These are Beaujolais sites so elevated that they don't even bear the name Beaujolais on the label. This is not a matter of shame but pride: The wines made in 10 of the Beaujolais region's most favored villages – the Crus of Beaujolais – have earned the right, through centuries of high quality, to use the village name in place of the generic regional name on the label.
Like all Beaujolais, these Cru wines are made from the Gamay grape. But thanks to the quality of their fruit and, perhaps, the weight of tradition, Cru Beaujolais can show intriguing complexity and, at best, the capability to evolve and get even better in a temperature-controlled cellar.
The Cru villages occupy the northern half of the Beaujolais region. From south to north, rising into more hilly vineyards along the way, they are Côte de Brouilly, Brouilly, Régnié, Morgon, Chiroubles, Fleurie, Moulin-à-Vent, Chénas, Juliénas and Saint-Amour.
I like them all, but my favorites, based on a tendency toward complexity, balance, and full-bodied flavor, are Brouilly, Côte de Brouilly, Morgon, and of course, Moulin-à-Vent.
Today's tasting, Maison L'Envoye Moulin-à-Vent 'Terre de Thé, is exceptional. Its flavor, complexity, and apparent capability for cellaring, make it a keeper. I like it a lot, and I think you will, too.
By the way, if that headline has you humming Gogi Grant's 1956 hit or one of its many covers, here's a link for your enjoyment: "The Wayward Wind."
Today's Tasting Report
Maison l'Envoyé 2020 Moulin-à-Vent "Terre de Thé" ($19.99)
Maison L'Envoye Moulin-à-Vent 'Terre de Thé" shows a beautiful dark purplish color in the glass, with bright ruby glints against the light. Aromas of delicious red cherry and black plum fill the nose and spill over into a fresh, medium-bodied flavor framed by mouth-watering acidity and soft, palatable tannins. Bright cherry fruit and a subtle impression of chalky minerality linger on the palate with a whiff of spice in in a clean, lingering finish. 13.5% alcohol. U.S. importer: Old Bridge Cellars, Napa, Calif. (May 24, 2023)
FOOD MATCH: The kinship of Beaujolais with Burgundy begins to show as versatile food-friendliness in these top bottles from named villages. The Moulin-à-Vent page on the Beaujolais.com website suggests pairing good Moulin-à-Vent wines with rabbit in mustard sauce, veal kidneys or stuffed turkey, adding that veggie lovers will enjoy them with eggplant, whether in lasagna, au gratin, cake or fritters. We enjoyed it with a hearty Italian-American bean-and-tomato stew bulked up with Beyond Steak Tips and spiced with Calabrian chile peppers.
WHEN TO DRINK: These bigger, brawnier Beaujolais, particularly from hillside vineyards in the north of the region like Moulin-à-Vent, can benefit from cellaring. The producer suggests drinking it between now and 2027.
VALUE:
My local price matches Wine-Searcher.com's $21 average U.S. retail. This excellent wine is a good bargain near or even several dollars above this price point.
WEB LINK:
The back label QR code leads to this informative fact sheet in English on the Maison l'Envoyé page.
FIND THIS WINE ONLINE:
Check prices and find vendors for Maison L'Envoye Moulin-à-Vent "Terre de Thé" on Wine-Searcher.com.
Learn more about Moulin-à-Vent and browse dozens of wines from the region at this Wine-Searcher link.
Follow this Wine-Searcher link to read about the Gamay grape and fine links to scores of wines made with this variety.
Wine Focus May 2023 – Benchmarks of Gamay
Along with Tempranillo, Gamay seems to be one of the only major red grapes that has not established an alternative benchmark outside of its home base. Yes there are delicious exceptions (Edmund St. John, anyone?), but for the most part, Gamay equals Beaujolais.
For the month of gaMay, let's explore that benchmark, and see if there are emerging benchmarks in other parts of the world. Bring your wine notes, your comments, and your questions to Wine Focus for May 2023 – Benchmarks of Gamay.
Find the wines you want
Explore Wine-Searcher
Wine-Searcher.com is the place to go online if you want to find where to buy a particular wine that interests you. What's more, Wine-Searcher.com offers so much more. It's well worth a visit just to discover its many features, including its popular list of the world's Top 10 Best Value Wines.
Another way to support The Wine Advisor:
"Buy me a glass of wine"
Hi, everyone! As many of you know, I don't accept free wine or other gratuities from the industry, so small donations and a select group of carefully chosen advertisers make this publication possible. Now you can lend a hand directly and cheaply: Buy me a glass of wine for just $5 to chip in on our expenses. Every ten contributions adds up to $50, enough to buy wine for review in at least two editions of The 30 Second Wine Advisor. Click to learn more!
Good wines we've tried under $10.99!
Want tips to still more good, inexpensive wines? Here are Wine-Searcher links to vendors and prices for a bunch more wines for $10.99 or less that I've told you about in recent years. In some cases the prices may have risen over the $10.99 mark since I reviewed them, but they should still be excellent bargains. Please tell us about your favorites!
Sponsor the Wine Advisor.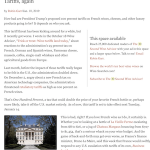 We appreciate your support
Support The 30 Second Wine Advisor and help us pay the rent while reaching 25,000 dedicated readers with your sponsorship message in this space, at the top of this E-letter, and on our social media. If you're an established business in wine, food, and similar ventures, there's no better way to focus your message toward an audience that comes here for just those topics. See our Sponsorship Page, or email Robin Garr for more information.
Wine Forum and Social Media
If you have questions, comments or ideas to share about today's article or wine in general, you're always welcome to drop by our online WineLovers Discussion Group, the Internet's first and most civil online community. Discussions are open for public viewing, but you must register to post. To request registration, please contact me at wine@wineloverspage.com, tell me your name, mention the Wine Advisor, and briefly say why you'd like to participate in the forum. Sorry about the minor red tape, but this is our simple, low-tech way to deter spammers and bots.
We'd also be delighted to have you visit and "like" our WineLovers Facebook Page. This way you can get Facebook notifications when there's a new The 30 Second Wine Advisor issue or a topic of particular interest on the WineLovers Discussion Group (WLDG).