© by Neil Duarte
Tuscany is famous to lovers of Italian wine for a number of superb red wines including Brunello di Montalcino, Chianti Classico and Vino Nobile di Montepulciano, all of which are produced in the inland portions of the region from just north of Siena southward to the towns of Montalcino and Montepulciano. However, if you only know this area, you have missed another very beautiful part of Tuscany located to the southwest of this area that also produces a number of excellent wines.
In the province of Grosseto which borders the Mediterranean Sea lie the hills that surround the town of Scansano. Grosseto, which is better known as the home of Italy's cattle ranches and cowboys, now also produces a number of both white and red wines of note. One of the wineries that is emerging as a quality producer in this area is Cantina Vignaioli del Morelino di Scansano, located just west of the town of Scansano. The winery, started in 1972, is a cooperative of approximately 150 growers whose vineyards are located in the hills surrounding the town of Scansano. From the 500 hectares farmed by its members, Cantina del Morelino produces approximately 2.5 million bottles of wine each year. Two different lines of wine are offered, one targeting the supermarket buyers and the other aimed at fine wine stores.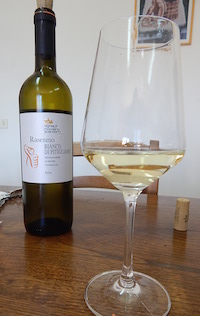 Our visit in late September began with a tour of the production facilities which were very busy with the delivery of grapes from various members' harvests. Mr. Sergio Bucci, the Marketing Director of the winery, conducted the tour and explained the operation of the winery. Grapes delivered by individual members are tested on the spot on a number of quality indices on which payment is based. After completion of testing the grapes are accepted and moved into various areas for pressing and further processing.
After our tour we moved into the tasting room and began to sample Cantina del Morelino's higher level wines. We started with a 2013 DOC Bianco di Pitigliano "Rasenno", a white blend of 80% Trebbiano, 10% Malvasia, 5% Sauvignon Blanc and 5% Chardonnay. After cold pressing, fermentation takes place at 16°C in stainless steel tanks. It is aged on the lees for three months. The result is a wine that is very pale yellow in color, has a light fruit nose and finishes early. The Rasenno is a wine to be drunk when young and best in warm climates. Recommended serving temperature is 10-12°C (50-54°C). I rated this wine an 85.
Our second white wine was a 2013 IGT Vermentino Toscano, a blend of 95% Vermentino and 5% Sauvignon Blanc. The Vermentino followed the same pressing and aging as the Rasenno in stainless steel tanks. The wine was a pale yellow in color with a very light nose. It finished medium long and pleasantly smooth. Another wine to be served at 10-12°C and drunk when young (less than two years), I rated this very good example of a Vermentino an 89.
Now we moved to the red wines. Our initial red was a 2013 IGT Scantianum, a 13% alcohol blend of 85% Sangiovese, 5% Cabernet Sauvignon, 5% Merlot and 5% Syrah. Vinification is at a max temperature of 27°C with maceration on the skins for four days. Then the wine is drawn off and no further contact with the skins occurs. Aging is in stainless steel with the lees for three months. The result was a wine of garnet color with a nice fruity nose. The finish was light but smooth. This young wine is meant to be drunk within two years of bottling and I rated it an 87. It will not overpower any pasta or light meat dish and should be served at 16°C (61°F).
Next we tried a 2013 DOC Maremma Toscana "Capoccia", a blend of 85% Cillegiolo and 15% Alicante. After pressing the grapes receive hot maceration (35°C) for twelve hours followed by fermentation at 27°C. The wine is drawn off the skins after four days and malolactic fermentation is completed on the lees. The Capoccia is aged in stainless steel for three months followed by at least three months in the bottle. The resulting wine was garnet in color with a fruit and flower nose. Its finish was medium and I rated this wine an 88. It is another wine to be drunk within two years and should be served at 16°C.
Barolo Boys
I recently watched the short (64-minute) film "Barolo Boys" by Paolo Casalis and Tiziano Gaia. This film recounts the revolution of a group of young producers in the Langhe Valley in the 1980s which resulted in the change of methodology in the production of Barolo wine and its subsequent rise to become one of the best known and appreciated wines in the world. The movie features interviews with the rebellious young producers as well as the old guard who opposed them. If you are interested in Italian wine history, this is a worthwhile movie. You can learn more at www.baroloboysthemovie.com
Our third red wine was a 2013 DOCG Morelino di Scansano "Vin del Fattore", a 13.5% alcohol blend of 95% Sangiovese and 5% Alicante. The maceration and fermentation was the same as the Capoccia with the addition of two weeks skin contact for deeper color extraction. Aging is for three months in stainless steel followed by an additional six months in the bottle. The wine was a deep garnet in color with a light fruit nose. The finish was long and smooth and I rated this excellent example of a Morelino di Scansano a 90/91. It will be even better in one or two more years. The Vin del Fattore should be served at 16-18°C.
Red wine no. 4 was a 2012 DOCG Morelino di Scansano "Vignabenefizio", 13.5% alcohol blend of 95% Sangiovese and 5% Cabernet Sauvignon from higher altitude vineyards. This wine follows the same general maceration and fermentation as the Vin del Fattore but the aging of this wine includes six months in French oak barriques followed by at least three months in the bottle. The result was a wine with a deep garnet color and a good nose and a medium long and very smooth finish. I rated this excellent wine a 92.
The final wine was a 2009 DOCG Riserva Morelino di Scansano "Sicomoro", a 14% alcohol 100% Sangiovese made from 40 year old vines. Maceration and fermentation follow the same general scheme as the Vignabenefizzio. Aging is accomplished in French oak barriques for eighteen months followed by thirteen months in the bottle. This wine was deep ruby red in color with a nose of spice and leather. This superb wine finished long and very smooth and I rated it a 93.
Following our tasting Signor Bucci treated us to lunch with the workers in the company dining room which was an excellent opportunity to meet the staff and discuss their excellent wines. I thank Signor Bucci for the great hospitality he showed us during our visit and I highly recommend the wines of Cantina del Morelino. Flat Creek Enterprises LLC in Marble Falls, TX will soon begin to import several of these wines.
March, 2015