Let's keep this simple and to the point: Go, look for some Château Pégau Cuvée Lône Côtes-du-Rhône, and when you find it, buy it.
If you love rich and textured white wines with clean and fresh fruit aromatics, I think you will love this wine. On the other hand, if you're a red-wine fancier who thinks you don't care much for whites, you ought to try it anyway. The experience might just change your attitude.
You may, by the way, be familiar with Domaine Pegau, a Châteauneuf-du-Pape producer that's developed a good reputation since its founding in 1987. Pay close attention to the moniker: This is Chateau Pegau, the former Domaine de la Jouve in Sorgues, just outside the CdP appellation.
Laurence Feraud, the daughter and longtime wine-making partner of Domaine Pegau's founder Paul Feraud, purchased the property – purportedly in "run-down" condition – renamed it and renovated it starting in 2012. It's all the same family, using a similar name and label, with a deeply connected tradition, but it's father and daughter operating separate wineries.
Chateau Pegau's wines are not Chateauneuf-du-Pape, they are Côtes-du-Rhône, and priced affordably by that standard. However, under Laurence Feraud's direction, vineyard yields are intentionally kept low, at the strict levels required for Chateauneuf, and this results in rich, complex wines of great value. Look for Cuvée Lône Côtes-du-Rhône white, Cuvée Maclura Côtes-du-Rhône red, Cuvée Setier Côtes-du-Rhône Villages red, and "Pink Pegau" Côtes-du-Rhône rosé. I think you'll find all excellent wines of good value.
Start with the Cuvée Lône white, though. You won't be sorry.
Today's Sponsor:
A Wedding Gift that Sparkles!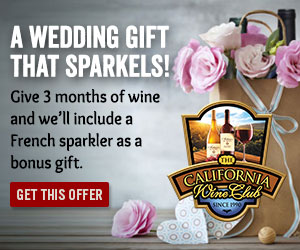 Treat newlyweds to delicious deliveries of award-winning, handcrafted California wines from The California Wine Club.
Give three delicious months of wine and they'll include these bonus gifts in their first shipment:
• A bottle of $30 French sparkling wine.
• Their 25th Anniversary Wine and Recipe guide, full of wine tips and recipes, perfect for newlyweds.
• A $25 wine credit
Minimum 3-month gift purchase is required to qualify for gift bottle. Offer cannot be combined with any other offer or promotion nor applied to previously placed orders.  Offer good while supplies last. Offer expires Dec, 31, 2015.
1-800-777-4443 www.cawineclub.com
Today's Tasting Report
Château Pégau 2013 Cuvée Lône Côtes-du-Rhône ($18.99)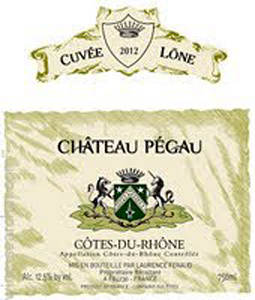 Clear, rather rich straw color. Appealing on the nose and palate, a blend of white fruit and a hint of something that reminds me of beeswax in the aroma, carrying over on the palate with good fruit – pears and green figs, maybe – with good texture, medium-bodied or a bit more so, kept in shape with tart, mouth-watering acidity. The claimed 12.5% alcohol seems surprising, as it feels a bit higher-proof, in a good way. Grown in Sorgues, near Châteauneuf-du-Pape, by the daughter of the founder of Domaine Pegau, it's a typical Southern Rhône white blend of Clairette (40%), Bourboulenc (30%), Grenache Blanc (20%) and Ugni Blanc (10%), made with no oak and no malolactic fermentation. U.S. importer: Hand Picked Selections, Warrenton, Va. (July 12, 2015)
FOOD MATCH: This rich white wine would make a fine match with saltwater fish or richer shellfish, or grilled or roast poultry or pork; it sings with dishes made with aromatic herbs, as well as a range of hearty plant-based dishes. It was fine with a simple summer pasta of spaghetti tossed with butter, a little garlic, and minced fresh sage.
WHEN TO DRINK: It's drinking beautifully now, and the winery recommends drinking it up within a year. I've found that some richer-style Southern Rhône whites can evolve in interesting ways with a few years in a good cellar, but I wouldn't put a large investment into testing this.
VALUE: Very good wine, a good value at this price, which seems in line with U.S. retail prices listed at Wine-Searcher.com.
WEB LINKS Importer Hand Picked Selections' fact sheet provides basic information about this wine.
The Pegau page is available in French, English, Spanish and Chinese. Here's a link to a Cuvée Lône fact sheet in English.
FIND THIS WINE ONLINE:
Compare prices and find vendors for Château Pégau Cuvée Lône Côtes-du-Rhône on Wine-Searcher.com.
U.S. wine lovers can also find local vendors and regional distributors by clicking this map on the importer's page.
We hope you'll "Like" us on Facebook!
If you use Facebook, we'd be delighted to have you "Like" our WineLovers Facebook Page. This way you can get Facebook notifications when there's a new The 30 Second Wine Advisor issue or a topic of particular interest on the WineLovers Discussion Group (WLDG).
If you're a Facebook user, you can also now join our forum with a single click! All you need to do is visit the forum and click the "Social Login" link at upper right.
Talk About Wine Online
If you have questions, comments or ideas to share about today's article or wine in general, you're always welcome to drop by our online WineLovers Discussion Group, the Internet's first and still the most civil online community. To find our forums, click:
Discussions are open for public viewing, but you must register to post. If you're a Facebook user, you can also now join our forum with a single click! All you need to do is visit the forum and click the "Social Login" link at upper right.
We use only your name and Email to identify you and make no other claim on your Facebook information or privacy. However, if you prefer not to use Facebook, contact me at wine@wineloverspage.com for information about registration.
Subscriptions and Administrivia

Unsubscribe:
We're sorry if you must leave us, but simply click the "unsubscribe" link at the bottom of your Email edition to be instantly removed from the mailing list.
Change address:
The quickest and easiest way to change your Email address is simply to register anew, using the link below. If you are keeping your old address but no longer wish to get the Wine Advisor there, click the unsubscribe link below to take it off our list; if you are closing the mailbox, you needn't take any action, as our system will delete your old address as soon as the mail to your old address starts to "bounce."
Subscribe to this weekly E-letter (free)
WineLoversPage.com RSS Feed (free):
http://feeds.feedburner.com/wineloverspage/tzva
Sponsorship Opportunities:
For information, E-mail wine@wineloverspage.com