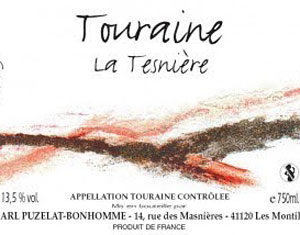 Very dark ruby, as dark red as fruit juice. Intriguing floral scents of old roses and violets, plus a hint of something like concentrated cherry syrup and a whiff of white pepper on the nose. Consistent on the palate, tart red fruit with complex nuances, good acidity and appropriate tannic astringency, Pinot character and an intriguing hint of stony minerality: dry and long with dark cherries and roses in the finish, a food-friendly 12.5% alcohol. U.S. importer: LDM Wines, NYC, Louis/Dressner Selections. (Tasted twice: Feb. 18, 2015, and Nov. 28, 2014)
FOOD MATCH: This versatile wine goes well with a range of flavors across red and white meat, poultry and cheese, but its subtle complexity calls for interesting, complex flavors. We enjoyed it on the first tasting with a thick mushroom and onion ragù with pistachios over fettuccine. The second tasting, on a cold, wintry night, called for an old-fashioned red-wine-scented beef stew in the style of daube de boeuf de ma grand-mère.
WHEN TO DRINK: I don't see this as a long-term ager, but there's no need to hurry to drink it; and given Pinot Noir's good but unpredictable cellar-worthiness, it could be an interesting experiment to cellar one under good conditions for five years or so, just to see what happens. Don't count on it for investment value, though!
VALUE: Good Pinot is rarely cheap; by that standard, I'll grab this fine wine in the lower $20s without asking questions.
WEB LINKS Here is importer Louis/Dressner's essay on the Puzelats at Clos du Tue-Boeuf. You might also enjoy British wine writer Jamie Goode's article on his blog, The Wine Anorak.
The Puzelats' Clos du Tue Boeuf website is here (French only). .
FIND THIS WINE ONLINE:
This specific wine is going to be difficult to find. It is produced in tiny quantities and sells out fast. However, You can use this link to find sources and prices for Puzelat's wines in general on Wine-Searcher.com. To browse the wines of Clos du Tue-Boeuf, click this Wine-Searcher.com link.
Also, the good folks at Chambers Street Wines are my No. 1 source for Puzelat and other interesting, offbeat wines of the Loire. Click this link to contact Chambers Street, and seek their advice on this and similar wines that you'll enjoy. Click here if you'd like to browse their entire current Loire selection .