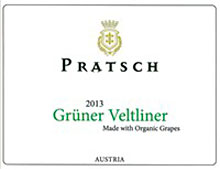 Sold in a 1-liter bottle with a metal screw cap, this clear, straw color wine is made with organic grapes. Good, simple scents of white fruit and subtle wildflowers lead into a tart, briskly acidic flavor focused on a blend of citrus – lime, maybe, and a whiff of tangerine – with tart green apple and a subtle back note of that "rainwater over rocks" minerality that's desirable in Austrian whites. Zippy acidity and balanced flavors combine with modest 12% alcohol to make it a very good food wine. U.S. importer: Winesellers Ltd., Niles, Ill. (Aug. 12, 2015)
FOOD MATCH: While its traditional partner is firm, freshwater fish, it's also a joy to have on hand during summer, with fine local veggies abundant from the garden and farmers' markets. It was a delight with a savory dish of curried okra with chickpeas and tomatoes, inspired by this recipe from Epicurious.com.
WHEN TO DRINK: It won't kill it to keep in a cellar or on a wine rack in a cool place for a year or three, but it makes sense to drink up this clean, fresh wine young and move on each year to the current vintage.
VALUE: While it's a decent value in the middle teens for a full liter bottle, it may be worth shopping around, as Wine-Searcher.com shows an $11 median at U.S. retailers.
WEB LINKS The winery website is published in German and English Here's a link to Pratsch's wines in English. It's not yet updated for the 2014, but you can click through to read technical details of the 2013 Grüner Veltliner;
Importer WineSellers Ltd.'s web pages offer this basic info on the 2014 Grüner Veltliner. You can also click links from this page to download more detailed fact sheets.
FIND THIS WINE ONLINE:
Find vendors and check prices for Pratsch Grüner Veltliner on Wine-Searcher.com.
Importer WineSellers Ltc. also offers this handy form to request information on local vendors.