It's midsummer, and despite a brief mild break this week, it's too hot and humid for comfort, and likely to stay that way around here for another month or two. Ugh.
But here's the good part about high summer: It's also the time of year when I can walk out the kitchen door and grab a ripe tomato right off the vine. Eggplant? Check! Green peppers? Got 'em right here! Okra? You bet! Some days we make our entire dinner right out of the garden; and what it can't supply, our wealth of local farmers' markets can fill in the gaps, from zucchini and summer squash to beets, broccoli, fresh peaches right off the tree.
Okay, great. Summer's harvest is healthy and good. But what does all this have to do with wine?
Well, therein lies a tale. For many years, I argued – and even taught – that table wine simply has to be paird with meat, poultry or fish. "They grew up together," I bloviated. "Wine evolved in regions where meat was culturally placed at the center of the table. Wine was made to go with meat, not rabbit food!
Somewhere around the turn of the millennium, I wrote, "Frankly, it's hard to be a serious wine lover and shun meat. The joy of a perfect match between a fine red wine and a rare steak or juicy leg of lamb, the delicious marriage between a first-rate white and a fresh fillet of fish … these things are simply too good to give up lightly."
But then, something funny happened – or maybe a couple of possibly related funny things did. Like many in my generation, as middle age slouched on past and gray hairs started popping up around that young man's face in the mirror, it suddenly occurred to me that it might be wise to consider the health as well as the flavor of the food that I put in my mouth.
Could eating well, with more veggies and a lot less meat, protect this Baby Boomer's health and perhaps extend my useful years? I know there are no guarantees, but it seemed worth thinking about.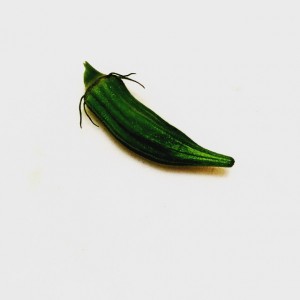 Okayfine.
But considering my own advice about tne necessity of pairing wine with tasty meat, how could I fit such a lifestyle change in with good wine? Necessity, as they say, is the mother of invention, and based on both curiosity and desire, I've put a lot of time and energy into trying to find out the old-fashioned way: Trying ideas and keeping track of the ones that work.
I'll save the details for another day. Let me know if you'd like to read more about this. Briefly told, though, I suggest starting with a few key building blocks:
Bold food flavors match bold wine flavors. Want to build your dinner up to wine, even a gutsy red? Take advantage of the Maillard reaction, the delicious flavor changes that occur when food is browned in a hot skillet. It's not just the sweetness of caramelization, although there is that, but deeper flavor changes that occur with browning and make the food sing with wine.
Match wine and food flavors, just as we do with meat and wine. Red wines tend to favor the earthy flavors of bean and lentil dishes, browned onions or, as noted, veggies browned in a skillet; green vegetables in general seem to favor the relatively light and crisp flavors of whites, but don't be afraid to try a lighter red. Chianti, for example, in addition to its famous affinity for tomatoes, is a regional natural with pesto and other veggie dishes kicked up with basil.
Get specific and remember what works, and shun stereotypes. Onions and garlic are naturally sweet, and Chardonnay often pairs well with dishes that feature these flavors. Ditto sweet potato dishes, for the same reason. Slabs of eggplant grilled golden-brown and slathered with a rich mushroom sauce can work as well as a juicy steak with better reds. Rosé wines can make remarkably versatile food partners. And, as generations of wine-and-cheese tasting suggest, cheese will bring just about any vegetable dish up to meet red, pink or white.
You'll often hear that asparagus, artichokes and eggs all "kill" wine flavors, but I've found the opposite to be the case. Light, tart Loire reds, Cotes-du-Rhones or Tuscan reds are mighty fine with an omelet or frittata. Sauvignon Blanc's citrus and "grassy" character steps right up to asparagus. And today's featured wine, Austrian Grüner Veltliner, also makes a graceful dance partner with asparagus or okra. Don't fear. Give it a try!
Today's Sponsor:
$1 Shipping Fall Wine Sale Starts Now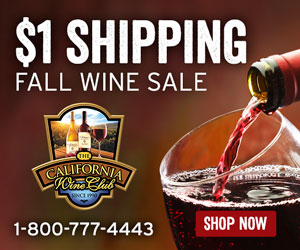 You are invited to shop for award-winning, limited-production wines during The California Wine Club's $1 Shipping Fall Wine Sale.
Stock up with 200+ wines on sale for as low as $9.99. Every wine is handcrafted and guaranteed to be delicious. Shop Now
About The California Wine Club:
California is home to thousands of small family wineries handcrafting extraordinary wine in quantities too limited to be found in local stores or shops. In 1990 wine club founders Bruce and Pam Boring discovered that these winemaking families were the most passionate in the wine world and that their wines were the hidden gems of wine country! Together Bruce and Pam embarked on a journey to help these artisan wineries introduce their exquisite wines to the world. Learn more.
www.cawineclub.com 1-800-777-4443
Today's Tasting Report
Pratsch 2014 Niederösterreich Grüner Veltliner ($14.99/1 liter)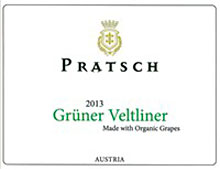 Sold in a 1-liter bottle with a metal screw cap, this clear, straw color wine is made with organic grapes. Good, simple scents of white fruit and subtle wildflowers lead into a tart, briskly acidic flavor focused on a blend of citrus – lime, maybe, and a whiff of tangerine – with tart green apple and a subtle back note of that "rainwater over rocks" minerality that's desirable in Austrian whites. Zippy acidity and balanced flavors combine with modest 12% alcohol to make it a very good food wine. U.S. importer: Winesellers Ltd., Niles, Ill. (Aug. 12, 2015)
FOOD MATCH: While its traditional partner is firm, freshwater fish, it's also a joy to have on hand during summer, with fine local veggies abundant from the garden and farmers' markets. It was a delight with a savory dish of curried okra with chickpeas and tomatoes, inspired by this recipe from Epicurious.com.
WHEN TO DRINK: It won't kill it to keep in a cellar or on a wine rack in a cool place for a year or three, but it makes sense to drink up this clean, fresh wine young and move on each year to the current vintage.
VALUE: While it's a decent value in the middle teens for a full liter bottle, it may be worth shopping around, as Wine-Searcher.com shows an $11 median at U.S. retailers.
WEB LINKS The winery website is published in German and English Here's a link to Pratsch's wines in English. It's not yet updated for the 2014, but you can click through to read technical details of the 2013 Grüner Veltliner;
Importer WineSellers Ltd.'s web pages offer this basic info on the 2014 Grüner Veltliner. You can also click links from this page to download more detailed fact sheets.
FIND THIS WINE ONLINE:
Find vendors and check prices for Pratsch Grüner Veltliner on Wine-Searcher.com.
Importer WineSellers Ltc. also offers this handy form to request information on local vendors.
We hope you'll "Like" us on Facebook!
If you use Facebook, we'd be delighted to have you "Like" our WineLovers Facebook Page. This way you can get Facebook notifications when there's a new The 30 Second Wine Advisor issue or a topic of particular interest on the WineLovers Discussion Group (WLDG).
If you're a Facebook user, you can also now join our forum with a single click! All you need to do is visit the forum and click the "Social Login" link at upper right.
Talk About Wine Online
If you have questions, comments or ideas to share about today's article or wine in general, you're always welcome to drop by our online WineLovers Discussion Group, the Internet's first and still the most civil online community. To find our forums, click:
Discussions are open for public viewing, but you must register to post. If you're a Facebook user, you can also now join our forum with a single click! All you need to do is visit the forum and click the "Social Login" link at upper right.
We use only your name and Email to identify you and make no other claim on your Facebook information or privacy. However, if you prefer not to use Facebook, contact me at wine@wineloverspage.com for information about registration.
Subscriptions and Administrivia

Unsubscribe:
We're sorry if you must leave us, but simply click the "unsubscribe" link at the bottom of your Email edition to be instantly removed from the mailing list.
Change address:
The quickest and easiest way to change your Email address is simply to register anew, using the link below. If you are keeping your old address but no longer wish to get the Wine Advisor there, click the unsubscribe link below to take it off our list; if you are closing the mailbox, you needn't take any action, as our system will delete your old address as soon as the mail to your old address starts to "bounce."
Subscribe to this weekly E-letter (free)
WineLoversPage.com RSS Feed (free):
http://feeds.feedburner.com/wineloverspage/tzva
Sponsorship Opportunities:
For information, E-mail wine@wineloverspage.com