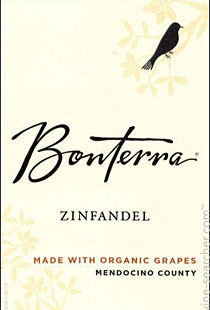 This clear, dark reddish-purple wine is made with organic grapes. Its Mendocino County fruit is blended with just a touch (5%) of Zin grapes from Amador County. Typical Zin aromas of blackberries and black plums lead into a fresh, simple but pleasing black-fruit flavor shaped by appropriate acidity and a soft touch of tannins. At 14.2% acidity it's hefty enough but relatively light by modern Zin standards, and benefits from that approach by sparing us the harsh heat that higher alcohol brings to some of its brethren. (Sept. 9, 2015)
FOOD MATCH: Zin's natural companion is red meat, simply prepared; it's a classic match for an excellent, juicy burger (served safely medium-rare, we hope, from locally grass-fed and pastured beef). We served it one evening with stuffed green peppers, then checked its versatility, enjoying the rest of the bottle the following day with an African peanut stew with okra, eggplant and tomatoes.
WHEN TO DRINK: It's drinking very nicely now and not likely to evolve significantly with cellar time; that said, though, it will certainly keep and remain pleasurable for several years under cool storage conditions.
VALUE: An excellent value at this mid-teens price, which matches Wine-Searcher.com's $14 U.S. retail median for Bonterra Zinfandel.
WEB LINKS Here's Bonterra's fact sheet for the 2011 Zinfandel; the website apparently has not been updated for the new vintage, but I wouldn't expect major vintage differences.
FIND THIS WINE ONLINE:
Compare prices and find sources for Bonterra Mendocino Zinfandel on Wine-Searcher.com.