Here's another rule that's made to be broken: "M'sieu, you must nevair drink wine with your salad!"
This one begs all manner of questions: What kind of salad? What's in it? And what kind of wine are you planning to open? I put on the snarky French accent not to make fun of the French, but because the old conventional wisdom is likely based on a simple, classic French palate-freshener: Crisp, tender lettuce gently tossed with a basic vinaigrette of olive oil and sharp wine vinegar.
You don't have to be a snooty sommelier to figure out why that won't work! Lettuce doesn't bring much to the wine-matching party, and ladling in the vinegar adds a sharp acidity that wars with the wine. Monsieur le Headwaiter got that one right.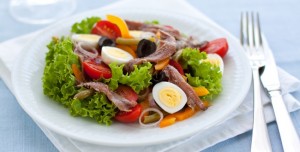 But where is it written that every salad has to be lettuce-in-vinaigrette? Nowhere in my book! Start tinkering with the ingredients, and it's not hard to turn that simple, problematic-with-wine dish into something much more sympatico. A Cobb salad, layered with wine-friendly bits of meat and cheese? Bingo! Or how about a salade niçoise loaded with fresh tuna, olives and other deeply flavored delights?
Frankly, it isn't even necessary to get that fancy. Faced with a hurried dinner hour and a bottle of Barbera d'Asti that needed to be tasted (see notes below), we made a quick-and-easy salad that defeats the conventional wisdom.
To make a long story as short as possible, we started with fresh, crisp lettuce (iceberg, don't judge), then tossed it with cut-up fresh tomatoes straight from the garden. The naturally tangy-sweet juice from the tomatoes made a wine-friendly alternative to vinegar or citrus, and blended naturally with a good, green Italian olive oil to make a non-vinegar-ette. Add slices of fresh Parmigiano-Reggiano for another key ingredient that sings with wine, and we were good to go.
Salad? With wine? Don't mind if we do!
Wine Focus: Piemonte and Piemontese grapes
The subject says it all! Our WineLovers Discussion Group is focusing this month on Piemonte wines plus traditional Piemontese varieties grown in other locations around the world: Nebbiolo, Barbera, Dolcetto, Cortese, Arneis and more. This gives us a broad range of red and white and even rosato, from inexpensive to very expensive.
You're invited to click over to Wine Focus and read and participate in the conversation. You can read the forum without registering, but if you'd like to participate in our conversations, you can quickly and easily log in via Facebook, using the "Social Login" button at the upper right corner of any forum page.
Today's Sponsor:
Savor California's Finest Wines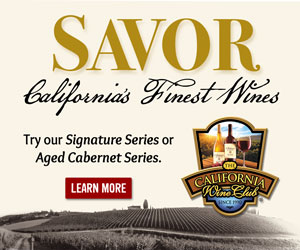 The California Wine Club offers access to California's most coveted and prestigious wines with two upper-level club options for collectors and connoisseurs.
Our Signature Series offers hand-selected, extremely limited-production gems that are covered in gold medals and 90+ point ratings.
Our Aged Cabernet Series is the ultimate reward in fine viticulture, featuring Napa's finest Cabernet Sauvignons carefully aged for 8 to 12 years and ready to savor now.
Whether as a gift or for yourself, these exquisite wines are guaranteed to please the most discerning palates.
About The California Wine Club:
California is home to thousands of small family wineries handcrafting extraordinary wine in quantities too limited to be found in local stores or shops. Since 1990 it has been our mission to help these artisan wineries introduce their award-winning wines to wine lovers across the US.
Learn more.
www.cawineclub.com 1-800-777-4443
Today's Tasting Report
Cascina La Ghersa 2013 "Piagé" Barbera d'Asti ($14.99)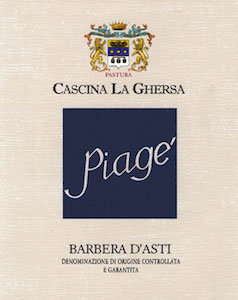 Ruby in color, rather light, clear but not transparent. Simple red-fruit aromas, cranberry perhaps, with a back note of fresh green herbs. Dry and tart on the palate, red-fruit flavors follow the nose, crisp, palate-cleansing acidity, food-friendly 13% alcohol, and a softly bitter note of tannins joining tart berries in the finish. U.S. importer: Vanguard Wines, Columbus, Ohio. (Oct. 7, 2015)
FOOD MATCH: For today's topic, we enjoyed it with a simple salad dressed with fresh tomatoes and their juice, olive oil and thin slices of Parmigiano-Reggiano. It's a more traditional match with red meat in general, grilled chicken, tomato sauces and cheese-based dishes.
WHEN TO DRINK: Barbera d'Asti is not intended for long-term cellaring, and it won't really improve as its fruit fades against its natural acidity. It's best to buy it and drink it soon. That said, the winery suggests that it won't suffer from aging over two or three years.
VALUE: Our local price is within range of Wine-Searcher.com's $14 median U.S. retail. At that price and through the middle teens it's a fine value for a good Northwestern Italian table wine.
WEB LINKS T. Edward Wines in New York City, a regional distributor of organic wines from around the world, has a useful fact sheet on Cascina la Ghersa and its "Piage" Barbera d'Asti here
FIND THIS WINE ONLINE:
Compare prices and find vendors for Cascina La Ghersa "Piagé" Barbera d'Asti on Wine-Searcher.com.
For more on U.S. availability, contact regional distributors Vanguard Wines in Columbus, Ohio, and T. Edward Wines in New York City.
For links to many more good Barbara d'Asti bottlings and information about the wine and its region, check this page on Wine-Searcher.com.
We hope you'll "Like" us on Facebook!
If you use Facebook, we'd be delighted to have you "Like" our WineLovers Facebook Page. This way you can get Facebook notifications when there's a new The 30 Second Wine Advisor issue or a topic of particular interest on the WineLovers Discussion Group (WLDG).
If you're a Facebook user, you can also now join our forum with a single click! All you need to do is visit the forum and click the "Social Login" link at upper right.
Talk About Wine Online
If you have questions, comments or ideas to share about today's article or wine in general, you're always welcome to drop by our online WineLovers Discussion Group, the Internet's first and still the most civil online community. To find our forums, click:
Discussions are open for public viewing, but you must register to post. If you're a Facebook user, you can also now join our forum with a single click! All you need to do is visit the forum and click the "Social Login" link at upper right.
We use only your name and Email to identify you and make no other claim on your Facebook information or privacy. However, if you prefer not to use Facebook, contact me at wine@wineloverspage.com for information about registration.
Subscriptions and Administrivia
Unsubscribe:
We're sorry if you must leave us, but simply click the "unsubscribe" link at the bottom of your Email edition to be instantly removed from the mailing list.
Change address:
The quickest and easiest way to change your Email address is simply to register anew, using the link below. If you are keeping your old address but no longer wish to get the Wine Advisor there, click the unsubscribe link below to take it off our list; if you are closing the mailbox, you needn't take any action, as our system will delete your old address as soon as the mail to your old address starts to "bounce."
Subscribe to this weekly E-letter (free)
WineLoversPage.com RSS Feed (free):
http://feeds.feedburner.com/wineloverspage/tzva
Sponsorship Opportunities:
For information, E-mail wine@wineloverspage.com