This may sound like heresy from a wine writer, but when I go out to eat, I don't always order wine to drink.
What's up with that? I do love wine. I love the pleasure of the intriguing aromas and flavors of a well-chosen bottle. I love its fascinating history and heritage, making it a rare beverage that rewards study beyond the simple pleasure of immediate enjoyment. I love the way that it naturally enhances food (and vice-versa). And I love the way it brings people together around the table.
But I don't always like wine in the context of the modern restaurant wine list. I see plenty of wine lists, too. I like to eat out, and I do it fairly regularly when I'm wearing another of my several hats in the role of restaurant critic in my home town.
I admire a good wine list, one that offers a variety of wines across nations, continents and grape varieties, and one that contains a fair range of budget points, from celebratory bottles down to good, serviceable everyday table wines. Even a list of as few as 30 to 40 wines can get this job done, if they're well chosen.
I also understand that a reasonable markup earns the restaurateur a fair profit. It's not fair to demand that a wine list match the discounted retail prices you see at a big box store. The industry standard sets restaurant prices at three times the wholesale price of a bottle: roughly double the usual retail price.
In other words, a nice Chianti that cost you $15 at the wine shop might go for $30 on the wine list; the restaurateur and the wine merchant both paid around $10 for it. That's how the free market works, boys and girls. But if the wine list asks $40, the sommelier should really be brandishing a pistol.
(Story continues below this message from our friends at The California Wine Club.)
Today's Sponsor:
Black Friday is Back!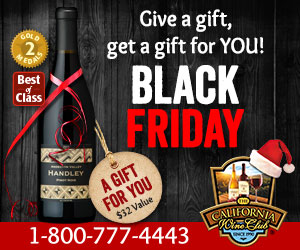 Today Only: For every holiday gift of award-winning, handcrafted wine you order today, The California Wine Club will give you a bottle of delicious Anderson Valley Pinot Noir (a $32 value).
Minimum 2-month gift purchase required to qualify for gift bottle. Offer expires at 11:59 PM PST, December 4, 2015.
See Holiday Gifts
Holiday wine gifts include award-winning, handcrafted artisan wines plus an insider's look into each featured winery with their guide, Uncorked®. Share the passion of artisan wineries by giving delicious deliveries of their award-winning, handcrafted wines. It's the cure for the common gift.
About The California Wine Club:
California is home to thousands of small family wineries handcrafting extraordinary wine in quantities too limited to be found in local stores or shops. Since 1990 it has been our mission to help these artisan wineries introduce their award-winning wines to wine lovers across the US.
Learn more.
www.cawineclub.com 1-800-777-4443
Wine list is meh? Have a cocktail!
(Continued)
Add another reality: Many fine restaurants curate their wine lists with knowledge and care, offering a good mix of popular wines that include something for points-chasers, trophy hunters and those us who love intriguing artisanal wines in the affordable range. But many more seem satisfied to let the friendly man from the wine distributor stock their cellar with popular but standard-issue bottles that, quite frankly, don't justify paying the restaurant markup for me.
When I scan the list and find nothing that excites me at a price I'm willing to pay, that's when I clap my hands and cheer about the cocktail renaissance that's become a big thing on the restaurant scene. Cocktails aren't just our parents' (or grandparents') fancy any more.
For a long time I resisted cocktails, feeling that strong liquors – in contrast with wine – aren't well suited for food. But cocktails are about much more than just pounding shots. A thoughtful blend of liquor, sweet or bitter aperitifs, a drop or two of intense bitters, and perhaps fruit or something fizzy, can yield a drink that will last through a dinner of sipping and munching, and that can provide as much complexity and flavor interest as the finest wine. Better yet, while they go well with food, cocktails aren't nearly as finicky as wine about specific food-and-drink pairings.
My bottle of Louisville's favorite Old Forester Bourbon is "86 Proof," or 43 percent alcohol, which is three to four times as powerful as most table wines and more than twice as strong as a fortified wine like Port, Sherry or Madeira.
But we don't normally pour a wine glass full of Scotch, Bourbon or Rye! A cocktail containing 1 1/2 ounces of liquor, a 5-ounce glass of wine or a 12-ounce mug of beer all carry roughly the same alcoholic punch.
So, instead of turning to iced tea or coffee if a restaurant wine list made me irritable, I started looking at the cocktail list, and I'm glad I did. To name just three of my favorites, Manhattans, Negronis and Sazeracs in dozens of tasty variations are commonplace on the restaurant scene nowadays, not to mention the ubiquitous Martini. Much more creative, obscure – yet often delicious – new inventions are springing from the fervid minds of the new mixologists.
And best of all, even a fancy place will rarely price cocktails much over $10, making a good one much more than competitive with higher-end wines or even overpriced cheap stuff.
Just the other night, at Louisville's Decca, I enjoyed a Boulevardier – a popular cocktail made by blending Bourbon (or in this case, Rye whiskey) with a bitter liqueur like Campari plus a dash of vermouth. It's based on the Negroni, another favorite that's made with gin in place of the brown liquor; it also sounds a bit like a Manhattan, which features Bourbon or Rye with a splash of sweet vermouth and a few drops of bitters plus an orange peel.
Another favorite, the Sazerac, a tradition straight out of New Orleans, enjoyed at Louisville's Roux restaurant, blends Rittenhouse Rye with a dash of licorice-scented absinthe, a touch of sweetener, and, for complexity, both Peychaud's and ANgostura bitters and a twist of lemon.
Most of those cocktails are primarily liquor, chilled with ice then strained into a glass. If you want something a little lighter, cooled with ice in a tall glass, that's easy to take care of. One beautiful example was Uptown Cafe's $10 St. Germain Sapphire Fizz, a summery mix of gin, subtly scented elderflower liqueur and something fizzy.
Sometimes experiments work out beautifully.  Seviche's $9 Hooglimoo cocktail is a wild and delicious blend of gin with cucumber and lemonade, infused with shishito peppers.
Sometimes experiments don't work out so well. I rated Decca's Chupacabra ($12) a noteworthy fail. A blend of mezcal, ginger, lime, fresno chili and cilantro, it sounded good but didn't taste like any of its ingredients. It tasted like a chipotle marinated in Everclear grain alcohol. I'll give up some cred for the moniker, though. According to the Skeptic's Dictionary, yhe chupacabra ("goat sucker") is an animal said to be unknown to science and systemically killing animals in places like Puerto Rico, Miami, Nicaragua, Chile, and Mexico. Mm, hmm.
Let's talk about this topic in our social media again this week! I've posted a question on both our WineLovers Discussion Group forum and our WineLovers Facebook page, inviting you to tell us whether you are drinking more cocktails these days. You're also welcome to talk about how and why your interests are changing, and to nominate your favorite cocktails.
* To post your comment in the conversation on our WineLovers Facebook page, click this link:
https://www.facebook.com/WineLoversPg/posts/969257403148282
* Click this one to join the conversation in our WineLovers Discussion Group (click the "Social Login" button at the top of the page to log in).
http://forums.wineloverspage.com/viewtopic.php?f=3&t=54968
I look forward to seeing you in our wine social media. Please tell us about your wines of the day!
We hope you'll "Like" us on Facebook!
If you use Facebook, we'd be delighted to have you "Like" our WineLovers Facebook Page. This way you can get Facebook notifications when there's a new The 30 Second Wine Advisor issue or a topic of particular interest on the WineLovers Discussion Group (WLDG).
If you're a Facebook user, you can also now join our forum with a single click! All you need to do is visit the forum and click the "Social Login" link at upper right.
Talk About Wine Online
If you have questions, comments or ideas to share about today's article or wine in general, you're always welcome to drop by our online WineLovers Discussion Group, the Internet's first and still the most civil online community. To find our forums, click:
Discussions are open for public viewing, but you must register to post. If you're a Facebook user, you can also now join our forum with a single click! All you need to do is visit the forum and click the "Social Login" link at upper right.
We use only your name and Email to identify you and make no other claim on your Facebook information or privacy. However, if you prefer not to use Facebook, contact me at wine@wineloverspage.com for information about registration.
Subscriptions and Administrivia
Unsubscribe:
We're sorry if you must leave us, but simply click the "unsubscribe" link at the bottom of your Email edition to be instantly removed from the mailing list.
Change address:
The quickest and easiest way to change your Email address is simply to register anew, using the link below. If you are keeping your old address but no longer wish to get the Wine Advisor there, click the unsubscribe link below to take it off our list; if you are closing the mailbox, you needn't take any action, as our system will delete your old address as soon as the mail to your old address starts to "bounce."
Subscribe to this weekly E-letter (free)
WineLoversPage.com RSS Feed (free):
http://feeds.feedburner.com/wineloverspage/tzva
Sponsorship Opportunities:
For information, E-mail wine@wineloverspage.com
We're sorry if you must leave us, though. If you choose to leave our list, I'd appreciate it if you'd take a moment or two to tell us how we could have better served you. Email Robin Garr at wine@wineloverspage.com.