A friend in the Maremma area of western Tuscany, Sergio Bucci, who is a director of the winery Vignaioli Morellino Scansano recently sent me a sample of a new wine they are introducing. This wine, Governo Toscano IGT, is made in a fashion that was once common in the region but had almost disappeared.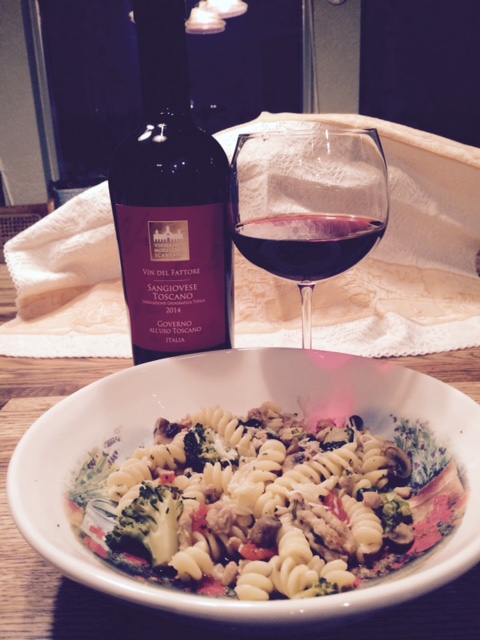 In the past when the grapes were picked the farmers left the less ripened grapes on the vine. The ripened grapes were picked and fermented. After a 6-8 week period the remaining grapes were picked, crushed and then added to the already fermented grapes to start a second round of fermentation and even aid the malolactic fermentation. The results were a more complete usage of all of the grapes and a softer and fruitier wine that was ready for drinking in a shorter period than the normal Morelino di Scansano. For the poorer farmers, the latter was an important thing.
The wine I tasted was a 2014 Governo All'Uso Toscana IGT, a 85/15 blend of Sangiovese and Merlot. Sold as a Vin Del Fattore Sangiovese Toscano, this wine in future will be a 100% Sangiovese grape wine. In 2014, problems in the harvest necessitated the blending with Merlot. The Merlot grapes were picked and placed in aerated boxes where they were allowed to lose 15% of their weight. The Sangiovese was hand picked and vinified at low temperature with maceration on the skins for 4-6 days. After losing the desired weight the Merlot grapes were pressed and then after reaching their full fermentation, they were added to the already fermented Sangiovese grapes. Further fermentation took place with malolactic fermentation occurring at the end of primary fermentation. Aging occurred for three months in stainless steel tanks.
After all these words, how did the wine taste? The Governo was a deep ruby red in color with a fruit and spice nose. The taste was medium-bodied and dry with a very nice long and full finish. I rated this wine a 90 and I look forward to the 2015 wine which should be a bit bigger in the mouth. Governo is an excellent complement for any meat or pasta dish with a meat sauce. It should be drunk within 2-4 years. This wine is another excellent offering from Vignioli Morellino Scansano. It became available in February 2016 at Astor Wines in New York.