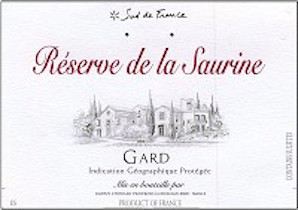 Dark ruby in color, it's clear but not transparent. Its attractive aromas center on red fruit, raspberry and a little strawberry and plum. It's not a "fruit bomb," but fresh and appealing. Crisp and tart, good raspberry flavor fills the mouth with food-friendly acidity, modest 12.5% alcohol, and slightly rough yet palatable tannins. Light berries and a hint of stony minerality linger in a good, long finish. A bit "rustic," but a great value at this price! U.S. importer: Cutting Edge Selections Inc., Mariemont, Ohio (March 16, 2016)
FOOD MATCH: Linguine with fennel, onions and garlic and fresh tomato sauce.
WHEN TO DRINK: These modest French country table wines aren't meant for cellaring, and yet … its good balance and perceptible tannins make me wonder if it might evolve a bit over three or four years in a good, temperature-controlled cellar.
VALUE: It doesn't get any better than this! Yes, it's more "rustic" than "elegant," but it's a fun, old-style French table wine at a 1980s price. If you can find it, load up. If you can't find this one, ask your merchant about other value reds from Gard.
WEB LINK
The producers, Vignerons Laudun Chusclan, have an extensive website in French only, but you can read the front page in English at this link.
The bloggers at the British Demi Tour Wine Blog have an informative article about Laudun Chusclan and its wines here.
FIND THIS WINE ONLINE:
Compare prices and find vendors for a limited selection of Reserve de la Saurine Gard on Wine-Searcher.com.
The U.S. importer, Cutting Edge Selections, may be able to offer suggestions on finding the wine in the U.S. through the contacts listed here.
To find other wines and producers from Gard, check the Gard page on Wine-Searcher.com and page down to the long list of wines at the foot of the page.