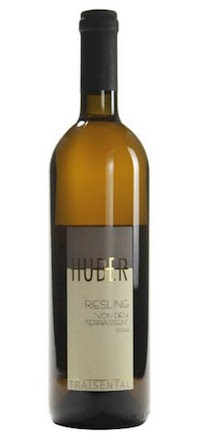 This transparent pale-gold Austrian white offers fresh, appealing aromas: Apples and a gentler whiff of peach, and a hint of the odd but pleasant "petrol" minerality that often appears in good Riesling. Crisp and faintly prickly on the palate, it's dry and appropriately tart, and shows subtle but not overwhelming nuances of stone fruits – peach and apricot – along with zippy lemon zest in a long, clean finish. Bone-dry and light with a gentle 12% alcohol. U.S. importer: Broadbent Selections Inc., Sonoma, Calif. (June 28, 2016)
FOOD MATCH: Riesling is one of the most versatile of wines. It will pair beautifully with a wide range of freshwater fish and delicate seafood, but it will also work with poultry and pork; it matches well with meatless fare, and works and plays nicely with cheeses. We enjoyed it very much as an aperitif with thin slices from a chunk of Parmigiano-Reggiano. Another day it made an impressive match with the flavors of creamy lemon pasta, a New York Times recipe by Barbara Kafka.
WHEN TO DRINK: There's no reason not to enjoy this fresh, vibrant Riesling in its youth, but note that Riesling can be a surprising ager, especially for a white, and the sturdy modern screw cap may enhance its shelf life. If you're in a mood to experiment, it couldn't hurt to put one or two aside in good cellar conditions for five years or even more.
VALUE: I paid a few bucks over Wine-Searcher.com's reported $15 U.S. average retail, but it's a good wine, and I didn't feel too badly abused at $20. Still, if online wine buying is legal where you live, it may pay off to shop around.
WEB LINK
Click here for the winery fact sheet on this wine in English. Also, here is importer Broadbent's bio and info sheet on the Markus Huber winery.
FIND THIS WINE ONLINE:
Look for vendors and compare prices for Huber "Terrassen" Traisental Riesling on Wine-Searcher.com.