I know Riesling is one of the world's greatest wine grapes. I understand that it is historic and traditional, grown and made into wine for well over a thousand years.
I recognize that it is surprisingly ageworthy, known for a delicious transparency that allows all its subtle elegance and natural minerality to show, and is exceptionally versatile with food. And I admire it for showing all this character in a wine that is rarely overly alcoholic.
For all these reasons, Riesling is an easy wine to love. And yet I rarely choose it, turning instinctively to the reds of Southern France and Northern Italy and the whites of Southern France, along with their varietal counterparts around the world.
This month, though, I'm prepared to spend a little more time with Riesling as we examine it in depth in our monthly Wine Focus in our WineLovers Discussion Group (WLDG). In order to do full justice to the grape, I now turn the pulpit over to my WLDG colleague David M. Bueker, a man so passionate about Riesling that he uses it in his Email name.
"This month we will be revisiting an old friend, Riesling. There have been many stories about Riesling, about its resurgence, about its sugar (or lack thereof), even about the bottle shape.
"The winds of fashion have been also blowing Riesling onto a new course in recent years, with the rise of dry Riesling in markets outside of Europe. Regional styles are changing. Germany's Rieslings are getting drier out of stylistic choice while the Rieslings of Alsace are getting sweeter due to climate change. Austria does not get the recognition it deserves, perhaps because there is no controversy to spur conversation.
"Speaking of recognition, when was the last time anyone talked about Australian Riesling? There has been some recent coverage of American Riesling, specifically in Oregon, but not much buzz there either.
"For the month of July 2016 let's take a look at what is going on with Riesling around the world. There is a wealth of Riesling available at retail, and a wide variation in vintage styles from the last few years on retailer shelves. 2015 is supposed to be a great vintage for German Riesling, displacing the sometimes interesting, but often spotty 2014. Early news for Austria is that 2015 is very good, if not at the same level as the wonderful 2013 vintage wines. Alsace goes through its heat cycles, with 2013 so far showing delicious and well balanced wines that are not quite as rich and sweet as some other recent vintages.
"Pull some corks, and enjoy a refreshing glass of Riesling with summer fare."
Want to join the fun? You're invited to bring your questions and comments about Rieslings, or better yet, open some, and come talk with fellow wine lovers on our forum. Click July Wine Focus: Riesling on our WineLovers Discussion Group (WLDG) and our WineLoversPage Facebook page.
You can read the discussion on the forum without registering, but if you'd like to participate in our conversations, you can quickly and easily join the forum via Facebook, using the "Social Login" button at the upper right corner of any forum page to register automatically and log in.
I look forward to seeing you in our wine social media. Welcome!
Today's Sponsor:
Reds, Whites & YOU!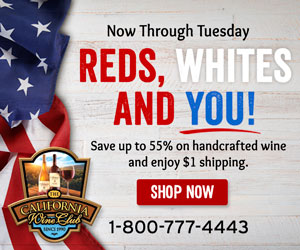 Wines you'll love are on sale at The California Wine Club.
Treat yourself to award-winning, handcrafted wines priced as low as $8. Plus, with $1 shipping, you'll save up to $36 in shipping on every case.
The wines they feature are typically handcrafted in very limited amounts, and in many cases, they are down to their last few cases (or bottles!) of each.
You do not need to be a member to take advantage of this sale.  And, as always, every wine is guaranteed to be delicious.
Reds, Whites & YOU sale ends Tuesday, July 5, 2016 at 11:59 p.m. Pacific Time.
Click here to shop now
1-800-777-4443 www.cawineclub.com
Today's Tasting Report
Huber 2014 "Terrassen" Traisental Riesling ($19.99)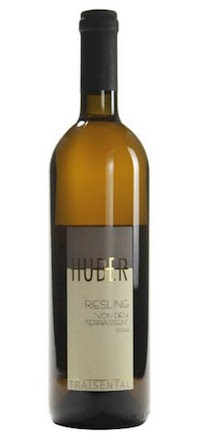 This transparent pale-gold Austrian white offers fresh, appealing aromas: Apples and a gentler whiff of peach, and a hint of the odd but pleasant "petrol" minerality that often appears in good Riesling. Crisp and faintly prickly on the palate, it's dry and appropriately tart, and shows subtle but not overwhelming nuances of stone fruits – peach and apricot – along with zippy lemon zest in a long, clean finish. Bone-dry and light with a gentle 12% alcohol. U.S. importer: Broadbent Selections Inc., Sonoma, Calif. (June 28, 2016)
FOOD MATCH: Riesling is one of the most versatile of wines. It will pair beautifully with a wide range of freshwater fish and delicate seafood, but it will also work with poultry and pork; it matches well with meatless fare, and works and plays nicely with cheeses. We enjoyed it very much as an aperitif with thin slices from a chunk of Parmigiano-Reggiano. Another day it made an impressive match with the flavors of creamy lemon pasta, a New York Times recipe by Barbara Kafka.
WHEN TO DRINK: There's no reason not to enjoy this fresh, vibrant Riesling in its youth, but note that Riesling can be a surprising ager, especially for a white, and the sturdy modern screw cap may enhance its shelf life. If you're in a mood to experiment, it couldn't hurt to put one or two aside in good cellar conditions for five years or even more.
VALUE: I paid a few bucks over Wine-Searcher.com's reported $15 U.S. average retail, but it's a good wine, and I didn't feel too badly abused at $20. Still, if online wine buying is legal where you live, it may pay off to shop around.
WEB LINK
Click here for the winery fact sheet on this wine in English. Also, here is importer Broadbent's bio and info sheet on the Markus Huber winery.
FIND THIS WINE ONLINE:
Look for vendors and compare prices for Huber "Terrassen" Traisental Riesling on Wine-Searcher.com.
Social Media
If you use Facebook, we'd be delighted to have you "Like" our WineLovers Facebook Page. This way you can get Facebook notifications when there's a new The 30 Second Wine Advisor issue or a topic of particular interest on the WineLovers Discussion Group (WLDG).
If you're a Facebook user, you can join our forum with a single click! All you need to do is visit the forum and click the "Social Login" link at upper right.
Finally, I welcome social media connections, but if I won't recognize your name, I suggest that you contact me via Email to wine@wineloverspage.com to let me know that you've requested a connection.
Connect with Robin Garr on LinkedIn
Talk About Wine Online
If you have questions, comments or ideas to share about today's article or wine in general, you're always welcome to drop by our online WineLovers Discussion Group, the Internet's first and still the most civil online community. To find our forums, click:
Discussions are open for public viewing, but you must register to post. If you're a Facebook user, you can also now join our forum with a single click! All you need to do is visit the forum and click the "Social Login" link at upper right.
We use only your name and Email to identify you and make no other claim on your Facebook information or privacy. However, if you prefer not to use Facebook, contact me at wine@wineloverspage.com for information about registration.
Subscriptions and Administrivia
Unsubscribe:
We're sorry if you must leave us, but simply click the "unsubscribe" link at the bottom of your Email edition to be instantly removed from the mailing list.
Change address:
The quickest and easiest way to change your Email address is simply to register anew, using the link below. If you are keeping your old address but no longer wish to get the Wine Advisor there, click the unsubscribe link below to take it off our list; if you are closing the mailbox, you needn't take any action, as our system will delete your old address as soon as the mail to your old address starts to "bounce."
Subscribe to this weekly E-letter (free)
Sponsorship Opportunities:
For information, E-mail wine@wineloverspage.com