I've enjoyed a few more Rieslings during our Wine Focus on this fine white grape this month, and I'm getting to like it more and more.
I've also noticed an interesting development that started with a few adventurous German producers decades ago but that seems to be gaining steam: A lot of German producers seem to have figured out that the old-school German wine label, loaded with detailed information and obscure numbers and codes, might have been turning off consumers in the rest of the world.
With the apparent cooperation of once rigid regulatory authorities, a fair percentage of German wines on my local retailers' shelves are sporting simple, easy-to-read labels with much of the more arcane terminology banished to the back label, where true geeks may still enjoy it without troubling the rest of us.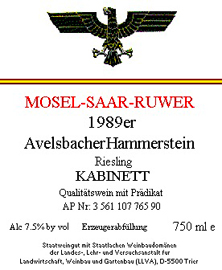 Take a look at the fairly typical old-style label from 1989 in the image at left, and compare it to the more modern labels with my wine reports below. The new front labels look clean. THey have been scrubbed of the mysterious AP Number; the meaningful but complicated "Qualitätswein mit Prädikat" and its polysyllabic cousins are gone, as is the throat-choking "Erzeugerabfülling" that assures us the wine was estate-bottled. And so it goes.
The new labels are relatively plain – and much more akin to, for instance, American wine labels – carrying the winery name, the grape variety, and, in the case of the tasty Spreitzer Riesling featured below, the trademark moniker "Riesling 101." The finer details are on the back, and the law, now, is satisfied with that.
The label of the Römerhof, our other featured wine, looks a bit more like a traditional German wine, with its simple line drawing of the hilly vineyards overlooking the Mosel, but it, too has moved much of the front-label wording around to the back, leaving a more comprehensible display of winery, variety and village along with the generic "Wine of Germany" at the bottom.
Complicated or simple, labels don't change the taste of the wine, that's for sure. But in a competitive world economy, it's quite simply a strong business model to make the wine more accessible to the casual consumer looking at hundreds of options on the shelves. It's good that Germany is catching up.
We've been talking about Riesling around the world all month in our WineLovers Discussion Group. Want to join the fun? You're invited to bring your questions and comments about Rieslings, or better yet, open some, and come talk with fellow wine lovers on our forum. Click July Wine Focus: Riesling on our WineLovers Discussion Group (WLDG) and our WineLovers Facebook page.
You can read the discussion on the forum without registering, but if you'd like to participate in our conversations, you can quickly and easily join the forum via Facebook, using the "Social Login" button at the upper right corner of any forum page to register automatically and log in.
I look forward to seeing you in our wine social media. Welcome!
Today's Sponsor:
Happiness is a Full Wine Rack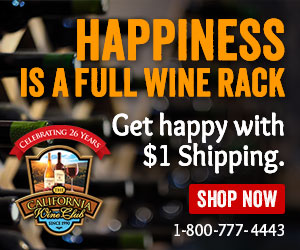 Get Happy with $1 shipping!
Treat yourself to award-winning, handcrafted wines priced as low as $8 when you shop The California Wine Club's Restock Sale. Plus, with $1 shipping, you'll save up to $36 in shipping on every case.
The wines they feature are typically handcrafted in very limited amounts, and in many cases, they are down to their last few cases (or bottles!) of each.
You do not need to be a member to take advantage of this sale.  And, as always, every wine is backed by our Love It guarantee.
$1 Shipping Restock Sale ends at 11:59 PM Pacific Time on Aug. 3, 2016. 
Click here to shop now
1-800-777-4443 www.cawineclub.com
Today's Tasting Reports
Weingut Josef Spreitzer 2013 "Riesling 101" Rheingau Riesling ($17.99)


Transparent brass color. Rich, characteristic Rhine Riesling aromas and flavors, green apple with a whiff of musky melon and a hint of peach on the nose, leading into a tart but textured palate impression that carries the aromas intact over zingy, mouth-watering acidity that brings peachy fresh-fruit sweetness into balance with light 10 percent alcohol. There's a stony sense of minerality beneath it all, and tart stone-fruit flavors linger with zippy, citric acidity in an extremely long finish. U.S. importer: Michael Skurnik Wines, Syosset, N.Y.; a Terry Theise Estate Selection. (July 15, 2016)
FOOD MATCH: Riesling is one of the most versatile white wines, going well with a range of fare from mild freshwater fish to poultry and pork. It's fine with cheese and vegetable-based dishes: We enjoyed it with fettuccine with fresh broccoli in a light alfredo-style sauce.
WHEN TO DRINK: Although this bottle is intended to be drunk up soon, Riesling is a natural ager. With its sturdy metal screw cap – all but universal with German white wines nowadays – this could keep and possibly gain complexity over several years in a good wine cellar.
VALUE:
My local price is a few dollars above the average $13 retail shown on Wine-Searcher.com, but it's a good-enough wine that I'll try not to get heartburn over a price in the upper teens.
WEB LINK
Importer Michael Skurnik has a detailed fact sheet about Spreitzer's wines at this link, with further links to the producers many wines including 2014 and 2015 Riesling 101.
FIND THIS WINE ONLINE:
Look for vendors and compare prices for Josef Spreitzer "Riesling 101" on Wine-Searcher.com
Römerhof 2014 Mosel Riesling Kabinett ($12.99)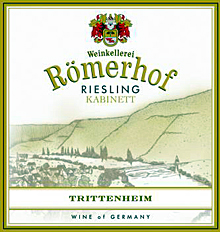 This simple but very pleasant Riesling is a light straw color in the glass, with just a hint of brassy green. Its fresh aroma and flavor begin with a distinct green apple scent on the nose, opening to something more aromatic on the palate, a hint of juicy peach at first adding ripe, juicy, tart-sweet satsuma tangerine as you swish the wine in your mouth. Crisp, cleansing acidity nicely balances light, fresh-fruit sweetness in a well-balanced wine. Easy sipping at 7.5% alcohol, a level that's startlingly low compared with most table wines but is still typical of simple Mosel Rieslings. U.S. importer: Winesellers Ltd., Niles, Ill. (June 10, 2016)
FOOD MATCH: I like slightly sweet, acidic German Rieslings with spicy fare. This went very well with Kalan Milagu, a spicy North Indian mushroom and tomato stew, made from this recipe on New Delhi's NDTV "SmartCooky" food section online.
WHEN TO DRINK: This simple Riesling is so good now that there is no reason not to drink it up soon. It's not a wine made for cellaring away. Still, given Riesling's ageworthy character and this wine's metal screwcap, it should hold well enough for a few years.
VALUE: I'm very happy with this appealing Riesling in the lower teens and would eagerly buy more at this price.
WEB LINK
Importer Winesellers Ltd. has a short fact sheet at this link.
The Röerhof website is available in German and English. Click here for an English summary of the Riesling Kabinett.
FIND THIS WINE ONLINE:
I regret that our friends at Wine-Searcher.com currently show only German vendors. However, U.S. importer Winesellers Ltd. may have more information as supplies of the wine get to the U.S. For information, sales materials and other inquiries, I suggest you ask your local retailer, or contact Winesellers directly at www.winesellersltd.com or +1-847-647-1100 for information about vendors in your area.
Social Media
If you use Facebook, we'd be delighted to have you "Like" our WineLovers Facebook Page. This way you can get Facebook notifications when there's a new The 30 Second Wine Advisor issue or a topic of particular interest on the WineLovers Discussion Group (WLDG).
If you're a Facebook user, you can join our forum with a single click! All you need to do is visit the forum and click the "Social Login" link at upper right.
Finally, I welcome social media connections, but if I won't recognize your name, I suggest that you contact me via Email to wine@wineloverspage.com to let me know that you've requested a connection.
Connect with Robin Garr on LinkedIn
Talk About Wine Online
If you have questions, comments or ideas to share about today's article or wine in general, you're always welcome to drop by our online WineLovers Discussion Group, the Internet's first and still the most civil online community. To find our forums, click:
Discussions are open for public viewing, but you must register to post. If you're a Facebook user, you can also now join our forum with a single click! All you need to do is visit the forum and click the "Social Login" link at upper right.
We use only your name and Email to identify you and make no other claim on your Facebook information or privacy. However, if you prefer not to use Facebook, contact me at wine@wineloverspage.com for information about registration.
Subscriptions and Administrivia
Unsubscribe:
We're sorry if you must leave us, but simply click the "unsubscribe" link at the bottom of your Email edition to be instantly removed from the mailing list.
Change address:
The quickest and easiest way to change your Email address is simply to register anew, using the link below. If you are keeping your old address but no longer wish to get the Wine Advisor there, click the unsubscribe link below to take it off our list; if you are closing the mailbox, you needn't take any action, as our system will delete your old address as soon as the mail to your old address starts to "bounce."
Subscribe to this weekly E-letter (free)
Sponsorship Opportunities:
For information, E-mail wine@wineloverspage.com