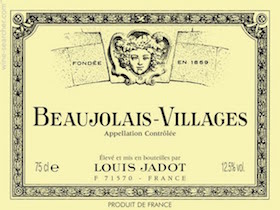 This clear, medium-dark reddish-violet wine offers good, typical Beaujolais Gamay scents, strawberries and tart cherries and an earthy nuance reminiscent of damp clay. Simple but fresh and juicy cherry-berry flavors come in focus on the palate, fully dry, shaped by zippy acidity and a soft but apparent buzz of tannins felt most perceptibly on the cheeks and back of the tongue. With good balance and a moderate 12.5 percent alcohol, it's an appealing and versatile table wine. U.S. importer: Kobrand Corp., Purchase, N.Y. (Aug. 3, 2016)
FOOD MATCH: The back label suggests hors d'oeuvres, mild cheeses or poultry dishes. I find good Beaujolais works will with mildly spicy dishes, and paired it with a simple Cajun-style dinner of sliced okra and fresh tomatoes from the garden, cooked up in a black-iron skillet with onions, garlic and a spicy mix of black pepper and two red peppers.
WHEN TO DRINK: Simple Beaujolais isn't made for aging, but this vintage's good fruit-acid balance and soft tannins suggests that it should hold, and possibly gain a little flavor interest, over several years. This wine is also protected from musty cork "taint" by a technologial "Diam" cork.
VALUE:
For once, my local price is right on the $12 average U.S. retail price at Wine-Searcher.com, and it's a very good value anywhere from $10 through the lower teens.
WEB LINK
Here's Louis Jadot's website in English. Its system makes it difficult to link to specific pages, but you can work your way through "Wine Notes" and "Beaujolais Villages" to find your way to a short fact sheet on this wine.
Wine-Searcher.com also has a short, useful essay on Louis Jadot at this link
FIND THIS WINE ONLINE:
Find vendors and check prices for Louis Jadot Beaujolais-Villages at Wine-Searcher.com