Remember back in the day, not so very long ago, when many wine lovers would yell, "Anything but Chardonnay"?
15 Handcrafted Reds Under $15
During The California Wine Club's Harvest Wine Sale, you can stock up on handcrafted Cabernets, Pinot Noirs and more with savings of up to 67 percent on every bottle. Plus get $1 shipping on every case or half case purchase.
See details below, or click here to shop now.
Come to think of it, one of those wine lovers was me.
Every now and then, when I ran across a Chardonnay that I really liked – a crisp, minerally Chablis or rich, complex, White Burgundy, maybe, or a creamy but balanced California bottling – I could come close to apologizing for my perfidy in celebrating the despised grape.
But we had reasons. Good reasons, I tellya! Back in the '90s and into the '00s, Chardonnay went through a rough patch. Its problem, I think, was that Chardonnay became a trend. About the time that most of us figured out that domestic "chablis" was a scam, the nation's attention shifted to Chardonnay.
An ocean of inexpensive Chardonnay filled the gap, and much of it was a lot like the wine equivalent of winter tomatoes: Industrially produced from grapes grown for volume, not quality, and the result was "chab-liss" with a fancier name and a somewhat elevated price tag.
At the other end of the price range, many expensive Chardonnay producers got into a battle to see who could make the boldest, biggest, fruitiest and oakiest wine of them all, bombastic bottlings that may have pleased the popular critics but that drove most of the rest of us to say, well, "Anything but Chardonnay!"
To be realistic, though, there was always some good Chardonnay around, and it seems that in recent years the overall quality of the brand has been improving. Here's how WineLovers Discussion Group Moderator David M. Bueker put it in our invitation to this month's Wine Focus: Chardonnay:
"Chardonnay is seeing a revival in California of all places, where a new wave of producers is making bright, focused and site-evocative wine that warms a wine enthusiast's heart. Producers such as Ceritas, Rhys, and Arnot-Roberts make some of the new benchmarks. The wines are largely available via mailing list, and often run a pretty penny, but they are not the only ones reviving Chardonnay's reputation. Au Bon Climat is making a fine Chardonnay, and doing it for around twenty bucks."
Ready to try it? We'll be sampling and talking about Chardonnay all month in Wine Focus in our WineLovers Discussion Group. You're warmly welcome to join in. To participate in the conversation, simply click to September Wine Focus: Chardonnay. There's no need to wait for an invitation; feel free to join any conversation you can see, or start a new one. If you aren't a forum member yet, the easiest way to join is to click "Social Login" at the top of any page, which will use your Facebook identity to register you. If you're not on Facebook but would like to join the forum, Email me at wine@wineloverspage.com, and we'll work it out.
Hugh Johnson's Pocket Wine Book 2017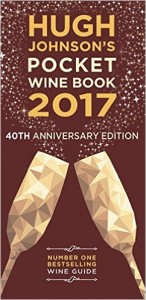 A quick reminder: Hugh Johnson's pocket guide to the world of wine has grown quite a bit over the years, but it still offers a quick and portable way to look up short details about almost any wine, grape or wine region you could imagine.
You can pre-order Hugh Johnson's Pocket Wine Book 2017 from Amazon.com for $12.74, a 25 percent discount off its $16.99 list price, for shipment on September 6, 2016.
The Kindle Edition is $7.99, and will be delivered to your Kindle reader or app on September 8.
Today's Sponsor:
15 Handcrafted Reds Under $15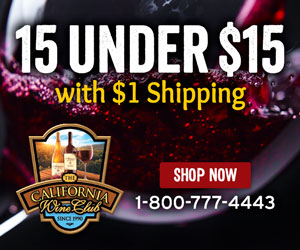 During The California Wine Club's Harvest Wine Sale, you can stock up on handcrafted Cabernets, Pinot Noirs and more with savings of up to 67 percent on every bottle. Plus get $1 shipping on every case or half case purchase. Shop early for best selection. Be sure to check out the Super Savers category for the best values.
Shop Now
Harvest Wine Sale ends on September 30, 2016. Half, full and/or mixed cases all ship via ground for $1.
About The California Wine Club
There are thousands of small family wineries handcrafting extraordinary wine in quantities too limited to be found in local stores or shops. In 1990 wine club founders Bruce and Pam Boring discovered that these winemaking families were the most passionate in the wine world and that their wines were the hidden gems of wine country! Together Bruce and Pam embarked on a journey to help these artisan wineries introduce their exquisite wines to the world. Learn more.
www.cawineclub.com 1-800-777-4443
Today's Tasting Reports
Domaine de Mauperthuis 2014 Bourgogne Chardonnay Les Truffières ($14.99)
Transparent pale gold color. Attractive if a bit simple, typical Chardonnay scent of green apples. Fresh and tart in flavor, green apple and bright, steely acidity. It continues clean, brisk and dry, adding a bit of nuance, subtle notes of "stony" minerality appearing as it crosses the palate. Not a highly complex wine, but it's appealing and a good match with food. U.S. importer: Vintner Select, Mason, Ohio. (Sept. 1, 2016)
FOOD MATCH: A fine match with a summer salad of fresh garden tomatoes, iceberg lettuce, scallions and slivers of Parmigiano-Reggiano in a light vinaigrette. Of course it would be fine with Chardonnay's usual companions, poultry or pork, rich shellfish, saltwater fish and aromatic cheeses.
WHEN TO DRINK: It's perfectly good now, but in the first-rate 2014 vintage, even a modest generic Bourgogne Chardonnay like this might fare well with another year or two in a good cellar.
VALUE:
This food-friendly, balanced Chardonnay is a good value at my $15 local price.
WEB LINK
Domaine de Mauperthuis has a small website in French at this location. There's not much detail here, but you might enjoy a quick visit to meet wine makers Laurent and Marie Noelle and see a few pictures of their property.
FIND THIS WINE ONLINE:
Unfortunately, there's only a limited selection of vendors for Domaine de Mauperthuis 2014 Bourgogne Chardonnay Les Truffières on Wine-Searcher.com.
However, you can browse a wide selection of Bourgogne Chardonnay sorted by value or price by using this Wine-Searcher.com link. Click the "best value." "cheapest," and other tabs to sort the results to your liking.
Sonoma-Cutrer 2013 Sonoma Coast Chardonnay ($25)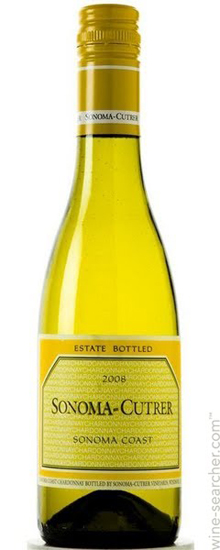 Tasted in a restaurant setting with a variety of dishes (see below), this simple but appealing Chardonnay served well. The surprise is that while it does offer a touch of oak, a decided whiff of aromatic tropical fruit, a creamy mouthfeel and doesn't go strong on acidity, it relies on balance and reasonable restraint to sail safely through these rocky waters and avoid the shoals that used to make so many of us say "Anything but Chardonnay." (Aug. 31, 2016)
FOOD MATCH: We enjoyed it in a restaurant with a variety of creative bistro fare. It went well with heirloom tomato and baby beets salads; an avocado-slathered tartine on baguette topped with a poached farm egg and lots of spicy arugula; and a fancy charred-asparagus course with chanterelle mushrooms, arugula blossoms and roasted jalapeño salsa verde.
WHEN TO DRINK: I don't see this one as meant for the long haul. It's drinking nicely now, simple but pleasant, good fruit and sufficient acidity. The 2014 is already in the marketplace, so I'd look for recent vintages and enjoy them in due course rather than stash them in the cellar.
VALUE:
We paid $15 for a generously poured glass at Louisville's Butchertown Grocery restaurant. Wine-Searcher.com shows a $25 average U.S. retail price, but you can find it as low as $11 at many vendors, so shop around if you can.
WEB LINK
Here's the winery fact sheet on the 2014 vintage of this Chardonnay.
FIND THIS WINE ONLINE:
Compare prices and browse through many vendors for Sonoma-Cutrer Sonoma Coast Chardonnay on Wine-Searcher.com.
Social Media
If you use Facebook, we'd be delighted to have you "Like" our WineLovers Facebook Page. This way you can get Facebook notifications when there's a new The 30 Second Wine Advisor issue or a topic of particular interest on the WineLovers Discussion Group (WLDG).
If you're a Facebook user, you can join our forum with a single click! All you need to do is visit the forum and click the "Social Login" link at upper right.
Finally, I welcome social media connections, but if I won't recognize your name, I suggest that you contact me via Email to wine@wineloverspage.com to let me know that you've requested a connection.
Connect with Robin Garr on LinkedIn
Talk About Wine Online
If you have questions, comments or ideas to share about today's article or wine in general, you're always welcome to drop by our online WineLovers Discussion Group, the Internet's first and still the most civil online community. To find our forums, click:
Discussions are open for public viewing, but you must register to post. If you're a Facebook user, you can also now join our forum with a single click! All you need to do is visit the forum and click the "Social Login" link at upper right.
We use only your name and Email to identify you and make no other claim on your Facebook information or privacy. However, if you prefer not to use Facebook, contact me at wine@wineloverspage.com for information about registration.
Subscriptions and Administrivia
Unsubscribe:
We're sorry if you must leave us, but simply click the "unsubscribe" link at the bottom of your Email edition to be instantly removed from the mailing list.
Change address:
The quickest and easiest way to change your Email address is simply to register anew, using the link below. If you are keeping your old address but no longer wish to get the Wine Advisor there, click the unsubscribe link below to take it off our list; if you are closing the mailbox, you needn't take any action, as our system will delete your old address as soon as the mail to your old address starts to "bounce."
Subscribe to this weekly E-letter (free)
Sponsorship Opportunities:
For information, E-mail wine@wineloverspage.com