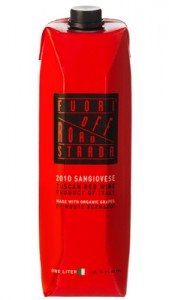 This certified organic wine comes in a recyclable coated red-cardboard 'TetraPak" box roughly the size and shape of a wine bottle. It pours dark reddish-purple, shading to a clear garnet edge. The aromas bespeak Tuscan Sangiovese with fresh and ripe cherry fruit, dried cherries and subtle spice. Fresh and tart, red and black berries and zippy, food-friendly acidity and 13.5% alcohol in a palate-cleansing flavor that lingers, adding a touch of tannic astringency in the finish. If you're prejudiced against wines that come from a box, taste this one "blind" and prepare to have your attitude adjusted. Excellent value. U.S. importer: One Green Liter LLC, Boynton Beach, Fla. (Feb. 21, 2017)
FOOD MATCH: It made a decent match with a dish of asparagus and scrambled eggs with a cheesy sauce, but it might find its best use with pizza, tomato-sauced pasta or burgers and steaks.
WHEN TO DRINK: Call me old-fashioned, but I'm not yet persuaded by Tetra Paks for cellaring. Buy it, enjoy it, buy some more.
VALUE:
It took a special $11.90 markdown sale for my local price to match the $12 average U.S. retail on Wine-Searcher.com, but for a full liter, this wine would still be a fine value in the middle to upper teens.
WEB LINK
Here's a fact sheet about Fuorostrada's TetraPak wines.
FIND THIS WINE ONLINE:
Look for vendors and compare prices for Montebernardi "Fuoristrada Off Road" Rosso Toscano Sangiovese on Wine-Searcher.com.