You pour your wine, you lift the bottle gently and, splat! A dark red Rorschach blot stains the tablecloth.
Give a Wine Gift with Bonus Wine!
Treat someone to a 3-month wine club membership with The California Wine Club and they'll add an extra gift month as a bonus. You'll save $59.
* Mother's Day is May 14
* Father's Day is June 18
* Perfect gift for newlyweds and college graduates!
Read more below, or Click to see the offer now!
Has this ever happened to you? Heck, can any of you claim this has never happened to you? I've even seen certified sommeliers do it in fancy restaurants, and they are supposed to know all the tricks.
I've long since lost count of the number of wine bottles I've opened, and I think I've mastered the drip-stopping "sommelier twist," yet I hit our nice yellow Provence tablecloth with another red splat just the other night.
Not long afterward, as if to mock me, up popped an article about an inventor's new approach. Daniel Perlman, a wine-loving biophysicist at Brandeis University, has been enjoying his 15 minutes of fame thanks to his recent invention that stops wine drips before they start.
After much deep thought and taking some slow-motion videos of wine being poured (he is, after all, a prolific inventor and a physicist), Perlman and engineer Greg Widberg grabbed a diamond cutting tool and modified several glass wine-bottle necks, cutting a narrow groove around their circumference just below the lip.

A droplet of wine that would otherwise run down the side of the bottle encounters the groove, but can't traverse it, they explained to the university's BrandeisNOW magazine. The pesky droplet, stymied by the groove, immediately falls off the bottle into the glass along with the rest of the wine. Click here to read the full article, including a very short video showing the grooved neck in action.
Perlman is currently speaking with bottle manufacturers about adopting his design, the magazine says, but unless you've got a diamond cutter handy at home, I wouldn't hold my breath while waiting for the industry to adopt grooved bottle necks as standard.
What else can we do? Perhaps most practical until Prof. Perlman's grooved bottle necks take over the market, there's a handy-dandy accessory called WineDisc, a circle of shiny foil that rolls into a drip-stopping tube that you insert into the bottle neck to make a drip-resistant pouring spout.
You can get a dozen for only $7.92 on Amazon.com, and they work well enough that I just ordered a dozen more for myself. (Full disclosure: They don't always work, in my experience. On occasion, if you wrangle the bottle a little too enthusiastically, a blurp of wine will splash out. But they do reduce drippage about 90 percent of the time. With that caveat, I highly recommend them for the relatively small price.
Order The Original WineDisc – Pack of 10 Drop Stopping Pour Spouts from Amazon.com now for just $7.49.
Of course, we can all keep trying to master the sommelier twist, a move that's easier to perform than it is to describe. When you're finished pouring, while the bottle neck is still over the glass, give the bottle a half-turn as you gently lift it up – avoid the instinct to do this quickly – so any residual drops turn from the bottom to the top of the aperture, ideally dripping back in to the bottle. You'll also notice that sommeliers use napkins effectively, both to wipe the neck discreetly after pouring, and to wrap around the bottle to catch drops running down the sides.
At home, I've also applied the simple approach of working over a couple of paper towels or a cheap table mat. When the inevitable drip happens, at least it will land on something more disposable than our tablecloth.
I'd love to know how you handle wine-pouring drips, especially if you have a tried-and-true technique that I haven't mentioned here. Please post them on our WineLovers Discussion Group forum or WineLovers Facebook page, and I'll share your ideas in a future column.
Today's Sponsor:
Give a Wine Gift with Bonus Wine!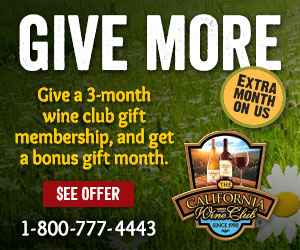 Treat someone to a 3-month wine club membership with The California Wine Club and they'll add an extra gift month as a bonus. You'll save $59.
* Mother's Day is May 14
* Father's Day is June 18
* Perfect gift for newlyweds and college graduates!
Every Premier Series Wine Club Gift Includes:
* Two award-winning handcrafted and hand-selected wines in each delivery. A different winery is featured every month, making this a true wine adventure!
* Direct shipments to your gift recipients of the featured wine along with Uncorked, the guide to the winery.
* An elegant bottle stopper.
* $25 Wine Credit.
* Access to The California Wine Club's Personal Wine Consultants who can answer wine storing and serving questions, and suggest wines and wine pairings based on tasting preferences.
* Love It Guarantee – They guarantee the utmost satisfaction of you and your gift recipients.
Click to see the offer!
This offer expires on July 1, 2017. Some restrictions and exclusions may apply.
About The California Wine Club
There are thousands of small family wineries handcrafting extraordinary wine in quantities too limited to be found in local stores or shops. In 1990 wine club founders Bruce and Pam Boring discovered that these winemaking families were the most passionate in the wine world and that their wines were the hidden gems of wine country! Together Bruce and Pam embarked on a journey to help these artisan wineries introduce their exquisite wines to the world. Learn more.
www.cawineclub.com 1-800-777-4443
March 2017 Wine Focus: Wines of Spain
We're talking about the wines of Spain, all of Spain, in Wine Focus, our popular monthly wine forum discussion topic, this month. From Jerez to Rioja Alta, from Galicia to Barcelona; red, pink and white and Sherry and Manzanilla too. Bring your favorites, or bring something that you haven't tried, and maybe we can learn a little more about Spanish wine regions, grapes and the wines that are not to be missed!
Join us in the conversation! Click Wine Focus for March 2017: Wines of Spain, and bring your tasting notes, comments and questions about Spanish wines.
You'll find my tasting reports below on two Spanish reds:
* Campo Viejo 2014 Rioja Tempranillo ($12.99), a modestly priced Rioja that gives a good, approachable sample of this iconic Spanish wine region.
* Bodegas Volver 2014 "Tarima" Alicante Monastrell ($12.99), a hearty, powerful red from Alicante, the wine region near Valencia in Southeastern Spain.
Today's Tasting Reports
Campo Viejo 2014 Rioja Tempranillo ($12.99)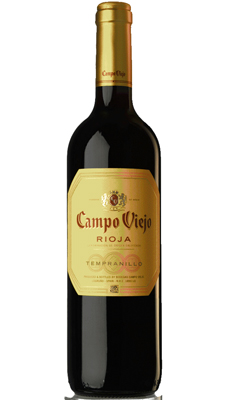 Dark reddish-purple, only slightly more red at the edge. Typical scents of simple Rioja, fresh Bing cherries cloaked by aromatic vanilla. Bright red-cherry fruit on the palate, shaped by a brisk mix of fresh-fruit acidity and soft tannins, with a touch of vanilla joining the fruit in a medium-long finish. Food-friendly and appealing, with rational 13% alcohol. U.S. importer: Pernod Ricard USA, Purchase, N.Y. (March 15, 2017)
FOOD MATCH: The label suggests "pasta, poultry and fresh light cheeses, grilled chicken, small bites (light cheese, grilled vegetables)." We put it up against roasted vegetables: fennel, celery, onions, garlic and grilled fennel-scented Italian sausages.
WHEN TO DRINK: This simple Rioja is not a long-term ager, but I wouldn't worry about keeping it under good storage conditions through 2020.
VALUE:
It's certainly a good value in the lower teens, but shop around if you can, as Wine-Searcher.com shows a $10 U.S. retail average, with a few vendors going as low as $8 or $9.
WEB LINK
This page shows all of Campo Viejo's Rioja wines. Click the Tempranillo bottle image on the left to open more information about this wine.
FIND THIS WINE ONLINE:
Find vendors and check prices for Campo Viejo Rioja Tempranillo on Wine-Searcher.com.
Bodegas Volver 2014 "Tarima" Alicante Monastrell ($12.99)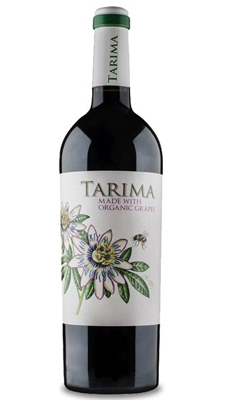 Made from organic grapes grown on 40-year-old vines, unfiltered and unfined and aged in French oak, this is a dark, almost opaque deep-purple wine. Raspberries and blackberries show first in the aroma, woven with more subtle scents of cinnamon and roses. It's tart and quite tannic on the palate – a characteristic of Monastrell (Mourvèdre in France), but there's abundant black fruit, too, adding distinct currant jam as it crosses the palate, lingering with astringent tannins in the long finish. The 14.5% alcohol shows itself in a touch of heat, but the wine is big enough to carry it. U.S. importer: Cutting Edge Selections Inc., Mariemont, Ohio; Jorge Ordoñez Selections (March 11, 2017)
FOOD MATCH: It went well with locally produced grass-fed beef, and it really needs a foil like beef or lamb or high-fat cheese to bring it down to size.
WHEN TO DRINK: It's drinking well now in spite of the tannins, which will probably outlive the fruit. I'd drink it up in the next two or three years.
VALUE:
For a change, my local price actually beat the $15 average U.S. retail shown on Wine-Searcher.com. It's certainly a good value anywhere in the middle teens, and if you're in a position to shop around online, you may be able to find it for ten bucks or less.
WEB LINK
Here's a fact sheet in English on the winery's web page.
FIND THIS WINE ONLINE:
Compare prices and find vendors for Bodegas Volver "Tarima" Alicante Monastrell on Wine-Searcher.com.
Social Media
If you use Facebook, we'd be delighted to have you "Like" our WineLovers Facebook Page. This way you can get Facebook notifications when there's a new The 30 Second Wine Advisor issue or a topic of particular interest on the WineLovers Discussion Group (WLDG).
If you're a Facebook user, you can join our forum with a single click! All you need to do is visit the forum and click the "Social Login" link at upper right.
Finally, I welcome social media connections, but if I won't recognize your name, I suggest that you contact me via Email to wine@wineloverspage.com to let me know that you've requested a connection.
Connect with Robin Garr on LinkedIn
Talk About Wine Online
If you have questions, comments or ideas to share about today's article or wine in general, you're always welcome to drop by our online WineLovers Discussion Group, the Internet's first and still the most civil online community. To find our forums, click:
Discussions are open for public viewing, but you must register to post. If you're a Facebook user, you can also now join our forum with a single click! All you need to do is visit the forum and click the "Social Login" link at upper right.
We use only your name and Email to identify you and make no other claim on your Facebook information or privacy. However, if you prefer not to use Facebook, contact me at wine@wineloverspage.com for information about registration.
Subscriptions and Administrivia
Unsubscribe:
We're sorry if you must leave us, but simply click the "unsubscribe" link at the bottom of your Email edition to be instantly removed from the mailing list.
Change address:
The quickest and easiest way to change your Email address is simply to register anew, using the link below. If you are keeping your old address but no longer wish to get the Wine Advisor there, click the unsubscribe link below to take it off our list; if you are closing the mailbox, you needn't take any action, as our system will delete your old address as soon as the mail to your old address starts to "bounce."
Subscribe to this weekly E-letter (free)
Sponsorship Opportunities:
For information, E-mail wine@wineloverspage.com