Did you notice? Yesterday was National Wine Day!
Suddenly, just like that, my news feed started filling up with exhortations to get out and drink wine. Even our local newspaper covered the day, surely to the delight of about eight local wine bars and wineries that reaped the free publicity. All over the nation, National Wine Day achieved, if not banner headlines, at least a tsunami of feature articles gently culled from news releases.
I never could figure out what business or trade organization came up with the bright idea for this event, though, and as best I can tell, Hallmark hasn't created a card for it yet. There's a National Wine Day Website and a National Wine Day Facebook Page, both of which self-referentially link back to each other; and a National Wine Day Twitter feed, where this all apparently got started back in 2009 with a social media vote to choose the day.
I fired out Twitter and Facebook queries, which at this point remain unanswered. Then I spent a little time Googling around, which drew my attention to a similar event, National Drink Wine Day on February 18, sponsored by a wine-sales club. I clicked around a little more, and then, belatedly, asked myself, "Self, why are you wasting your time on this?"
After all, for most of us, doesn't every day have the potential to be a wine day? Let's open a bottle tonight!
After a late-spring chilly spell, it's heading back to the upper 80s again today, rekindling my annual interest in good, crisp and dry rosé wines. Since we'll be moving on to South African wines in our WineLovers Discussion Group forum's monthly Wine Focus on June 1, after we wrap up this month's survey on The Wines of Austria, why not a South African rosé? We enjoyed a fine example the other day: See below for my tasting report on Mulderbosch Cabernet Sauvignon Rosé.
Today's Sponsor:
Wine Grape Varietal Table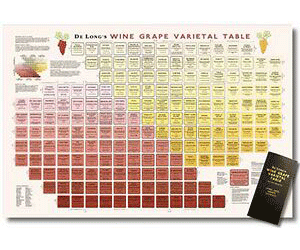 Steve and Deborah De Long's Wine Grape Varietal Table is one of the most innovative wine-enthusiast notions I've seen. It mimics the familiar periodic table of the elements to categorize a world of wine grape varieties. A wine reference disguised as a fine-art print, it's a great gift for a wine-loving friend – or yourself – and makes a fun wall display for cellar or study or tasting room. Click here to order now.
The De Longs also produce stunning, quality poster-size wine maps of France, Italy and other regions for $14.95 to $29.95. Click here to view and order any of the De Long wine maps.
Today's Tasting Report
Mulderbosch 2015 Coastal Region Cabernet Sauvignon Rosé ($10.99)
Clear, pretty rosy pink that shows a hint of orange against the light. Its delicate but delicious scent offers light strawberries at first, then opens up to add hints of red cherry and juicy peach as the wine warms in the glass. These appetizing mixed fruit flavors carry over on the palate in a crisp, tart and dry flavor, with just a touch of prickly petillance on the tongue. Subtle strawberries and a tangy edge of citrus linger in a very long finish, and light 12.5% alcohol invites another glass. U.S. importer: Terroir Selections, St. Helena, Calif. (May 23, 2017)
FOOD MATCH: The winery leans toward a seafood match, suggesting pairings with fresh, seared tuna steaks, veal limone, poached salmon, cold crayfish salad, or sushi, with picnic fare or as an aperitif. We enjoyed it with linguine tossed with pastured eggs, garlic and Grana Padano cheese.
WHEN TO DRINK: Its Cabernet base and its sturdy modern screwcap assure a reasonable life, but still, rosés are best young and fresh, and the 2016 has already reached the market. I suggest drinking up the 2015s this summer and keeping an eye out for the most recent vintages in the future.
VALUE:
My local price is within reach of the 10$ U.S. average retail clculated by Wine-Searcher.com. Many vendors offer it for around $8. At these prices, it's worth loading up for use as a summer sipper.
WEB LINK
Here's a winery fact sheet on Mulderbosch Cabernet Sauvignon Rosé, and a "tasting report on the 2015 vintage. And finally, here is a more detailed technical sheet.
FIND THIS WINE ONLINE:
Locate vendors and compare prices for Mulderbosch Coastal Region Cabernet Sauvignon Rosé on Wine-Searcher.com.
Social Media
If you use Facebook, we'd be delighted to have you "Like" our WineLovers Facebook Page. This way you can get Facebook notifications when there's a new The 30 Second Wine Advisor issue or a topic of particular interest on the WineLovers Discussion Group (WLDG).
If you're a Facebook user, you can join our forum with a single click! All you need to do is visit the forum and click the "Social Login" link at upper right.
Finally, I welcome social media connections, but if I won't recognize your name, I suggest that you contact me via Email to wine@wineloverspage.com to let me know that you've requested a connection.
Connect with Robin Garr on LinkedIn
Talk About Wine Online
If you have questions, comments or ideas to share about today's article or wine in general, you're always welcome to drop by our online WineLovers Discussion Group, the Internet's first and still the most civil online community. To find our forums, click:
Discussions are open for public viewing, but you must register to post. If you're a Facebook user, you can also now join our forum with a single click! All you need to do is visit the forum and click the "Social Login" link at upper right.
We use only your name and Email to identify you and make no other claim on your Facebook information or privacy. However, if you prefer not to use Facebook, contact me at wine@wineloverspage.com for information about registration.
Subscriptions and Administrivia
Unsubscribe:
We're sorry if you must leave us, but simply click the "unsubscribe" link at the bottom of your Email edition to be instantly removed from the mailing list.
Change address:
The quickest and easiest way to change your Email address is simply to register anew, using the link below. If you are keeping your old address but no longer wish to get the Wine Advisor there, click the unsubscribe link below to take it off our list; if you are closing the mailbox, you needn't take any action, as our system will delete your old address as soon as the mail to your old address starts to "bounce."
Subscribe to this weekly E-letter (free)
Sponsorship Opportunities:
For information, E-mail wine@wineloverspage.com