Today we're taking on another of those topics that separates those of us who have a sense of humor about wine from those who don't find wine a laughing matter.
Here's the question: When summer clamps down on us like a hot, wet sponge – or even when it doesn't – have you ever considered spritzing your wine with a shot of sparkling water, and maybe dropping a couple of ice cubes in?
Following that collective gasp, if your reply is not just "No" but "HELL, NO," I won't be offended if you prefer to skip on down to today's tasting notes and generous offer from our friends at The California Wine Club.
If you're still with me, though, then let's talk about this. First, some limits: I would not consider giving the spritzer treatment to an excellent wine. Not a Bordeaux, not a Burgundy, not even the fine $25 Pinot Noir from Au Bon Climat that I review below.
But would I turn a decent, everyday $10 Chianti into a cooling cocktail by pouring equal quantities of wine and bubble water into a tall glass or maybe a Riedel "O" with ice and maybe a twist of orange? You bet I would, and I would sip it joyfully on a steamy summer evening or even at a picnic.
Or how about a rosé like today's fine Oregon Rosé of Pinot Noir from Sokol-Blosser? In my opinion, a dry, flavorful rosé is made for this treatment. Make it a straight spritzer as I describe above, maybe swapping out the orange for a wedge of lemon or lime. Or a raspberry or a strawberry or a wedge of fresh peach. The possibilities are endless, limited only by what sounds good to you.
You might even bring out your inner mixologist and consider including wine as an ingredient in a favorite cocktail. Add a jigger of Campari to your rosé spritzer, for instance, to add a delicious sweet-bitter flavor to the mix. Or even lighten up your Negroni with a shot of rosé to lighten up your gin and Campari mix. Sip it just like that, or stretch it out with sparkling water for a long, cooling summer drink.
The ideas just invent themselves! Would an ounce or two of thick, sweet Pedro Ximenez or Cream Sherry lend itself to the spritzer treatment with bubble water and orange, melon or peach? I think so. The possibilities are endless … once you get past the mental barrier of diluting your wine with sparkling water and ice.
If you've already done this, or if you decide to give it a try, I'd love to hear from you. Post your comments on our WineLovers Discussion Group (WLDG), or head over to the WineLovers Facebook Page, and let's start a conversation!
Wine Focus: The USA
I can't remember the last time we've turned our Wine Focus attention to the wines of the United States, but it has certainly been a while! So it seems appropriate during the month of Independence Day that we give a little attention to the wines of the U.S.
In addition to exploring wines from the handful of states with significant wine industries whose products are distributed nationwide and beyond, let's feel free to report on wines from the other states as well. In particular, for those of us who don't live in California, Oregon or Washington, this might be a good time to find out – and share – where our locally produced wines stand.
Please feel free to drop by the forum with your tasting notes, comments and questions about U.S. wines. from California and beyond. If you're a Facebook user, you can join our forum with a single click: All you need to do is visit the forum and click the "Social Login" link at upper right.
Today's Sponsor:
Treat Yourself and Save 50%
Handcrafted wine tastes better. Small wineries handcraft wines in ways that are simply not possible at large corporate wineries. It makes a difference you can taste in every glass.
Discover the world of small-batch wines with The California Wine Club. Each month, their members receive deliveries of delicious wines that are rarely found outside the wineries themselves. They have five club levels to choose from, something for every taste and budget. They promise that every wine they feature will be one you'll love.
Treat yourself to the taste of handcrafted wines. Click to save 50% on your first delivery.
About The California Wine Club
There are thousands of small family wineries handcrafting extraordinary wine in quantities too limited to be found in local stores or shops. In 1990 The California Wine Club Founders Bruce and Pam Boring discovered that these winemaking families were the most passionate in the wine world and that their wines were the hidden gems of wine country! Together Bruce and Pam embarked on a journey to help these artisan wineries introduce their exquisite wines to the world. Learn more.
www.cawineclub.com 1-800-777-4443
Today's Tasting Reports
Au Bon Climat 2016 Santa Barbara County Pinot Noir ($25.99)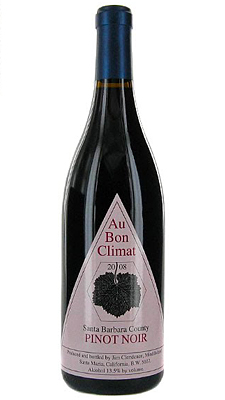 Dark ruby red with scarlet glints against the light. Red berries, a hint of plum and a whiff of fennel carry over intact on the palate in a full-bodied, red-berry flavor that's ripe but bone-dry and tart, mouth-watering and palate-cleansing. Alcohol at 13.5% is sufficient to fill it out but not so high-octane as to bring the heat. Soft, palatable tannins in a nicely balanced Pinot Noir that's distinctly California yet reaches across the Atlantic to bring in a touch of Burgundy. Excellent wine. (July 13, 2017)
FOOD MATCH: This classic Pinot goes seamlessly with just about any red meat, mushrooms, sharp cheese, wild salmon and more.
WHEN TO DRINK: It's delicious and certainly won't go around the bend in a year or two, but I don't see it as a wine made for cellaring. Enjoy it in the next few years but save Au Bon Climat's more upscale bottlings for laying down.
VALUE: Wine-Searcher.com reports a $23 average U.S. retail, which is in line with its $24 winery price and not far under my $26 local price. This excellent Pinot is certainly worth its toll in this mid-$20s range.
WEB LINK Read about Au Bon Climat, its vineyards, its wines and its people, at this link.
FIND THIS WINE ONLINE: Check prices and find vendors for Au Bon Climat Santa Barbara County Pinot Noir on Wine-Searcher.com.
You can also buy the 2016 vintage direct from the winery for $24 at this link.
Sokol-Blosser 2016 Dundee Hills Estate Cuvée Rosé of Pinot Noir ($19.99)
Pretty, clear light rosy pink color. Red berry and subtle wildflower scent, fresh, a touch of strawberries on the palate, perhaps the one clear signal of its Pinot Noir provenance. The winery claims a small amount of residual sugar, but it appears bone-dry and faintly prickly, with 12% alcohol; an intriguing hint of "rainwater" minerality in the background. Crisp and tart, red berries and subtle lemon-lime in a very long finish. (July 10, 2017)
FOOD MATCH: Great with a Caprese salad of ripe garden tomatoes, fresh mozzarella and garden basil with fine olive oil. Also a delicious summer sipper on its own or turned into a light, quenching spritzer with equal portions of rosé and sparkling water over ice in a tall glass with lemon.
WHEN TO DRINK: There's no reason why you couldn't keep it on its side in a cool place for a year or two, but rosé is really made to enjoy, not lay down. Buy it, drink it, buy some more.
VALUE:
You might say that $20 is getting up there by traditional standards for rosé, but perhaps it's time for rosé to take equal place alongside white and red. My local price is in line with the $20 U.S. average on Wine-Searcher.com.
WEB LINK
Here's a winery fact sheet on Sokol-Blosser 2016 Dundee Hills Estate Cuvée Rosé of Pinot Noir.
FIND THIS WINE ONLINE:
Compare prices and fine vendors for Sokol-Blosser Dundee Hills Estate Cuvée Rosé of Pinot Noir on Wine-Searcher.com.
Buy this wine from the winery for $22/bottle.
Wine Forum and Social Media
If you have questions, comments or ideas to share about today's article or wine in general, you're always welcome to drop by our online WineLovers Discussion Group, the Internet's first and most civil online community.
Discussions are open for public viewing, but you must register to post. If you're a Facebook user, you can join our forum with a single click! All you need to do is visit the forum and click "Social Login" at upper right.
We'd also be delighted to have you "Like" our WineLovers Facebook Page. This way you can get Facebook notifications when there's a new The 30 Second Wine Advisor issue or a topic of particular interest on the WineLovers Discussion Group (WLDG).
Subscriptions and Administrivia
Unsubscribe:
We're sorry if you must leave us, but simply click the "unsubscribe" link at the bottom of your Email edition to be instantly removed from the mailing list.
Change address:
The quickest and easiest way to change your email address is simply to unsubscribe from your old address and register again from the new one: Subscribe to The 30 Second Wine Advisor (free).
Read 18 years of past articles in the Wine Advisor Archives.
Sponsorship Opportunities:
For information, email Robin Garr at wine@wineloverspage.com