Wine touches our senses and affects our mood. So does music. Is it any surprise that wine and music go well together?
Does our choice of wine to go with dinner have any influence on the music that we choose to accompany the meal? I expect this decision is intuitive, at best, for most of us. We pick a wine that we like, perhaps choosing something that we hope will pair well with the food. But do we do the same when we decide which favorite tracks to bring up to set the mood? Do specific wines pair well with specific tunes? Does Bordeaux go with Beethoven, for example, while The Beatles require Pinot Noir?
This may sound like a clickbait headline or maybe something from The Onion, but now we have a serious study, reported in The Academic Wino, that seeks to discern such a relationship through rigorous study.
"The effect of music on one's psychological behavior has been studied over and over again throughout the scientific literature," wrote Becca Yeamans-Irwin, who publishes the Academic Wino.
"The study of music and wine as a subset is also a popular topic, one of which has seen its fair share of research. Much like wine and food, some believe that there are perfect wine and music pairings, and that maybe we might see music playlists paired alongside the wine lists at a restaurant," Yeamans-Irwin wrote in an Aug. 10, 2017 post, "Wine and Music 'Pairing' Preferences Driven by Emotion: A [Very] Brief Look."
Research has already shown that music really can influence one's enjoyment of wine, a finding that isn't likely to surprise anyone. Little is known, though, about exactly how and why this happens; it could be driven by emotional responses. Academic Wino reports on a recent study published in the journal Beverages, "Assessing the Role of Emotional Associations in Mediating Crossmodal Correspondences between Classical Music and Red Wine." (You can click the preceding link for a look at the abstract.)
This study looked for ways to determine if there are in fact "shared emotional associations between wine and music, and if these associations drive an individuals' evaluation of the wine-music pair."
Briefly told – you're welcome to follow the links above to imbibe the reports in full – researchers selected three classical-music passages that varied in tempo, key, and instrumentation: Sophia Giustani Dussek's "Harp Sonata in C Minor," in fast tempo and major key; Sergei Rachmaninoff's "Romance," in slow tempo, minor key; and "O Fortuna" from Carl Orff's "Carmina Burana," in medium tempo, minor key.
They also selected three red wines: Domaine Pellé Menetou-Salon Morogues Pinot Noir, 2014, light body, soft tannins, high acidity; The Society's Blind Spot 2014 GSM, full body, soft tannins, low acidity; and Scacciadiavoli Montefalco Rosso, 2012, full body, big tannins, high acidity.
After serving the wines in varying combinations with the music and, in one round, without music for a group of 21 individuals with varying degrees of wine knowledge, researchers did find some consistent responses. Participants did tend to pair the most "exiting" and "powerful" selection, "O Fortuna," with the wine that garnered similar associations for excitement and power, the Montefalco Rosso, while Rachmaninoff's "Romance" was rated as eliciting the greatest emotional associations for "sad," seemed to attract people to the Blind Spot GSM.
Overall, writer Yeamans-Irwin said, "this brief study confirmed what is already known about wine and music and that certain songs seem to 'pair' well with certain types of wines. Additionally, the results seemed to support the idea that emotions might, at least in part, drive … preference for a certain music and wine pairing type. In other words, people are more likely to prefer a wine-music 'pairing' where the wine and musical number share similar emotional response ratings. If these results are accurate, then it may be possible to come up with the 'perfect' playlist for a wine tasting event."
Researchers acknowledged that the study fell well short of rigor. The sample size was tiny, the wines were relatively similar, and the musical selections were all classical. Still, it's a fascinating topic. What do you think? Do you often choose a dinner wine to match your dinner music, or vice-versa? Tell us about it on the WineLovers Discussion Group or our WineLovers Facebook Page.
Today's Sponsor:
Wine Grape Varietal Table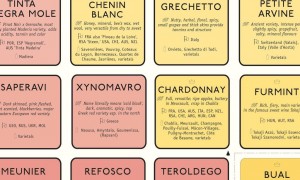 Remember studying the Periodic Table of the Elements in high school? You won't need to struggle with Steve and Deborah De Long's Wine Grape Varietal Table, though. A wine reference disguised as a fine-art print, it looks like the chemical table but replaces the elements with a world of wine grape varieties: 184 of the world's favorite grapes organized by body and acidity, clearly showing how they relate. Buy one for a friend, or for yourself! Click here to order now.
The De Longs also produce stunning, quality poster-size wine maps of France, Italy and other regions for $14.95 to $29.95. Click here to view and order any of the De Long wine maps.
Today's Tasting Reports:
Wine Focus Our online Wine Focus features the wines of Argentina this month. This major Southern Hemisphere producer is surely best known for its red Malbec wines from the Mendoza region, but it's worth exploring its red Bonarda, white Torrontes, and many of the world's other familiar varietal wines as well. Please feel free to drop by the forum with your tasting notes, comments and questions about the wines of Argentina. If you're a Facebook user, you can join our forum with a single click: All you need to do is visit the forum and click the "Social Login" link at upper right.
Alamos 2015 Mendoza Malbec ($9.99)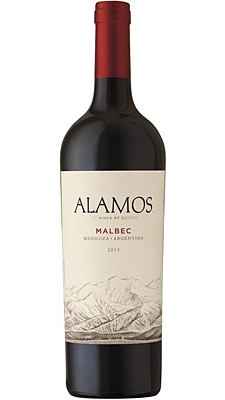 Very dark reddish-purple, all but opaque, with glints of ruby against the light.. Luscious red cherries join more subtle brown spices on the nose, leading into a juicy, tart red-cherry and plum flavor framed by crisp acidity, with a touch of freshly ground black pepper joining in. A noticeable buzz of tannic astringency builds in on the side of your tongue as the wine crosses your palate, and a bit of zippy citrus joins cherries, plums and a tannic buzz in a long finish. Mostly Malbec with a small but undisclosed percentage of Syrah and Bonarda in the blend; 13.5% alcohol. U.S. importer: Alamos USA, Hayward, Calif. (Aug. 11, 2017)
FOOD MATCH: Argentina is famous for its beef grilled on the parilla, and it would be hard to imagine a better match for the country's trademark Malbec; smoky grilled vegetables would do the trick, too. We enjoyed it with a quick dinner of pinto beans in a cheese sauce with broccoli.
WHEN TO DRINK: It's just fine now, and the clean Diam technical cork should assure a few years of storage time without cork taint. It's not really intended for long-term aging, though. I'd drink it up in the next year or two unless you have climate-controlled cellar conditions.
VALUE: My local price is within reach of the $9 average U.S. retail price reported by Wine-Searcher.com, which is a very good value for this Argentine table red.
WEB LINK
Here's an English-language promo sheet on the producer's web page.
FIND THIS WINE ONLINE:
Find vendors and check prices for Alamos Mendoza Malbec on Wine-Searcher.com.

Crémant is the legal term for sparkling wine made by the historic Champagne technique in regions of France outside Champagne proper, the only terroir with the right to call its sparkling wines Champagne. This wine is made in Burgundy from Burgundian grapes, using the traditional Champagne method. It's made by Bailly-Lapierre, which produced this special-label rosé for Trader Joe's wines but makes a delicious white crémant under its own label.
La Burgondie Crémant du Bourgogne Rosé Brut ($11.99)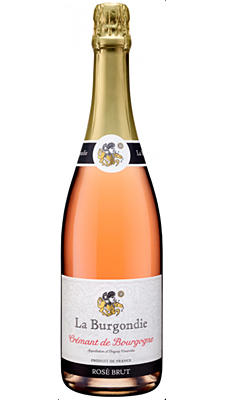 A traditional Burgundy blend of 80% Pinot Noir and 20% Gamay, this is a pretty, light salmon color sparkling wine that foams up in the glass with a frothy mousse that quickly falls back to a prickly carbonation without a lot of obvious bubbles. Pleasant red-berry fruit on the nose and palate is backed by a subtle but distinctive hint of cocoa that often appears in Pinot-based sparklers. Crisp, tart acidity builds a firm body, with touches of rising bread and mouth-watering citrus in a long finish. 12% alcohol. U.S. importer: Plume Ridge, Claremont, Calif. (Aug. 3, 2017)
FOOD MATCH: The back label suggests serving it as an aperitif or with pre-dinner nibbles, sushi and sashimi or grilled salmon. It was great with spaghetti tossed in garlic butter with pastured eggs and Grana Padano cheese "scrambled" by being stirred in to the hot, buttery pasta.
WHEN TO DRINK: No rush, but it's delicious in its freshness. I wouldn't worry about trying to cellar this simple but tasty bubbly.
VALUE:
It's a great value at Trader Joe's $11.99 price; Wine-Searcher.com reports a $17 average U.S. retail for its white sibling, La Burgondie Crémant du Bourgogne Brut made by Bailly-Lapierre. That one is a fine value in the upper-teens.
WEB LINK
Here's a handy fact sheet from importer Plume Ridge.
FIND THIS WINE ONLINE:
This specific bottling at this price is available only from Trader Joe's stores in the U.S.
If a TJ's is not convenient to you, you can find vendors and compare prices for its sparkling white sibling, Bailly-Lapierre La Burgondie Crémant du Bourgogne Brut, on Wine-Searcher.com.
Click here for an extensive selection of other Crémant du Bourgogne offerings on Wine-Searcher.com.
Wine Forum and Social Media
If you have questions, comments or ideas to share about today's article or wine in general, you're always welcome to drop by our online WineLovers Discussion Group, the Internet's first and most civil online community.
Discussions are open for public viewing, but you must register to post. If you're a Facebook user, you can join our forum with a single click! All you need to do is visit the forum and click "Social Login" at upper right.
We'd also be delighted to have you "Like" our WineLovers Facebook Page. This way you can get Facebook notifications when there's a new The 30 Second Wine Advisor issue or a topic of particular interest on the WineLovers Discussion Group (WLDG).
Subscriptions and Administrivia
Unsubscribe:
We're sorry if you must leave us, but simply click the "unsubscribe" link at the bottom of your Email edition to be instantly removed from the mailing list.
Change address:
The quickest and easiest way to change your email address is simply to unsubscribe from your old address and register again from the new one: Subscribe to The 30 Second Wine Advisor (free).
Read 18 years of past articles in the Wine Advisor Archives.
Sponsorship Opportunities:
For information, email Robin Garr at wine@wineloverspage.com