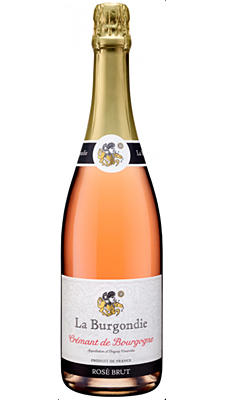 A traditional Burgundy blend of 80% Pinot Noir and 20% Gamay, this is a pretty, light salmon color sparkling wine that foams up in the glass with a frothy mousse that quickly falls back to a prickly carbonation without a lot of obvious bubbles. Pleasant red-berry fruit on the nose and palate is backed by a subtle but distinctive hint of cocoa that often appears in Pinot-based sparklers. Crisp, tart acidity builds a firm body, with touches of rising bread and mouth-watering citrus in a long finish. 12% alcohol. U.S. importer: Plume Ridge, Claremont, Calif. (Aug. 3, 2017)
FOOD MATCH: The back label suggests serving it as an aperitif or with pre-dinner nibbles, sushi and sashimi or grilled salmon. It was great with spaghetti tossed in garlic butter with pastured eggs and Grana Padano cheese "scrambled" by being stirred in to the hot, buttery pasta.
WHEN TO DRINK: No rush, but it's delicious in its freshness. I wouldn't worry about trying to cellar this simple but tasty bubbly.
VALUE:
It's a great value at Trader Joe's $11.99 price; Wine-Searcher.com reports a $17 average U.S. retail for its white sibling, La Burgondie Crémant du Bourgogne Brut made by Bailly-Lapierre. That one is a fine value in the upper-teens.
WEB LINK
Here's a handy fact sheet from importer Plume Ridge.
FIND THIS WINE ONLINE:
This specific bottling at this price is available only from Trader Joe's stores in the U.S.
If a TJ's is not convenient to you, you can find vendors and compare prices for its sparkling white sibling, Bailly-Lapierre La Burgondie Crémant du Bourgogne Brut, on Wine-Searcher.com.
Click here for an extensive selection of other Crémant du Bourgogne offerings on Wine-Searcher.com.