Does wine taste better if it comes from a bottle stopped with a cork or closed with a metal screw cap?
This is not an idle question. Over recent decades, since the screw cap emerged from its former place of shame as the signal of cheap wine served from jugs, the natural cork has begun to suffer some shame of its own. That, um, natural tendency to ruin the wine with a funky taint, for instance, and the growing recognition that you don't really need a special tool to open a wine bottle.
In short, the connection of cork and screw cap on flavor and aging has become the topic of ongoing debate. Does a sound cork add a subtle flavor element of its own that enhances the subtlety and complexity of well-aged wine? The cork industry would say so. Does a sturdy screwcap ensure that the wine stays clean? That's what we hear from the other side. (Disclaimer: I'm never unhappy when I find a screw cap on my wine, regardless of its price tag.)
Does natural cork allow just the right amount of air to penetrate the cork of a cellared bottle lying on its side at a constant 55C to ensure proper evolution? That's the old conventional wisdom. Do screw caps create a condition that's too anaerobic – sheltered from oxygen – to foster the development that comes with cellar time? Who knows? And by the way, is that plastic that lines the metal cap? Hmm.
And so the debate goes. Until today! I was first intrigued, then amused, at an article this morning in Phys.org, a science, research and technology news aggregator. "Scientists to settle dispute over taste of wine in bottles with corks versus screw caps," it read, promising that this burning issue is soon to be resolved.
Or is it?
Researchers from Oxford University, the article says, "aim to settle the dispute over whether wine tastes better when stored in bottles with corks or screw caps—and they are not simply taking the word of tasters. They are going to study wine drinkers' brains while they sip."
The event, Neuroenological Tasting—The Grand Cork Experiment, is scheduled for today and tomorrow in London't SoHo district. Sorry, British friends, it appears to be all sold out.
Since taste is purely subjective, writer Bob Yirka asks, how can preferences be subjected to scientific analysis? The answer, he says, lies with science. "Rather than just asking people which they prefer, the researchers plan to put sensors on the heads of taste testers while they sip. The sensors will monitor brain pleasure responses and translate them into numbers that can be used for comparison purposes."
Researchers will also monitor responses to other factors that might influence brain activity during the wine experience: Does hearing the cork pop matter? Pulling a cork or unscrewing a metal cap? Swirling and sniffing? "The researchers plan to find out."
I'm sure the results will be widely disseminated. After all, the Oxford researchers are being assisted by Bompas & Parr, a British firm that "creates fine English jellies and curates spectacular culinary events."
Better still, the project is "in collaboration with the Portuguese Cork Association," so there's that. We'll keep you posted.
Today's Sponsor:
Wine Grape Varietal Table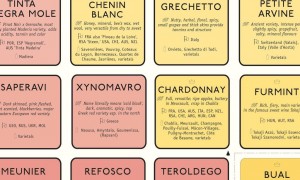 Remember studying the Periodic Table of the Elements in high school? You won't need to struggle with Steve and Deborah De Long's Wine Grape Varietal Table, though. A wine reference disguised as a fine-art print, it looks like the chemical table but replaces the elements with a world of wine grape varieties: 184 of the world's favorite grapes organized by body and acidity, clearly showing how they relate. Buy one for a friend, or for yourself! Click here to order now.
The De Longs also produce stunning, quality poster-size wine maps of France, Italy and other regions for $14.95 to $29.95. Click here to view and order any of the De Long wine maps.
Today's Tasting Reports:
Two fine Rosés for summer
E. Guigal 2016 Côtes du Rhône Rosé ($14.99)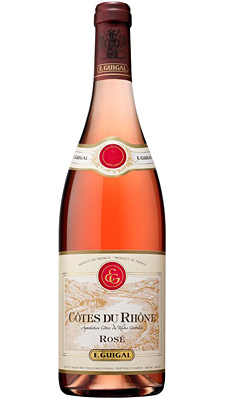 Clear, pale salmon color. A typical Rhône blend of 70 percent Grenache, 20 percent Cinsault, and 10 percent Syrah signals good pink Rhône aromas of red berries on the nose and palate, with touches of peach and mandarin adding complexity. Bright and fresh on the palate, ; 13.5 percent alcohol. U.S. importer: Vintus LLC, Pleaseantville, N.Y. (July 22, 2017)
FOOD MATCH: The winery suggests it with hors d'oeuvres, grilled fish, white meat, and poultry. It served us well with a gently spicy Cajun-style red beans and rice.
WHEN TO DRINK: It's not meant for aging and won't benefit from cellar time, but I wouldn't hesitate to keep it around for a few years. Chances are, though, that I'd drink it first.
VALUE:
My local price is within range of Wine-Searcher.com's $14 average retail; it's a fine value anywhere in the middle or even upper teens.
WEB LINK
Here is a fact sheet from the importer; for the winery's info sheet in English, click here.
FIND THIS WINE ONLINE:
Check prices and look for vendors for E. Guigal Côtes du Rhône Rosé on Wine-Searcher.com.
Willamette Valley Vineyards 2016 "Whole Cluster" Willamette Valley Rosé of Pinot Noir ($16.99)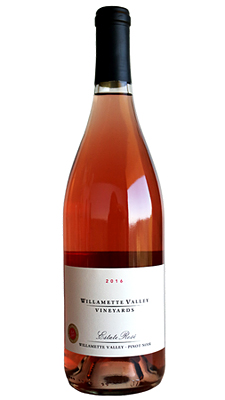 Clear, vibrant pink, with good aromas of strawberries and a hint of fresh green herbs. Red berries on the palate, too, plus a distinct touch of honeydew melon, framed with 13.4% alcohol and zippy, mouth-watering acidity that adds a touch of citrus as it lingers in a medium-long finish. (July 22, 2017)
FOOD MATCH: Fine with one of my favorite pink-wine pairings, Caprese salad of tomatoes, basil and mozzarella dressed with excellent olive oil. The winery suggests charcuterie or entrees like ahi tuna, chicken curry, and salmon with dill pesto sauce. Enjoy it also as an aperitif, or with seafood, fish or light chicken or pork dishes.
WHEN TO DRINK: The winery suggests "peak drinkability" between this year and 2019, and that makes sense to me: Rosé isn't for long-term aging and can't be expected to improve with age, but flavor and balance and the character of good Pinot Noir will hold it for two or three years.
VALUE:
My local price looks good alongside Wine-Searcher.com's $20 average retail; the winery, which does not sell this rosé online, says a more typical retail price is $15 to $17. It's certainly a very good value in the middle teens.
WEB LINK
Here's a detailed fact sheet and technical report on the Willamette Valley Vineyard web page.
FIND THIS WINE ONLINE:
Find vendors and compare prices for Willamette Valley Vineyards "Whole Cluster" Willamette Valley Rosé of Pinot Noir on Wine-Searcher.com.
Wine Forum and Social Media
If you have questions, comments or ideas to share about today's article or wine in general, you're always welcome to drop by our online WineLovers Discussion Group, the Internet's first and most civil online community.
Discussions are open for public viewing, but you must register to post. If you're a Facebook user, you can join our forum with a single click! All you need to do is visit the forum and click "Social Login" at upper right.
We'd also be delighted to have you "Like" our WineLovers Facebook Page. This way you can get Facebook notifications when there's a new The 30 Second Wine Advisor issue or a topic of particular interest on the WineLovers Discussion Group (WLDG).
Subscriptions and Administrivia
Unsubscribe:
We're sorry if you must leave us, but simply click the "unsubscribe" link at the bottom of your Email edition to be instantly removed from the mailing list.
Change address:
The quickest and easiest way to change your email address is simply to unsubscribe from your old address and register again from the new one: Subscribe to The 30 Second Wine Advisor (free).
Read 18 years of past articles in the Wine Advisor Archives.
Sponsorship Opportunities:
For information, email Robin Garr at wine@wineloverspage.com