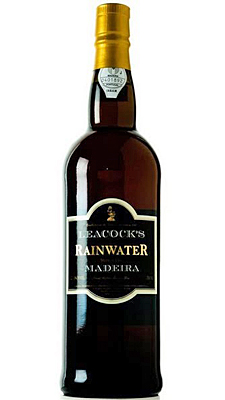 Pretty, bright and clear reddish-gold color, somewhere on the spectrum between copper and bronze. Delicious characteristic Madeira aroma, walnuts and a whiff of lemon that carry over on the palate with a back note of something intriguingly akin to dark chocolate. Good acidity to give structure, balancing a distinct note of fresh-fruit sweetness, and there's a bit of warmth on the back of the palate from 18% alcohol. Walnuts and mouth-watering citrus lingering in a very long finish. U.S. importer: Premium Ports & Madeiras, San Francisco. (Sept. 21, 2017)
FOOD MATCH: "Best served as an aperitif, lightly chilled," advises the winery on the back label, although its description as a "soft slightly fruity dry wine" may come as a surprise: It's dry only in contrast with the significant sweetness that's more typical of the Madeira genre. I wouldn't try it as a dinner wine – it's too sweet for that – but it does go well with a bite of mild, buttery cheese. The importer also suggests using it in cooking: "Even a dash will brighten meat and vegetable dishes."
WHEN TO DRINK: Madeira lasts pretty much forever, in the cellar, on a wine rack, or even in an opened bottle.
VALUE:
It's a little irritating when my local price comes in as much as $5 over Wine-Searcher.com's $15 average retail. On the other hand, this fine fortified wine probably justifies a $20 price tag.
WEB LINK
This importer's fact sheet contains an overview of Leacock and its wines and Madeira in general. Here's another article about Leacock's from the Madeira Shopping website.
FIND THIS WINE ONLINE:
Check prices and find vendors for Leacock's "Rainwater" Medium Dry Madeira on Wine-Searcher.com.
Check this Wine-Searcher.com list for a broad selection of Madeira in many price ranges, with links to find online vendors around the world.