If there's anything that makes people wonder about wine geeks, it's our mysterious ability to detect things like tar, smoke, butter, caramel, bananas, geraniums, and even a whiff of the barnyard wafting from our glass.
But gasoline, diesel, or even petrol when we're trying to tastefully emulate our British cousins? In wine? This is a step too far for many people. And yet, it is so common an aroma element in many Rieslings that it takes only one whiff to make the most ardent skeptic a believer.
And then there's Page Two: Granting that these wines really do smell of, er, petrol, how can anyone actually like a wine that reeks of spillage at the service station?
Herein lies one of the many mysteries of wine. First, drop by your local Shell station and take a deep whiff. No, even the most abundantly minerally Riesling doesn't really smell like that. But the organic chemicals that occur naturally in some Riesling grapes and that seem to be brought out by particular growing or winemaking conditions do create a mineral note that strikes our brains in roughly the same place as British Petroleum's finest.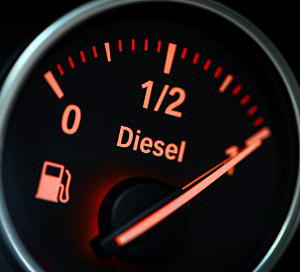 According to a rather geeky article, "Petrol and Riesling," published by the trade association International Riesling Foundation and drawn from the Pacific Rim Winery's Riesling Rules Book, "the petrol note in Riesling is thought to be caused by the compound 1,1,6-trimethyl-1,2-dihydronaphthalene (TDN), which is created during the wine's aging process from carotenoid precursors (terpenes) by acid hydrolysis." Got that?
The initial concentration of precursors in the wine determines the wine's potential to develop TDN and petrol notes over time, the article reports, listing the following factors that are thought likely to increase the TDN potential:
● Ripe grapes (accentuated by low yields and/or late harvest).
● High sunlight exposure (a factor that many of the Riesling experts on our WineLovers forum consider the primary cause).
● Water stress, which is most likely in regions that don't practice irrigation. This primarily occurs in dry vineyard sites during warm and low-rain years.
● Warm soils (gravel, etc.)
Coincidentally, the article points out, these same factors are also considered key to growing high-quality Riesling grapes. So by inference, the petrol note is more likely to develop in top Riesling wines than in simpler wines made for the mass market.
"Riesling grown in warmer climates such as Alsace," the article said, "will tend to exhibit the petrol character earlier in their post-bottling development."
And here's the money quote: "A discreet amount of petrol aromatics is a great enhancer, too much can be a bit of a turn-off."
We agree.
Below you'll find my notes on three good German Rieslings: One with no discernible petrol, one with just a hint, and one that offers a good strong dose that settles down a bit as the wine airs in the glass.
Today's Sponsor:
Hugh Johnson's Pocket Wine Book 2018
If it's autumn, it must be time for the new annual edition of Hugh Johnson's little Pocket Wine Book for 2018. It's hard to believe that the affable British wine scribe has been updating this useful little book annually for 41 years. Could I possibly be old enough to have followed it from almost the very start? Every year, Johnson crams in more information, updating reports on vintages and offering sound advice on buying value and aging potential, food matches and much, much more.
The book still fits in a pocket, although perhaps not a very small pocket; and you may need bifocals or a magnifying glass to peruse its tiny type. As always, it is an indispensable companion at the wine shop, in a restaurant, or on your own wine rack, containing Johnson's good advice on many thousands of wines from around the world, including his simple four-star wine-rating system and his opinions on which vintages are good and which are ready to drink.
Buy it now on Amazon.com for $11.72, a 31 percent saving from the $16.99 list price.
Today's Tasting Reports
Today we feature three good German Rieslings – two from the Mosel, one from the Rhine – to mark this month's Wine Focus topic in our WineLovers Discussion Group, All the wines of Germany! You're invited to read the conversations, join the discussion, and bring your own tasting reports. Click here to join in!
Dr. Loosen 2015 "Blue Slate" Riesling Kabinett Mosel Prädikatswein ($19.99)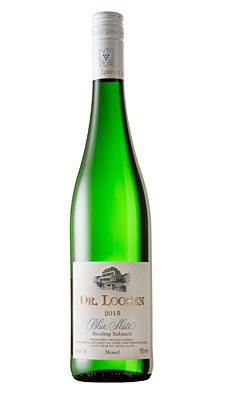 Ripe, juicy peaches on the nose and palate at first, joined by tangerine as the wine warms in the glass. Sharp acidity works to balance fresh-fruit sweetness on the palate, again becoming a little more rounded and subtle with warmth; this wine is really better at cellar than refrigerator temperature. Aromatic fruit and tingly acidity linger, with a hint of stony minerality becoming more evident in the long finish. Just 8 percent alcohol, not unusual in German whites. U.S. importer: Loosen Brothers USA, Salem, Oregon. (Oct. , 2017)
FOOD MATCH: Its zippy acidity makes it a bit tart for drinking alone, but it comes into its own when its edges are softened by a fatty food companion, buttery cheeses or sausages or pork.
WHEN TO DRINK: There's no rush for Riesling, but I would look to Dr. Loosen's higher-end offerings for cellaring.
VALUE:
This fine Kabinett is fairly priced even a couple of bucks over Wine-Searcher.com's $18 average U.S. retail; if you can grab it from one of the vendors offering it in the middle teens, it's a top value.
WEB LINK
Dr. Loosen's English-language website offers this fact sheet on all the estate Rieslings. Page down to find a paragraph on "Blue Slate" with links to technical information and label images.
FIND THIS WINE ONLINE:
Find vendors and compare prices for Dr. Loosen "Blue Slate" Riesling Kabinett on Wine-Searcher.com.
Wagner Stempel 2015 Rheinhessen Riesling Trocken Gutswein ($19.99)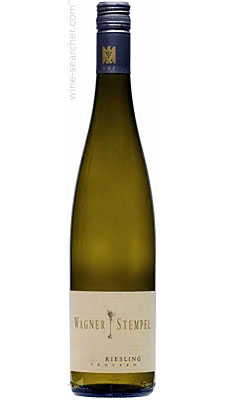 Clear straw color. Its bold aroma starts out with a strong whiff of that "minerally" Riesling scent that some liken to petrol or clean motor oil – in a good way – but after an hour or so in the glass it opens up to something more like fragrant white flowers with a back note of honeydew melon. On the palate it's rather full-bodied, almost unctuous, but firmly shaped by tart, mouth-watering acidity. A distinct touch of stony minerality joins more subtle honeydew and brisk acidity, all hanging on with a not-unpleasant touch of bitterness joining in a very long finish. The label lists alcohol at 12.5%. U.S. importer: Cellars International Inc., Rudi Wiest, Carlsbad, Calif. (Oct. 5, 2017)
FOOD MATCH: The bold aromatics and pushy acidity made a surprisingly good match with an early-fall dinner of Tuscan-style white beans with onions, garlic, good olive oil and fresh minced sage.
WHEN TO DRINK:
VALUE:
It's a buck or two over Wine-Searcher.com's $18 average retail but still fairly priced; better still if you can get a better price down to $15 at some Wine-Searcher links.
WEB LINK
Importer Rudi Wiest offers this fact sheet about Wagner Stempel on its web page.
FIND THIS WINE ONLINE:
Find vendors and compare prices for on Wine-Searcher.com.
Fritz Zimmer 2015 Mosel Riesling Auslese Deutscher Mosel Prädikatswein ($14.99)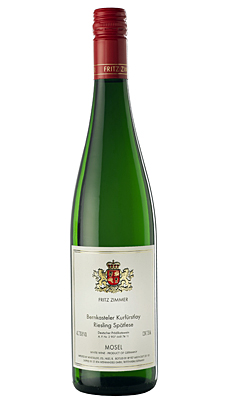 Transparent straw color. Light but delicious scent of melon and orange blossom leads into a bright, fresh flavor that's all about tangerine juice, pleasantly sweet but crisp, with sufficient acidity to keep the fresh-fruit sugars in balance. There's a touch of "stony, rainwater" minerality lurking behind the sweet citrus, but tangerine and orange blossom play the lead roles. It's easy to drink at a very light (but typical for Mosel Auslese) 7.5% alcohol. U.S. importer: Winesellers Ltd., Niles, Ill. (Oct. , 2017)
FOOD MATCH: It went quite well with an Italian-style dish of long-cooked romano beans with onions and garlic and plenty of grated Parmigiano, and its light sweetness would also hold up to modestly hot-and-spicy fare. It also went well with cheese, and of course would be fine for sipping before or after dinner or any other time.
WHEN TO DRINK: Although Riesling certainly can age, the modest model is so delicious right now, I'd be tempted to drink it up soon and save the more upscale bottles for cellaring.
VALUE:
It's a decent value in the mid-teens.
WEB LINK
Here's a fact sheet about the winery from importer Winesellers Ltd.
FIND THIS WINE ONLINE:
WineSearcher.com came up short on this item, but you'll find a large selection of various other Mosel Riesling Auslese wines at this Wine-Searcher link.
Wine Forum and Social Media
If you have questions, comments or ideas to share about today's article or wine in general, you're always welcome to drop by our online WineLovers Discussion Group, the Internet's first and most civil online community.
Discussions are open for public viewing, but you must register to post. If you're a Facebook user, you can join our forum with a single click! All you need to do is visit the forum and click "Social Login" at upper right.
We'd also be delighted to have you "Like" our WineLovers Facebook Page. This way you can get Facebook notifications when there's a new The 30 Second Wine Advisor issue or a topic of particular interest on the WineLovers Discussion Group (WLDG).
Subscriptions and Administrivia
Unsubscribe:
We're sorry if you must leave us, but simply click the "unsubscribe" link at the bottom of your Email edition to be instantly removed from the mailing list.
Change address:
The quickest and easiest way to change your email address is simply to unsubscribe from your old address and register again from the new one: Subscribe to The 30 Second Wine Advisor (free).
Read 18 years of past articles in the Wine Advisor Archives.
Sponsorship Opportunities:
For information, email Robin Garr at wine@wineloverspage.com