A while back, I wrote with both pleasure and a little sadness about the popular British wine writer Hugh Johnson's autobiography, Hugh Johnson: A Life Uncorked.
I was pleased, because I love Hugh Johnson and his work. But I felt a little sad because I feared that this noted wine scribe's autobiography, looking back over nearly 50 years, signaled a capstone on a great career.
I'd like to say that I followed him since the very start, but in fact he already been writing about wine for years before I picked up my first copy of his handy little Pocket Wine Book in 1978 and then had the great pleasure of meeting him – and finding him as modest and unassuming in person as he is in print – at a wine competition in Torgiano, Italy, in 1982.
As it turns out, I needn't have worried. That was in 2006, and more than a decade later, Johnson is still going strong. His Hugh Johnson's Pocket Wine 2017 came out last autumn, marking the annual guide's 40th Anniversary.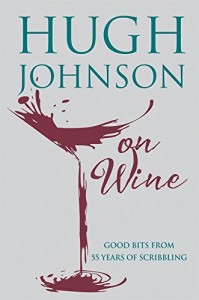 And now, I'm delighted to learn that Johnson is publishing yet another volume looking back over a life in wine well-lived: Hugh Johnson on Wine, Good Bits from 55 Years of Scribbling, will be published on May 2 by his longtime publisher, Mitchell Beazley. It is already available for pre-ordering on Amazon.com at $15.84 for the hardcover book, a 37 percent saving from the $24.99 list price; or $9.99 for the Kindle edition.
I was fortunate enough to get an advance copy from the publisher, and am enjoying it greatly. Know that it is not new material but a thorough (256-page) anthology of Johnson's writing, organized by decade from the 1960s to the 2010s. "There is not often time to pause, reread, reflect or realise how many traces you have left in the sands of time," Johnson writes. "Sometimes I am inconsistent, often I repeat myself but … it amounts to one man's wine history."
It's carefully selected to offer a broad sampling of Johnson's thoughts and opinions on a wine scene in which, as he points out, "All commentators agree (and rightly) that wine has developed more in the past fifty years than in the previous five hundred. Although 'improved' is probably a more relevant word than 'developed'. Good wines have flooded into our lives from places, countries, even continents that were innocent of any wine before. What was, when I set out, very much a niche subject has blossomed into something of wide (I daren't quite say general) interest."
This is a book that wine lovers could easily sit down and read straight through – the Kindle edition guesses that it will take an average reader 5 hours and 45 minutes – or to dip in and browse through one decade of wine, then another.
I don't want to spoil your enjoyment with too many quotes, but let me wrap up with just one poetic thought that captures Johnson's view of wine, a view that matches my own:
"Wine is grape juice. Every drop of liquid filling so many bottles has been drawn out of the ground by the roots of a vine. All these different drinks have at one time been sap in a stick. It is the first of many strange and some –despite modern research –mysterious circumstances that go to make wine not only the most delicious, but also the most fascinating, drink in the world."
Again, you can pre-order Hugh Johnson on Wine, Good Bits from 55 Years of Scribbling on Amazon.com at $15.84 for the hardcover book, a 37 percent saving from the $24.99 list price; or $9.99 for the Kindle edition.
And here's good news: If you just can't wait until May 2, if you have a Kindle device or Kindle applet, you can get an early peek at the Introduction and 1960s chapter by clicking "Get a Free Sample" on the book's Amazon.com Kindle page.
Enjoy your reading!
Today's Sponsor:
Wine Grape Varietal Table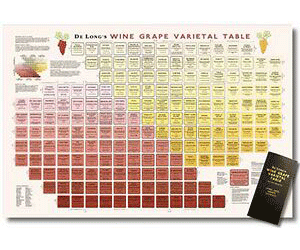 Steve and Deborah De Long's Wine Grape Varietal Table is one of the most innovative wine-enthusiast notions I've seen. It mimics the familiar periodic table of the elements to categorize a world of wine grape varieties. A wine reference disguised as a fine-art print, it's a great gift for a wine-loving friend – or yourself – and makes a fun wall display for cellar or study or tasting room. Click here to order now.
The De Longs also produce stunning, quality poster-size wine maps of France, Italy and other regions for $14.95 to $29.95. Click here to view and order any of the De Long wine maps.
Wine Focus: Wines of Australia
Many of us who were crazy about Australian wines back around the turn of the Millennium have felt that infatuation falling away in more recent years, perhaps knocked down by a combination of a move toward super-ripe, high-alcohol blockbuster wines at the high end and, well, Yellowtail at the other end. But times are changing, and lately we're starting to see more of the balanced, interesting wines from Australia that those canny folks had been keeping home for themselves.
We think it's time to take another look at the land Down Under, so we're spending the month of April reacquainting ourselves with wines that we once not only enjoyed but admired. Never mind the heavy hitters … let's go find the good stuff.
To join in our discussion and tastings, click Wine Focus for April 2017: Wines of Australia and bring your Australian comments, questions and tasting notes!
And now, here are my tasting reports on a pair of good, interesting and affordable Australian wines from a favorite producer, d'Arenberg in the McLaren Vale.
Today's Tasting Reports
d'Arenberg 2012 McLaren Vale "The Stump Jump" ($9.99)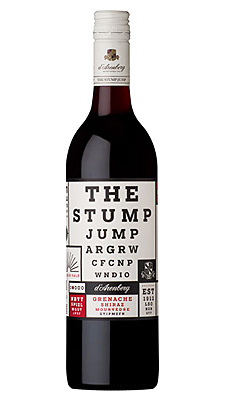 A typical Australian (and Southern Rhône) red blend of Grenache (46%) Syrah (39%) Mourvedre (15%), this is a very dark reddish-purple wine, shading to clear garnet at the edge. Juicy raspberries, the signature scent of Grenache, predominates in the nose at first, but there's other ripe fruit there too, blackberries and plums, carrying over on the palate with a full, medium-bodied mixed-fruit flavor framed by tart acidity, brisk tannins and warm but not overbearing 14.3% alcohol. U.S. importer: Old Bridge Cellars, Napa, Calif. (April 7, 2017)
FOOD MATCH: Fine with a hearty meat-and-tomato sauce over spaghetti, and worked as well after dinner with bites of buttery, creamy cheeses.
WHEN TO DRINK: No rush, but it's not really intended as a long-term ager and won't gain value with time. I'd drink it up over the next two years or so.
VALUE:
My local price matches the $10 U.S. retail reported by Wine-Searcher.com, and it's an excellent value for that price.
WEB LINK
Here's a Stump Jump fact sheet on the d'Arenberg website.
You'll find similar information on this Stump Jump promotion sheet on the importer's website.
FIND THIS WINE ONLINE:
Find vendors and check prices for d'Arenberg McLaren Vale "The Stump Jump" pm Wine-Searcher.com.
d'Arenberg 2014 "The Hermit Crab" McLaren Vale Viognier-Marsanne ($17.99)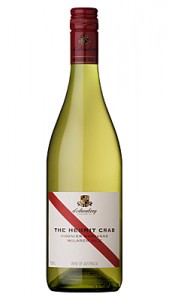 An aromatic white blend of Viognier (74%) and Marsanne (26%), with a portion of the Viognier spending time in French and American oak barrels to add tannic backbone, this is a fresh and aromatic wine. Clear, bright straw color with glints of gold, it offers typical Viognier floral scents at first, quickly joined by notes of peach and musky melon and a whiff of spice. Full-bodied, 13.3% alcohol, but structured with crisp acidity, its flavors follow the nose, stone fruit, orange peel, and a lemon-squirt of acidity in a very long finish. It's a complex and interesting wine, a great buy for fans of aromatic whites. U.S. importer: Old Bridge Cellars, Napa, Calif. (April , 2017)
FOOD MATCH: The name suggests seafood, and it would serve well with lobster, crab, and other sweet, rich seafood. We enjoyed it with a fresh kale salad in a light vinaigrette, built up to dinner-salad status with bulghur, avocado and slices of Parmigiano.
WHEN TO DRINK: The sturdy screw cap will keep it clean and fresh, but it's not a wine for long-term cellaring. I'd enjoy this one over the next year or two and watch for succeeding vintages as they become available.
VALUE:
I paid a few bucks more than the $15 U.S. retail reported by Wine-Searcher.com. Shop around if you can find a better price, but it's certainly a reasonable value into the upper teens.
WEB LINK
This info page on the d'Arenberg website features the 2016 Hermit Crab, but you can find links to download tasting notes on the 2014 and other vintages.
Importer Old Bridge Cellars has a good Hermit Crab fact sheet at this link.
FIND THIS WINE ONLINE:
Compare prices and find vendors for d'Arenberg McLaren Vale "The Hermit Crab" on Wine-Searcher.com.
Social Media
If you use Facebook, we'd be delighted to have you "Like" our WineLovers Facebook Page. This way you can get Facebook notifications when there's a new The 30 Second Wine Advisor issue or a topic of particular interest on the WineLovers Discussion Group (WLDG).
If you're a Facebook user, you can join our forum with a single click! All you need to do is visit the forum and click the "Social Login" link at upper right.
Finally, I welcome social media connections, but if I won't recognize your name, I suggest that you contact me via Email to wine@wineloverspage.com to let me know that you've requested a connection.
Connect with Robin Garr on LinkedIn
Talk About Wine Online
If you have questions, comments or ideas to share about today's article or wine in general, you're always welcome to drop by our online WineLovers Discussion Group, the Internet's first and still the most civil online community. To find our forums, click:
Discussions are open for public viewing, but you must register to post. If you're a Facebook user, you can also now join our forum with a single click! All you need to do is visit the forum and click the "Social Login" link at upper right.
We use only your name and Email to identify you and make no other claim on your Facebook information or privacy. However, if you prefer not to use Facebook, contact me at wine@wineloverspage.com for information about registration.
Subscriptions and Administrivia
Unsubscribe:
We're sorry if you must leave us, but simply click the "unsubscribe" link at the bottom of your Email edition to be instantly removed from the mailing list.
Change address:
The quickest and easiest way to change your Email address is simply to register anew, using the link below. If you are keeping your old address but no longer wish to get the Wine Advisor there, click the unsubscribe link below to take it off our list; if you are closing the mailbox, you needn't take any action, as our system will delete your old address as soon as the mail to your old address starts to "bounce."
Subscribe to this weekly E-letter (free)
Sponsorship Opportunities:
For information, E-mail wine@wineloverspage.com