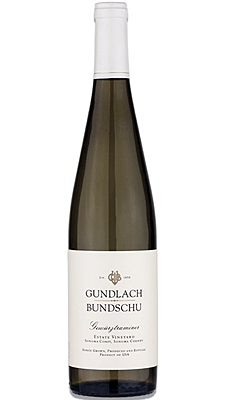 Transparent, light straw color, unusual for a variety generally known for its pinkish to light-red skin that often imparts a rich, even rosy color. There's nothing light about the aromas or flavors, though, which show characteristic Gewurz boldness. I pick up only a whiff of the Chinese-dessert lychees that often signal Gewurz; here they're shy behind a more in-your-face sense of stone fruit – peaches and apricots. Stone fruit and lychees carry over on the palate in a bright, bold flavor that's bone-dry – a rare thing in a Gewurz – with tart meyer lemon and "rainwater" minerality joining in. 14.3% alcohol is a bit pushy for a white, but it works in this wine, with zingy lemon curd lingering in a very long finish. (July 19, 2017)
FOOD MATCH: Gewurz is often proposed as a match for Asian fare, and Gundlach-Bundschu's website reflects this wisdom. I think this is a wine-style urban legend, based on Gewurz translating to German as "spicy." Asia is huge and diverse. No wine will match it all. Still, not-too-fiery stir-fries should work, especially with seafood, fish, chicken or pork. In Alsace, they love it with aromatic cheeses, and that will certainly work. And it goes without saying, of course, that it will work and play well on your Thanksgiving table.
WHEN TO DRINK: There's no big rush, but this isn't really a wine meant for long aging, and its bouquet of aromatics isn't likely to survive more than a few years in the cellar. Drink it up within a year or two, then buy the new vintage, which is already in the marketplace.
VALUE:
Wine-Searcher.com lists a $20 average U.S. retail, but many vendors sell it for less, some as low as $16 or less, so it will pay to look around. It's convenient to buy direct from the winery, but that price is not really competitive at $25 for a bottle, $270 for a case of 12.
WEB LINK
Here's a brief info sheet on the Gundlach-Bundschu web page.
FIND THIS WINE ONLINE:
Find vendors and compare prices for Gundlach-Bundschu Sonoma Coast Estate Vineyard Dry Gewürztraminer on Wine-Searcher.com.
Gundlach-Bundschu also sells the more recent 2016 vintage direct to the public for $25 a bottle, $270 for a case of 12.