Good morning! I'm enjoying the opportunity to relax after bringing the wine for two holiday feasts yesterday, a group of about 50 for lunch and about 15 for dinner.
When friends know you write about food and wine, they ask you to do wine things; and so it was that I loaded a couple of boxes of reds and whites into my car to take to the midday event. The wine ration for the smaller dinner was easier to carry in a six-unit wine bag.
How much wine should you buy if you're planning a dinner party at home or providing the beverages for a group? With Thanksgiving just past and winter holidays ahead, I thought you might like a little guidance. It's a delicate social situation, after all. You don't want to run short, but you also don't want to end up with a vast over-supply when dinner is done.
I took on this question in an early edition of the Wine Advisor, nearly 20 years ago, and not much has changed: How much wine should you buy for a large party?
It's always hard to predict how a crowd will behave, and a lot depends on whether your friends like to drink, how many of them prefer wine or beer, how long the party will last. But by working with a few basic principles, you can come up with a good estimate.
First, look at the standard wine bottle. Our familiar 750-ml bottle, originally one-fifth of a gallon in English-speaking countries, supposedly originated in earlier times as a proper ration for one full-grown adult, back when men were men, or maybe when wine was weaker. This bottle contains enough wine for five standard servings, a five-ounce pour.
Then, think about your friends. You probably have a good idea how much they like to drink. In my experience, with a good-size group, perhaps half to two-thirds of your guests will want wine, and they will vary considerably in their capacity. Some will want only one glass, others might take three, and a few might pretty much drain a bottle on their own with four or five. (Those friends may also challenge you to talk with them about a designated driver at the end of the evening.) For practical purposes, though, assume that a group will average two 5-ounce glasses each, a bit shy of half of a bottle. There's your starting point for calculating a shopping list.
So, if you're having a big dinner party for 45 friends, assume that two-thirds of them, 30 people, will want wine. Then, assuming an average of two glasses each, you come up with 60 glasses. Divide by five, you get 12 bottles, which by good luck is exactly one case. I'd err on the high sidem since I don't want to run out, by purchasing an extra four to six bottles. Add two or three six-packs of beer for those who prefer; and attractive non-alcoholic alternatives including coffee, tea, water, and perhaps some sparkling cider for those who don't want to indulge. It's always prudent to over-buy. You can stock your bar with the leftovers; or, if you prefer, ask when you buy the wine if the shop is willing to take back unopened bottles.
I usually buy equal amounts of red and white for a group, but if you're serving primarily with a meal, consider shifting the balance to meet the main course. With rare roast beef, go toward the red. Lobster, go white. And the holiday turkey, as we discussed last week, invites a mix of both, and maybe some pink wine too.
Have you had experience buying wine for a larger group? Did you aim high, fall short, or hit the bulls-eye? I'd love to hear your stories on our WineLovers Discussion Group forum or our WineLovers Facebook Page.
I wish you all the best of the holiday season, and hope those of you in the U.S. enjoyed a happy Thanksgiving Day and a fine meal. If you enjoyed a memorable wine with your Thanksgiving dinner, please drop by our forums and let us know about that, too.
Black Friday starts now: Save on Wine Gifts
Save with
The California Wine Club's Cyber Gift Sale
: Give three months (or more) of delicious deliveries of handcrafted wine, and they'll add on an extra month, a $59 value, on them.
Shop Now!
Each gift month will bring two award-winning, handcrafted wines from one of California's best small wineries. A different winery is featured every month.
Plus, holiday gifts come with:
• Beautifully hand-wrapped bottles.
• A fun coaster set.
• A $25 Wine Credit.
• A VIP winery tour and tasting invitation.
• Uncorked®, our guide to the featured winery.
Offer good through Cyber Monday!
See Gifts
About The California Wine Club:
California is home to thousands of small family wineries handcrafting extraordinary wine in quantities too limited to be found in local stores or shops. Since 1990 it has been our mission to help these artisan wineries introduce their award-winning wines to wine lovers across the U.S. Learn more.
www.cawineclub.com 1-800-777-4443
Today's Tasting Reports
As we discussed in last week's Wine Advisor, "Two for Thanksgiving," Beaujolais – even the often lightly regarded Nouveau Beaujolais that came out in the 2017 vintage last week – can make a surprisingly good match for the abundant feast that makes up the holiday table. Here are my reports on two good 2017 Nouveaus, and, for comparison, a fine "Cru" Beaujolais from the Regnié district.
Domaine Rochette 2017 Beaujolais Villages Nouveau ($13.99)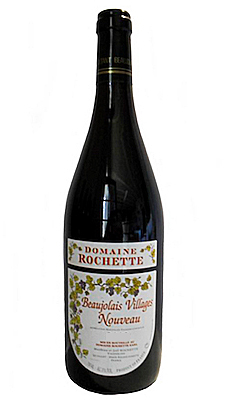 Dark ruby color, shading to a clear purple edge. Fresh and clean aromas, plums and subtle raspberries, lead into a bright red-fruit flavor, full and ripe for a Nouveau, nicely balanced with crisp fresh-fruit acidity. Really one of the best Nouveaus I've tried over the years, enjoyable on its own and good with food, nicely balanced at 13% alcohol. U.S. importer: Wines of France, Inc., Mountainside, N.J.; The Beaujolais Selection of Alain Junguenet. (Nov. 17, 2017)
FOOD MATCH: This cousin of red Burgundy is versatile with many food pairings. It sang for us with bowls of linguine Cacio e Pepe coated in Parmigiano and freshly ground black pepper.
WHEN TO DRINK: Sooner rather than later, but there's no reason a bottle shouldn't keep until next year's Nouveau comes in.
VALUE:
This exceptional Nouveau is well worth its $11 average retail shown on Wine-Searcher.com.
WEB LINK
Here's a fact sheet in English from Domaine Rochette. This page covers all their Beaujolais wines, ranging from Nouveau to some very special single-vineyard Cru Beaujolais.
FIND THIS WINE ONLINE:
Look for vendors and check prices for Domaine Rochette 2017 Beaujolais Villages Nouveau on Wine-Searcher.com.
Georges Duboeuf 2017 Beaujolais Nouveau ($10.99)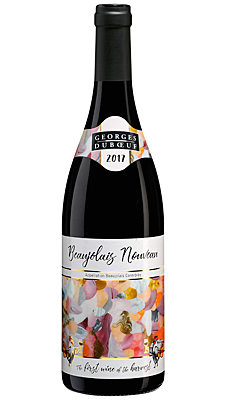 Reddish-purple, fading to a clear garnet edge. Abundant fruit on the nose, but gone is the old "banana" or "artificial strawberry" aroma – a characteristic of its commercial yeast – that used to be an identifying marker for Duboeuf. It's still fruity to be sure, but this is fresh, natural fruit, strawberries and raspberries and a whiff of raspberry liqueur. The aromas give a sweet impression, but the wine is nearly dry, with good fresh-fruit acidity to hold it in balance. Red fruit and crisp acidity linger in a fairly long finish. 13% alcohol. U.S. importer: Quintessential LLC, Napa, Calif. (Nov. , 2017)
FOOD MATCH:
The winery suggests a range of grilled and barbequed meats, charcuterie, colorful salads and cheese. Its fruity, slightly sweet character made it a good partner with a spicy dish, roasted brussels sprouts, onions and garlic in a moderately fiery Korean sauce.
WHEN TO DRINK: Forget the old wisdom about finishing Nouveau before New Year's, but its abundant fruit isn't made to last. Don't keep it until next year's Nouveau comes around.
VALUE:
My price fell right on Wine-Searcher.com's $11 average retail, and that price point is more than fair.
WEB LINK
Brief information from the importer is available on this importer's link.
FIND THIS WINE ONLINE:
Check prices and locate vendors for Georges Duboeuf Beaujolais Nouveau on Wine-Searcher.com.
Click here for a list of the best Beaujolais Nouveau on Wine-Searcher.com. (It's below the interesting article about Nouveau at the top of this page.)
Henry Fessy 2014 Château des Reyssiers Régnié ($16.99)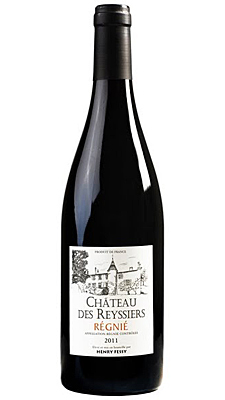 Deeply hued clear garnet color. Attractive red-fruit scents over a base of loamy earth, an appealing minerality on the nose. The flavor wakes up to bright and fresh red-berry, plum and cranberry flavors nicely balanced by palate-cleansing acidity and moderate 12.5% alcohol, with soft tannins building gentle astringency harmonizing with tart red plums in the long finish. This shows the distance a Beaujolais can reach when a decent model stretches out. U.S. importer: Louis Latour Inc., San Rafael, Calif. (Nov. 21, 2017)
FOOD MATCH: The winery reveals the wine's flexibility at the table with its recommendations of "White meats, grilled entrecote, barbequed ribs, appetizers and cheese." We thought it was fine with a hearty shepherd's pie for a chilly evening.
WHEN TO DRINK: The named Cru Beaujolais are certainly the longest-lived of Beaujolais wines, but I wouldn't go overboard with the relatively light Régnié. It's doing well now and should be good for a few more years under good cellar conditions, but I wouldn't mark it for long-term cellaring.
VALUE:
My price came in close to Wine-Searcher.com's $16 average retail, which is quite fair for a table red of this quality.
WEB LINK
Here's a short winery fact sheet in English on Henry Fessy Château des Reyssiers Régnié. You'll note that it carries Fessy's newer, bright label, which you'll want to look for in the quest for newer vintages on the shelves.
FIND THIS WINE ONLINE:
Find vendors and compare prices for Henry Fessy Château des Reyssiers Régnié on Wine-Searcher.com.
Use this Wine-searcher link to browse all the wines of Henry Fessy and find vendors that carry them.
Finally, here is Wine-searcher's list of many wines of Régnié, ranked by quality. Read through the short article discussing the region to get to the lengthy shop list.
Wine Forum and Social Media
If you have questions, comments or ideas to share about today's article or wine in general, you're always welcome to drop by our online WineLovers Discussion Group, the Internet's first and most civil online community.
Discussions are open for public viewing, but you must register to post. If you're a Facebook user, you can join our forum with a single click! All you need to do is visit the forum and click "Social Login" at upper right.
We'd also be delighted to have you "Like" our WineLovers Facebook Page. This way you can get Facebook notifications when there's a new The 30 Second Wine Advisor issue or a topic of particular interest on the WineLovers Discussion Group (WLDG).
Subscriptions and Administrivia
Unsubscribe:
We're sorry if you must leave us, but simply click the "unsubscribe" link at the bottom of your Email edition to be instantly removed from the mailing list.
Change address:
The quickest and easiest way to change your email address is simply to unsubscribe from your old address and register again from the new one: Subscribe to The 30 Second Wine Advisor (free).
Read 18 years of past articles in the Wine Advisor Archives.
Sponsorship Opportunities:
For information, email Robin Garr at wine@wineloverspage.com