Happy winter solstice! I expect you're busy this week, so let's get right to it:
Memorable wine books
An excellent wine encyclopedia makes a great gift for the wine lover on your list, or for yourself. Amazon can still deliver before Christmas if you order today! Need we say more?
• Buy Jancis Robinson's The Oxford Companion to Wine from Amazon.com for $43.77, 33 percent off its $65 list price.
• Buy Larousse Wine in hardcover from Amazon.com for $37.42, a 38 percent saving from its $60 list price.
• And, of course, for lighter wine reading, be sure to check out Mike Veseth's Around the World in Eighty Wines!
Browse the world's best value wines on Wine-Searcher.com!
I'm sending out this edition one day early to suggest a fine French red that would grace any holiday table, and a delightful new wine book that you can still get delivered from Amazon.com before Christmas.
The wine is a rich, balanced and food-friendly 2013 Gigondas from E. Guigal, two names to conjure with in the Rhône valley. Guigal is a larger but well-respected producer who's been making good wines for more than 60 years, covering the Northern and Southern Rhône from Hermitage and St. Joseph down to Châteauneuf-du-Pâpe and Gigondas. the source of today's wine.
Pronounced "Gee-goN-dahss" – Provence French doesn't drop the "s" at the end of words as their northern neighbors do – this region high up on the Côtes-du-Rhône hillsides is only a few kilometers from Châteauneuf-du-Pâpe, and makes its wines from the same Grenache-dominated cocktail of grapes. Many consider Gigondas to be a close runner-up to Châteauneuf for quality at a bargain price, and this bottle certainly qualifies. It's not a bargain-basement door-buster, but priced in the lower $30 range in the U.S., with retailers in many areas offering it in the middle $20s, it's hard to beat for holiday feasting. You'll find my tasting notes below.
Now, about that book. If you're the kind of person of many interests who likes wine, food, travel, geography, history, and all the other many facets that take wine beyond just grape juice, Mike Veseth's new Around the World in Eighty Wines is a book for you. Mike, a professor emeritus of international political economy at the University of Puget Sound and editor of The Wine Economist, is no drab economist but an engaging writer who has published a full shelf of wine books; he is also an authority on global wine markets who travels the world studying wine economics.
All his knowledge pours into this engaging, 215-page book. As the publisher, Rowman & Littlefield , describes it on Amazon.com, "Inspired by Jules Verne's classic adventure tale, celebrated editor-in-chief of The Wine Economist Mike Veseth takes his readers Around the World in Eighty Wines.
"The journey starts in London, Phileas Fogg's home base, and follows Fogg's itinerary to France and Italy before veering off in search of compelling wine stories in Syria, Georgia, and Lebanon. Every glass of wine tells a story, and so each of the eighty wines must tell an important tale. We head back across Northern Africa to Algeria, once the world's leading wine exporter, before hopping across the sea to Spain and Portugal. We follow Portuguese trade routes to Madeira and then South Africa with a short detour to taste Kenya's most famous Pinot Noir. Kenya? Pinot Noir? Really!
"The route loops around, visiting Bali, Thailand, and India before heading north to China to visit Shangri-La. Shangri-La? Does that even exist? It does, and there is wine there. Then it is off to Australia, with a detour in Tasmania, which is so cool that it is hot. The stars of the Southern Cross (and the title of a familiar song) guide us to New Zealand, Chile, and Argentina. We ride a wine train in California and rendezvous with Planet Riesling in Seattle before getting into fast cars for a race across North America, collecting more wine as we go. Pause for lunch in Virginia to honor Thomas Jefferson, then it's time to jet back to London to tally our wines and see what we have learned.
"Why these particular places? What are the eighty wines and what do they reveal? And what is the surprise plot twist that guarantees a happy ending for every wine lover? Come with us on a journey of discovery that will inspire, inform, and entertain anyone who loves travel, adventure, or wine."
I enjoyed this book, and I think you will, too. If you order it today (before midnight U.S. Eastern Standard Time), Amazon.com can get the hardcover copy to you by Saturday. Or of course you can have the Kindle edition right now.
Order Around the World in Eighty Wines from Amazon.com for $16.96, a 32% saving off the $24.95 list price. The Kindle edition is $9.60. Click to order it now.
Today's Tasting Report
E. Guigal 2013 Gigondas ($32.99)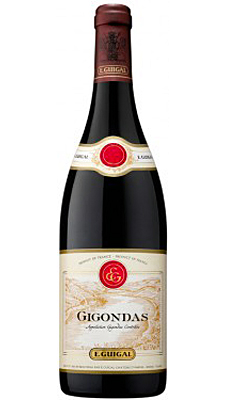 Dark ruby color, with reddish-violet glints against the light. Pleasant, typical Southern Rhone aromas, raspberries and black plums and just a hint of stewed plums lead into a full, ripe flavor of plums and berries, adding a bold, distinct impression of freshly ground black pepper that comes up and fills both the nose and palate. Good fresh-fruit acidity provides balance, and tannic astringency becomes increasingly obvious in the long finish. This is a very good, balanced, table wine, on a continuum with Chateauneuf-du-Pape and made from a similar blend of 70% Grenache, 20% Syrah, and 10% Mourvèdre. It carries its 14.5% alcohol with grace. U.S. importer: Vintus LLC, Pleasantville, N.Y. (Dec. 16, 2017)
FOOD MATCH: This is a red-meat wine, perfect with steaks or roast beef. It made an extremely good match with a sample of the new Impossible Burger.
WHEN TO DRINK: It's good now, but the tannins would likely benefit from cellar time to evolve into something more complex. If you have good cellar conditions, try holding it until at least 2021.
VALUE:
At Wine-Searcher.com's $32 average retail (which matches my local price), it's a wine for a special occasion. It's a good one, though, and what special occasion is more appropriate than the winter holidays?
WEB LINK
Here's Guigal's Gigondas info sheet. Importer Vintus wines offers this useful fact sheet on E. Guigal 2013 Gigondas.
FIND THIS WINE ONLINE:
Find vendors and compare prices for E. Guigal 2013 Gigondas on Wine-Searcher.com.
For lots more wines from Gigondas, check out this Wine-Searcher info page and list of wines and vendors.
Wine Forum and Social Media
If you have questions, comments or ideas to share about today's article or wine in general, you're always welcome to drop by our online WineLovers Discussion Group, the Internet's first and most civil online community.
Discussions are open for public viewing, but you must register to post. If you're a Facebook user, you can join our forum with a single click! All you need to do is visit the forum and click "Social Login" at upper right.
We'd also be delighted to have you "Like" our WineLovers Facebook Page. This way you can get Facebook notifications when there's a new The 30 Second Wine Advisor issue or a topic of particular interest on the WineLovers Discussion Group (WLDG).
Subscriptions and Administrivia
Unsubscribe:
We're sorry if you must leave us, but simply click the "unsubscribe" link at the bottom of your Email edition to be instantly removed from the mailing list.
Change address:
The quickest and easiest way to change your email address is simply to unsubscribe from your old address and register again from the new one: Subscribe to The 30 Second Wine Advisor (free).
Read 18 years of past articles in the Wine Advisor Archives.
Sponsorship Opportunities:
For information, email Robin Garr at wine@wineloverspage.com