One of life's small but piercing disappointments comes when you're enjoying a holiday dinner with family and friends, and the wine you purchased for the gathering runs a little short.
The Cure for the Common Gift!
Award-winning, handcrafted wines are a gift that will be savored and remembered. The artisan winemakers featured by The California Wine Club handcraft wines in ways that simply cannot be matched by corporate wineries. It makes a difference you can taste. Shop Now!
Browse the world's best value wines on Wine-Searcher.com!
Suddenly you understand how poor little Oliver Twist felt when he raised his empty bowl of gruel in the workhouse mess hall, plaintively begging for more.
Now, wine geeks understand that this is one of the strongest arguments for maintaining a wine cellar, or at a minimum, a well-stocked wine rack in a cool part of the house: A wine collection means never having to say you're sorry. Even just keeping three or four backup bottles of favorite everyday wines around is a good practice, and doesn't require a serious investment.
Today, though, with the jingling bells and decked halls of the holiday season around us, let's consider another, simpler approach: Stock up your winter feast table with a couple of oversize bottles!
You don't have to go out and find an expensive, hard-to-get six-liter Methuselah or even a 15-liter Nebuchadnezzar, of course, although it can be fun to learn about all the oversize bottles with their traditional biblical names. Even a magnum (1.5 liters or two regular bottles in one large jug) may be more than you need to top off that last glass.
No, just prowl your wine shop for the occasional one-liter bottle. Just one-third larger than the standard 750 ml. bottle, the modern replacement for the similarly sized, slightly smaller "fifth," it appears only slightly larger on the shelf, although you'll notice its extra heft when you pick it up. That extra 250 ml of wine in the bottle, though, means one or two extra refills for the diners at your table, and that may just be enough to carry you through dinner without having to open another – or send someone running out to the liquor store.
We've enjoyed a couple of good wines in liter bottles this week. See below for my tasting reports on two good, affordable French red wines in oversize bottles: A dry, tart blend of the common Languedoc reds, and an earthy, interesting "natural" Beaujolais with no sulfites or any other additives used. Enjoy!
By the way, in case you were wondering, here's a complete list of wine bottle sizes. The very large formats are rarely made.)
Split: 0.187 liters (one-fourth bottle)
Half: 0.375 liters (one-half bottle)
Bottle: 0.750 liters (one regular bottle)
Liter: 1 liter (one and one-third regular bottle)
Magnum: 1.5 liters (two bottles)
Jeroboam: 3 liters (four bottles)
Rehoboam: 4.5 liters (six bottles)
Methuselah: 6 liters (eight bottles)
Salmanazar: 9 liters (12 bottles)
Balthazar: 12 liters (16 bottles)
Nebuchadnezzar: 15 liters (20 bottles)
Solomon: 20 liters (28 bottles)
Primat: 27 liters (36 bottles)
The Cure for the Common Gift!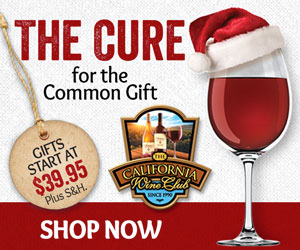 Award-winning, handcrafted wines are a gift that will be savored and remembered. The artisan winemakers featured by The California Wine Club handcraft wines in ways that simply cannot be matched by corporate wineries. It makes a difference you can taste.
Each gift month will bring two award-winning, handcrafted wines from one of California's best small wineries. A different winery is featured every month.
Plus, holiday gifts come with:
• Beautifully hand-wrapped bottles.
• A fun coaster set.
• A $25 Wine Credit.
• A VIP winery tour and tasting invitation.
• Uncorked®, our guide to the featured winery.
See Holiday Gifts
About The California Wine Club:
California is home to thousands of small family wineries handcrafting extraordinary wine in quantities too limited to be found in local stores or shops. Since 1990 it has been our mission to help these artisan wineries introduce their award-winning wines to wine lovers across the U.S. Learn more.
www.cawineclub.com 1-800-777-4443
Today's Tasting Reports
As noted, today's tasting features two affordable wines in liter-size bottles. They also both come from France, the topic of this month's Wine Focus in our WineLovers Discussion Group, All the wines of France!
Yes, you read that right: It's France, all of France, all France all the time for December Wine Focus!, from Alsace to Champagne to Burgundy, the Rhone, Languedoc and Bordeaux and the Loire and lots more smaller appellations in-between. Dig out your old favorites, explore rarities less known to you, and let's see if we can discover that elusive character that places France at or near the top in production and reputation alike. You're invited to read the conversations, join the discussion, and bring your own tasting reports. Click here to join in!
Côté Mas 2016 "Rouge Intense" Sud de France Pays d'Oc ($12.99/1 liter)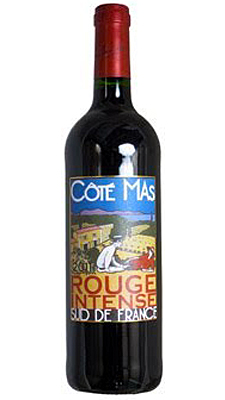 Dark reddish-purple all the way to a thin, clear edge. Mixed red fruits, with hints of pomegranate and cranberry, plum and raspberry, pleasant but not overwhelming. Bright red fruits carry over on the palate in a fresh, medium-bodied flavor with food-friendly acidity, 13.5% alcohol, and a soft touch of tannic astringency on the tongue. An attractive Languedoc blend of Grenache Noir (45%), Carignan (25%), Cinsault (15%), Merlot (10%) and Syrah (5%). U.S. importer: Esprit du Vin, Boca Raton, Fla. (Dec. 6, 2017)
FOOD MATCH: Really a meat-eater's wine, good with steaks, burgers or chili or roast poultry, although you could make it work in a meatless match with hearty cheese-based dishes.
WHEN TO DRINK: It's not a wine made for cellaring, but the large format and sturdy metal screwcap should hold it for a year or three.
VALUE:
This big bottle is a fine value in the lower teens, but note that many vendors offer it for significantly less; Wine-Searcher.com's average retail drops to just $8.
WEB LINK
Here's an online visit to Domaines Paul Mas in Languedoc, the winery that produces Rouge Intense.
FIND THIS WINE ONLINE:
Find vendors and check prices for Côté Mas "Rouge Intense" on Wine-Searcher.com.
Olivier Minot 2016 "La Boutanche" Beaujolais Gamay ($18.99/1 liter)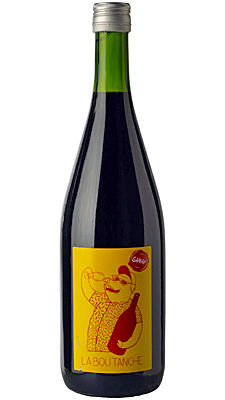 This interesting "natural" wine claims zero additives, including no sulfites. It's a clear garnet color, reddish purple at the center and clear at the edge. Its intriguing scent is dominated by wild strawberries at first, then opens up to add a hint of Chambord raspberry liqueur. Strawberries and raspberries on the palate add tart red plums and an intriguing earthy minerality that evokes the scent of damp red clay. It's light- to medium-bodied, but fresh-fruit acidity and soft but perceptible black-tea tannins round it out. Alcohol is not out of line, likely midway in the label's generic 11-14% claim. Nicely balanced, a good food wine. U.S. importer: Selection Massale, Oakland, Calif. (Dec. 7, 2017)
FOOD MATCH: We enjoyed it with a bowl of lightly spicy, earthy chili beans made with pinto beans from Rancho Gordo. It would be a great match with grilled meats or poultry or spicy, but not overly fiery, Asian dishes.
WHEN TO DRINK: Based on its natural status and zero sulfites, along with the lighter-weight screwcap, I'm going to advise drinking this one up soon, enjoying it while its natural flavors are balanced and inviting.
VALUE: At this price for a liter bottle, there's nothing to complain about.
WEB LINK
Importer Selection Massale tells the story of this offbeat producer here.
FIND THIS WINE ONLINE:
Wine-Searcher.com includes a couple of hits for the Olivier Minot in this longer list of French wines named "La Boutanche".
Here's a list of U.S. retailers that stock Selection Massale's portfolio.
Wine Forum and Social Media
If you have questions, comments or ideas to share about today's article or wine in general, you're always welcome to drop by our online WineLovers Discussion Group, the Internet's first and most civil online community.
Discussions are open for public viewing, but you must register to post. If you're a Facebook user, you can join our forum with a single click! All you need to do is visit the forum and click "Social Login" at upper right.
We'd also be delighted to have you "Like" our WineLovers Facebook Page. This way you can get Facebook notifications when there's a new The 30 Second Wine Advisor issue or a topic of particular interest on the WineLovers Discussion Group (WLDG).
Subscriptions and Administrivia
Unsubscribe:
We're sorry if you must leave us, but simply click the "unsubscribe" link at the bottom of your Email edition to be instantly removed from the mailing list.
Change address:
The quickest and easiest way to change your email address is simply to unsubscribe from your old address and register again from the new one: Subscribe to The 30 Second Wine Advisor (free).
Read 18 years of past articles in the Wine Advisor Archives.
Sponsorship Opportunities:
For information, email Robin Garr at wine@wineloverspage.com