About four years ago I visited a small winery in the Chianti Classico area of Tuscany. The winery, Lecci e Brocchi is located just outside of the town of Castelnuovo Berardenga, a short distance to the northeast of Siena. I was impressed with their two Chianti Classico offering – and I was introduced to their white Sangiovese, Il Sangio, which I had never seen before then.
Recently I had the opportunity to taste their current offerings of these wines, plus a new sparkling wine and a new rosè. My primary focus was to see if the two Chianti Classico wines had remained at a high level of quality.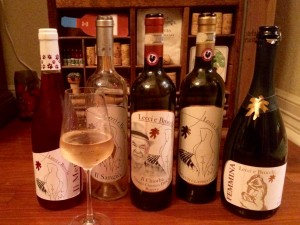 Let me start with the newest offering from Lecci e Brocchi, the sparkling wine called Femmina, an 11.5% alcohol wine made exclusively from Malvasia Toscana grapes (Lecci e Brocchi has expanded beyond only Sangiovese grapes). Made in the classic method, Femmina is fermented for three months in stainless steel tanks and aged a further four months in the bottle. As I have said many times, I am not knowledgeable regarding sparkling wines, but the group with whom I shared this wine all really liked it.
A few days later we tasted the 2014 DOCG Chanti Classico, a 13.5% alcohol offering made from 90% Sangiovese and the balance from Black Caniolo and Cabernet Sauvignon. It was aged in stainless steel for five months. Like the predecessor 2012 DOCG Chianti Classico that I had previously tasted several years ago, the 2014 offering was a very smooth medium wine that finished long and very pleasant. I rated it slightly better than the 2012 at 92/93.
The following week we tasted the 2013 DOCG Chianti Classico Riserva, Il Chiorba, the 13.5% alcohol flagship wine from Lecci e Brocchi. This wine has the same grape percentages as the Chianti Classico but it is aged in a combination of stainless steel and French oak for twelve months. It had the classic Chianti nose of spice and leather and finished long and very smooth. I felt that his was one of the best Chianti wines that I have tasted and rated it a 94/95.
Next we tried the 2015 IGT Bianco Il Sangio, a 13% alcohol 100% Sangiovese wine, with my wife's New Orleans classic, stuffed bell peppers. This time I served the Il Sangio chilled and it was very good served in that manner. Fermented ten days in stainless steel and aged for two months in the same tanks, this wine had a nice medium finish and I rated it a 90.
Our last wine was a new offering, the 2016 IGT Rosato Il Meticcio, a 13.5% alcohol blend of Caniolo, Malvasia and Ciliegiolo. No Sansiovese was used. Fermentation was for twenty day in stainless steel tanks at controlled temperature. Aging was for four months on the lees in stainless steel. We tasted this wine with a dinner of swordfish with artichokes and broccoli. As I have said in the past, I am generally not a fan of rosè, but my last few trips to Italy have made me change my mind. The Il Meticcio finished medium and very smooth. It was an excellent companion for the fish. I rated this wine a 90.
Lecci e Brocchi has continued to grow since my first visit and after tasting their recent vintages I believe that their quality remains very good. You will enjoy any of their wines. If you are interested in staying in Tuscany, Lecci e Brocchi now has accommodations for rent.