Remember last February when we celebrated Open That Bottle Night, retrieving and finally enjoying that old dusty bottle that we'd been hoarding for some future occasion that never quite arrived?
We had so much fun that this year we've declared all of February Open That Bottle Month!
A wine-geek tradition since 2000, Open That Bottle Night became an annual observance when Dorothy J. Gaiter and John Brecher, the couple who wrote the Wall Street Journal's "Tastings" column from 1998 through 2010, came up with the idea 18 years ago.
The concept is simple, and it is too good to let die just because the column has ended: Set an annual day – the last Saturday of February, which falls this year on the 24th – for, in Gaiter and Brecher's words, an informal "world-wide celebration of friends, family and memories during which all of us finally drink that wine that is otherwise simply too special to open."
Rather than pinning us down to a single day, we've decided that the concept is good enough to cover the entire month of February. So, behold Open That Bottle Month! You're encouranged to find those dusty orphans, those bottles that seem too good to open until a special night that may never happen, and OPEN THEM RIGHT NOW! And then tell us about the experience.
I got off to a quick start with a fine 2009 Ripasso that had been gathering dust since I put it on the rack in 2013. Ripasso is the dark, rich wine from Valpolicella in Italy's Veneto region that gets turbo-charged by spending time fermenting in barrels shared with the leftover skins from the intense, dried grapes that had been used to make the region's famed Recioto and Amarone. Call it Amarone Jr., but never call it Amarone Lite, because there's nothing light about this robust beverage. You'll find my tasting notes below.
And while we're in February, don't forget Valentine's Day! Have you picked out a special bottle for the holiday?
Search for a romantic wine for Valentine's
Next Wednesday, February 14, is Valentine's Day. What better time to clink a special glass with a loved one? We've put together a few particularly romantic wine categories for your consideration. Click each link to find a Wine-Searcher.com page with information about each wine and a wide selection of links to vendor and price information on dozens of wines in the category.
Saint-Amour – "Saint Love" – is the northernmost of the Beaujolais villages whose wines are so well regarded that they bear the village name on the label in place of the generic "Beaujolais."
Browse Saint-Amour on Wine-Searcher.com.
Marilyn Merlot might strike some as a casual "pop" wine, given its marketing success using the name and image of the actress Marilyn Monroe. It's actually a decent Merlot, though, at an average retail price of $26 for the current vintage. Earlier vintages can be collectible, rising to hundreds of dollars for older bottles – drinkability not an issue – from the 1980s and 1990s.
Browse the current release (2015) Marilyn Merlot on Wine-Searcher.com.
Perrier-Jouet's Belle Epoque Fleur de Champagne Brut Millesime is another beloved wine for romance, thanks largely to its iconic enameled flower bottle. It's light and delicate, frankly not my favorite style of Champagne, but for special occasions many gladly pay its average $152 retail price.
Browse Fleur de Champagne on Wine-Searcher.com.
Come to think of it, pink Champagne in general – not cheap fizz but the real sparkling wine from Champagne, France, made from Pinot Noir and left on the red grape skins just long enough to take on a little color and deep, subtle flavor – may be the best celebratory Valentine's Day wine of all. It comes in a range of styles and prices.
Browse Wine-Searcher.com for a selection of rosé Champagnes. Click the "best value" tab on the chart to find bargain values.
Happy Valentine's Day!
Today's Tasting Report
Monte del Frá 2009 'Tenuta Lena di Mezzo" Valpolicella Classico Superiore Ripasso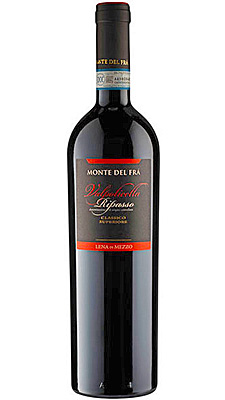 A typical Valpolicella blend of Corvina Veronese, Corvinone and Rondinella, this sturdy red wine is a clear, dark ruby color, with glints of bronze at the edge. Spicy dried cherries and a hint of anise show in the aroma, adding black plums and a whiff of tobacco leaf on the palate. It's ripe and mouth-filling, dried-cherry flavors wrapped up in bright, palate-cleansing acidity, with a bold 14 percent alcohol and some tannic astringency remaining. Although it's nine years past the vintage, Ripasso is a slow process, and it didn't arrive here until the summer of 2013, so it's been on a wine rack in a cool place for less than five years, not an outlandish time span. The natural cork remained clean, hard and firm, and the wine is holding up well. U.S. importer: Votto Wines Importing, Hamden, Conn. (Feb. 8, 2018)
FOOD MATCH: This powerful, intense red really calls for beef or game, although a meatless match could be made with a full-flavored tomato sauce over pasta, or cheese and bean dishes. The distributor suggests pairing it with roasts, stews or braised meats and with hard cheeses.
WHEN TO DRINK: Not so old for a Ripasso, this one still has plenty of time left, assuming good cellar conditions.
VALUE:
Wine-Searcher.com's lists an $18 average retail for the recent 2015 vintage. Ripasso in general typically sells in the $15 to $25 range, a fair price for its quality.
WEB LINK
Here's a fact sheet on Monte del Frá Valpolicella Classico Superiore Ripasso from Vision Wine & Spirits, a New York-based distributor.
FIND THIS WINE ONLINE:
Find vendors and compare prices for Monte del Frá Valpolicella Classico Superiore Ripasso on Wine-Searcher.com.
Wine-Searcher's information page on Valpolicella Ripasso Classico includes a long list of popular Ripassos. Click here to browse the entire list, or go directly to the following links for vendors and information on the most popular five Ripassos, all selling in the $21 to $25 range.
Tommasi Ripasso Valpolicella Classico Superiore
Tinazzi Ca' de' Rocchi 'Montere' Valpolicella Classico Superiore Ripasso
Buglioni 'Il Bugiardo' Valpolicella Ripasso Classico Superiore
Igino Accordini Valpolicella Classico Superiore Ripasso
Domini Veneti 'La Casetta' Valpolicella Classico Superiore Ripasso
Wine Forum and Social Media
If you have questions, comments or ideas to share about today's article or wine in general, you're always welcome to drop by our online WineLovers Discussion Group, the Internet's first and most civil online community.
Discussions are open for public viewing, but you must register to post. If you're a Facebook user, you can join our forum with a single click! All you need to do is visit the forum and click "Social Login" at upper right.
We'd also be delighted to have you "Like" our WineLovers Facebook Page. This way you can get Facebook notifications when there's a new The 30 Second Wine Advisor issue or a topic of particular interest on the WineLovers Discussion Group (WLDG).
Subscriptions and Administrivia
Unsubscribe:
We're sorry if you must leave us, but simply click the "unsubscribe" link at the bottom of your Email edition to be instantly removed from the mailing list.
Change address:
The quickest and easiest way to change your email address is simply to unsubscribe from your old address and register again from the new one: Subscribe to The 30 Second Wine Advisor (free).
Read 18 years of past articles in the Wine Advisor Archives.
Sponsorship Opportunities:
For information, email Robin Garr at wine@wineloverspage.com