How much does a bottle of wine cost? That depends.
If you're talking about a fine jug of
Domaine de la Romanée-Conti from Burgundy's Cote de Nuits, France, the average price of a bottle from all vintages is a cool $17,686, reports Wine-Searcher.com, while the most pricey bottle of DRC currently showing up at retail or auction in Wine-Searcher's files is $51,790. Yes, about the same price as a new Chevrolet Suburban. I think I'd just as soon have the wine.
At the other end of the economy scale, Wine-Searcher reports an average price of $1 for a bottle of Garriguella Rosat Vi de Taula Garnacha Rosé from Catalunya. Yes, just a buck, same as a cheesy bean and rice burrito from Taco Bell. Again, I think I'd just as soon have the wine.
It probably will not surprise you to learn that a bottle of wine, on average, is priced quite a bit closer to the burrito than it is to the gas-guzzling behemoth. To be exact, the average price for the equivalent of a standard-sized 750-milliliter bottle of wine sold by U.S. retailers is $10 a bottle. The average hit double digits for the first time about a year ago, according to the North Bay (California) Business Journal, quoting Danny Brager, senior vice president of Nielsen's Beverage Alcohol Practice, at last year's Unified Wine & Grape Symposium in Sacramento.
What's your sweet spot for wine spending? I'd guess that most of us aren't going to be uncorking Romanée-Conti anytime soon, but I imagine that most of us are just about as unlikely to carry out a bag full of dollar wine.
Most of my wine buying these days falls between $10 and $20. Above that mark gets into "special occasion" territory for me, and, while I recognize the gains in subtlety, complexity and balance that should come with higher prices, I can also make the case that diminishing returns set in at some point. I don't think it's a sure thing that a $100 wine will be objectively ten times better than a $10 wine, but a $10 wine might actually be twice as good – or possibly more – than a $5 wine.
What's wrong with cheap wine? Given that fine wine requires time-consuming, hands-on efforts in the vineyard and in the winery, it makes sense that there's a price floor below which a cheap-wine producer can't afford to invest in quality.
Still, I've had plenty of wines around $10 – and a random few for less than $10 – that fully meet my criteria for enjoyment, so I can't write off the single-digit category entirely. Neither should you. Starting March 1, we're going to gear up a quest for over-performing wines under $10 in our WineLovers Discussion Group's monthly Wine Focus. I got off to an early start with a surprisingly good French white, Domaine de Pouy 2016 Côtes de Gascogne. This Southwestern French blend of Ugni Blanc and Colombard is priced locally at an inviting $7.99 for a bottle, but can compete in quality with a wine at double that toll. My tasting notes are below.
During the month, we'll invite you to nominate your favorite cheap wines and share new discoveries. To get us started, here are Wine-Searcher links to vendors and prices for a half-dozen $10 wines I've reported on during the past few months. Please tell us about your favorites!
$1 Shipping Spring Wine Sale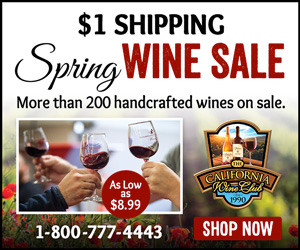 Handcrafted, small-batch, artisan Cabernets, Merlots, Pinot Noirs, Chardonnays and more are on sale now at The California Wine Club.
Save up to 60% on every bottle of small-batch wine plus save up to $38 in shipping on every case. More than 200 artisan wines on sale, and every bottle is backed by their Love It guarantee.
Don't wait! Wines will sell out quickly.
Shop Now
About The California Wine Club
There are thousands of small family wineries handcrafting extraordinary wine in quantities too limited to be found in local stores or shops. In 1990 The California Wine Club Founders Bruce and Pam Boring discovered that these winemaking families were the most passionate in the wine world and that their wines were the hidden gems of wine country! Together Bruce and Pam embarked on a journey to help these artisan wineries introduce their exquisite wines to the world. Learn more.
www.cawineclub.com 1-800-777-4443
Today's Tasting Report
Domaine de Pouy 2016 Côtes de Gascogne ($7.99)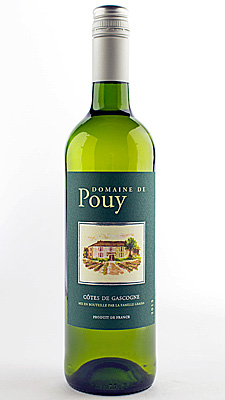 Clear, bright straw color, with a marked melon aroma, a mix of musky cantaloupe and more subtle honeydew. Fresh and tart flavors carry over the melon character and add a bright squirt of lemon. Medium-bodied, its texture becomes more evident as the wine warms in the glass, and a hint of pleasant peach-pit bitterness joins in on a very long finish. Its rather light 10.5 percent alcohol makes it an easy sipper. It's fine now but will become even more appealing as spring returns and warms into summer. U.S. importer: Domaine Select Wine & Spirits LLC (DSWS), NYC. (Feb. 21, 2018)
FOOD MATCH: The back label declares it a perfect aperitif, good with salads, seafood, fish, tapas and, generically, "Asian food." It was fine with the slightly sweet flavor of mini crab cakes.
WHEN TO DRINK: It's not a wine for aging. Enjoy it while it's young and fresh, then move on to newer vintages. Don't fret, though: The sturdy metal screwcap will keep it from going around the bend before you get a chance to drink it.
VALUE:
Wine-Searcher.com's average retail price is $10, but it's available at many vendors for $8 or less. It's hard to find a better wine for single-digit prices in today's market. Remarkably, I paid the same toll for the 2006 edition of this wine more than a decade ago, so it's been a real hedge against inflation.
WEB LINK
Here's a fact sheet on Domaine du Pouy from distributor Domaine Select.
FIND THIS WINE ONLINE:
Check prices and locate vendors for Domaine de Pouy 2016 Côtes de Gascogne on Wine-Searcher.com.
Wine Forum and Social Media
If you have questions, comments or ideas to share about today's article or wine in general, you're always welcome to drop by our online WineLovers Discussion Group, the Internet's first and most civil online community.
Discussions are open for public viewing, but you must register to post. If you're a Facebook user, you can join our forum with a single click! All you need to do is visit the forum and click "Social Login" at upper right.
We'd also be delighted to have you "Like" our WineLovers Facebook Page. This way you can get Facebook notifications when there's a new The 30 Second Wine Advisor issue or a topic of particular interest on the WineLovers Discussion Group (WLDG).
Subscriptions and Administrivia
Unsubscribe:
We're sorry if you must leave us, but simply click the "unsubscribe" link at the bottom of your Email edition to be instantly removed from the mailing list.
Change address:
The quickest and easiest way to change your email address is simply to unsubscribe from your old address and register again from the new one: Subscribe to The 30 Second Wine Advisor (free).
Read nearly 20 years of past articles in the Wine Advisor Archives.
Sponsorship Opportunities:
For information, email Robin Garr at wine@wineloverspage.com