Who doesn't love Italian wine? I got my start in wine with the lovable wines of Italy, enjoying them at the homes of Italian-American friends before I was old enough to drink legally.
I sipped them at pizzerias when all I knew about wine was that Chianti from a wicker-wrapped bottle tasted surprisingly good with pizzas and pastas loaded with bright red tomato sauce and cheese. The empty bottle also made a cool candlestick, or so we thought at the time.
I've never lost my love for all the wines of Italy, a joyously diverse mix that extends all the way from Val d'Aosta in the North to Sicily in the South. But a funny thing happened as I grew up and my interests in wine evolved: I got so busy exploring the rest of the world's wine regions and grapes, from Italy to France and California (and eventually qualifying for the Wine Century Club) that my Italian explorations gradually spiraled down to the usual suspects.
I expect something similar is true of many of you: "Italy" is redefined as Tuscany, particularly Chianti, which will always speak to me, and the Nebbiolo-based delights of Piemonte in the Northwest. Other than those familiar wines and a couple of regions that I came to love through frequent travel, like the hills of Friuli-Venezia Giulia and the Lake Country, the rest of Italy largely dropped off my radar.
We're doing our small part to bring them back this month as our WineLovers Discussion Group turns its monthly online Wine Focus to The rest of Italy.
I hope you'll join us this month in resetting our Italian wine habits. We don't plan to forswear our favorite Super Tuscans and top Chiantis or the Piemontese trophies, but just for now, let's make a special effort to step past those shelves and rediscover the rest of Italy's wine delights. Open a bottle, taste, and then drop by the forum and tell us what you thought.
I'll start this week with two wine reports: A tasty, modestly priced Montepulciano d'Abruzzo that reminds me a bit of Chianti in its style even though it's made from a different grape in a different region; and a truly offbeat sweet and gently fizzy red wine from Lombardy whose lovably irreverent name, Sangue di Giuda, translates as "The Blood of Judas."
Montepulciano d'Abruzzo is one of my go-to wines when I'm looking for a good, affordable Italian table red that's not Chianti. To my taste buds it falls somewhere in the same neighborhood as Chianti on the flavor and aroma wheel, although as both halves of the name imply, it's not made from Sangiovese but Montepulciano grapes, and it's not grown in Tuscany but in Abruzzo, on the eastern side of the Apennines across the peninsula from Rome. It's not to be confused with Vino Nobile di Montepulciano, which is Tuscan and Sangiovese-based (and also very good), nor for that matter with Montalcino in Tuscany, where they make some fine Brunello. Italian wine can be confusing. But I sure do love it.
Sweet, fizzy and red, Sangue di Giuda is a far cry from table-wine standards, but its fruit and balance and low alcohol make it a surprisingly attractive "soft drink for grown-ups." Enrica Verdi, one of the owners of Azienda Bruno Verdi, a seven-generation producer of Sangue di Giuda, once told me that local legend attributes the odd name to strict local friars who disapproved of the wine's purported "stimulating and aphrodisiac effects." Another regional version of the story has it that Judas did not kill himself but came to the city of Oltrepò after betraying Jesus in hope of finding redemption. Local citizens recognized him and planned to kill him, but he won their affection by miraculously converting the local wine to a delicious sweet and sparkling quaff.
You'll find my tasting reports below.
Today's Sponsor:
Wine Grape Varietal Table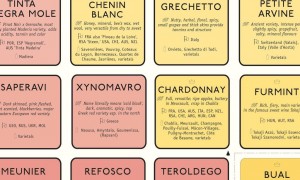 Remember studying the Periodic Table of the Elements in high school? You won't need to struggle with Steve and Deborah De Long's Wine Grape Varietal Table, though. A wine reference disguised as a fine-art print, it looks like the chemical table but replaces the elements with a world of wine grape varieties: 184 of the world's favorite grapes organized by body and acidity, clearly showing how they relate. Buy one for a friend, or for yourself! The Wine Grape Varietal Table is $25. Click here to order now.
The De Longs also produce stunning, quality poster-size wine maps of France, Italy and other regions for $14.95 to $29.95. Click here to view and order any of the De Long wine maps.
Today's Tasting Reports
Masciarelli 2015 Montepulciano d'Abruzzo ($11.99)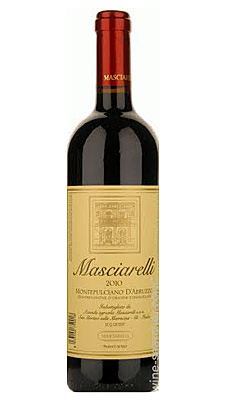 Dark reddish-purple with a clear garnet edge. I detect fresh, subtle mixed berries on the nose, blackberry over back notes of strawberry and blueberry with a touch of warm spice. Fresh acidity wakes the palate, with soft tannins adding structure to simple but pleasant ripe plum and berry fruit. On the rustic side, but there's nothing wrong with that in a modest Italian table wine. Tannic astringency, not unpleasant, lingers after the fruit fades. The label's midrange 13% alcohol statement seems about right. U.S. importer: Vintus LLC, Pleasantville, N.Y. (March 31, 2018)
FOOD MATCH: It's a natural with the stereotypical Italian pairings, pizza and, our choice, tomato-and-meat-sauced pasta, but it would go well with any red meat, poultry, or meatless cheese and bean dishes.
WHEN TO DRINK: Montepulciano d'Abruzzo is traditionally a lighter, rustic-style wine meant to be enjoyed with food and drunk up soon. That said, though, this one is nicely balanced and protected with a heavy modern metal screwcap, so there's no need to be in a rush to finish it during the next year or two.
VALUE:
Even at my local price a couple of bucks over Wine-Searcher.com's $10 average retail, it's still a fine value in the lower teens.
WEB LINK
Here's an importer's fact sheet on the 2015 Montepulciano d'Abruzzo.
FIND THIS WINE ONLINE:
Compare prices and locate vendors for Masciarelli Montepulciano d'Abruzzo on Wine-Searcher.com.
Browse a broad range of other Montepulciano d'Abruzzo wines on Wine-Searcher.com. (Page down past the information page to find an extensive list of wines, prices and vendors.)
Cantine Francesco Montagna 2017 Oltrepò Pavese Sangue di Giuda Vino Dolce Frizzante ($12.99)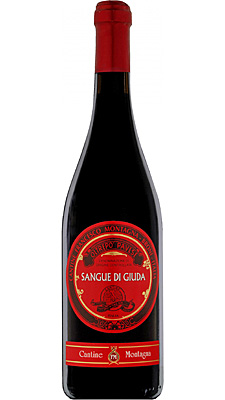 Dark reddish-purple. The narrow natural cork comes out with a pop, but only a few bubbles line the rim. Light, simple but pleasant scent of plums and mixed berries leads into a bright, appealing flavor that's more forward with plum-berry fruit. It's on the sweet side but not at all cloying; crisp acidity and a light prickly effervescence helps hold the sugar in balance, as does a light but perceptible bitter almond note in the finish. A soft drink for grown-ups, best served on the warm side of refrigerator temperature, its light 7.5% makes it an easy quaff. It's a blend of 45% each Croatina and Barbera plus small amounts of the local Ughetta and Uva Rara. U.S. importer: Bacco Wine & Spirit LLC, Lancaster, Pa. (April 12, 2018)
FOOD MATCH: It's more a lightweight quaffing wine than a wine for food, but in experimenting with snacks we found its light bitterness made it a good companion with roasted almonds. Avoid cheese, though, which due to its fatty character seems to heighten the wine's bitter edge by cloaking the sweetness and acidity.
WHEN TO DRINK: This is not a keeper. The 2017 is on the market for a reason. Enjoy it over this summer, then watch for next year's vintage.
VALUE:
My local price is in line with Wine-Searcher.com's $14 average retail. It's a fun wine, certainly worth the toll for me.
WEB LINK
Click here for the importer's fact sheet on Cantine Montagna and its Sangue di Giuda.
FIND THIS WINE ONLINE:
Wine-Searcher.com returns only limited vendors for Cantine Francesco Montagna Oltrepò Pavese Sangue di Giuda on Wine-Searcher.com. You might check in with the importer via its online contact form for information on retailers accessible to you.
Try this Wine-Searcher info page on Sangue di Giuda, though, for a list of about two dozen bottlings from other producers.
More affordable wines
Want tips to more good, inexpensive wines? Here are Wine-Searcher links to vendors and prices for a bunch more wines for $10 or less that I've told you about during the past few months. Please tell us about your favorites!
Wine Forum and Social Media
If you have questions, comments or ideas to share about today's article or wine in general, you're always welcome to drop by our online WineLovers Discussion Group, the Internet's first and most civil online community.
Discussions are open for public viewing, but you must register to post. If you're a Facebook user, you can join our forum with a single click! All you need to do is visit the forum and click "Social Login" at upper right.
We'd also be delighted to have you "Like" our WineLovers Facebook Page. This way you can get Facebook notifications when there's a new The 30 Second Wine Advisor issue or a topic of particular interest on the WineLovers Discussion Group (WLDG).
Subscriptions and Administrivia
Unsubscribe:
We're sorry if you must leave us, but simply click the "unsubscribe" link at the bottom of your Email edition to be instantly removed from the mailing list.
Change address:
The quickest and easiest way to change your email address is simply to unsubscribe from your old address and register again from the new one: Subscribe to The 30 Second Wine Advisor (free).
Read nearly 20 years of past articles in the Wine Advisor Archives.
Sponsorship Opportunities:
For information, email Robin Garr at wine@wineloverspage.com