We are deep in the Dog Days of summer, the hottest days of the year in the Northern Hemisphere, so the wine authorities have ruled that we should be sipping light whites or gently chilled rosés right now.
Cork Dork: A sommelier's offbeat journey
Bianca Bosker's Cork Dork is well summarized by its longish subtitle: A Wine-Fueled Adventure Among the Obsessive Sommeliers, Big Bottle Hunters, and Rogue Scientists Who Taught Me to Live for Taste.
It's available in several formats on Amazon.com. Click to buy it now.
Browse the world's ten best value wines on Wine-Searcher.com!
But doggone it, sometimes I don't want to follow the rules!
Look, I get it. Sometimes during those lazy, hazy days of summer, when the fish are jumpin' and the cotton is high, there's nothing more satisfying than a light, spritzy white or a lightly chilled dry, herbal rosé. Some of my happiest wine memories involve Provence rosé sipped on a sunny outdoor cafe in Bandol or Aix or a busy sidewalk cafe in Avignon. Or those light yet intriguing Mosel Riesling Kabinetts sipped around a picnic table with friends on a hillside above the Saar. Or even dining at home with a good rosé on the table on a sizzling summer evening.
But then there are the summer evenings when I'm simply in the mood for a fortified wine, a hearty dry Fino or full-bodied Oloroso or deeply sweet Pedro Ximenez Sherry, or maybe a rich, drinkable Ruby or Tawny Port. In this modern age when I can crank the air-conditioning down to a brisk chill, is there any good reason why I should have to wait for winter to pull out that cork? I think not.
Suiting action to words, having found a squat bottle of Croft Reserve Tawny Port on an exceptionally inviting sale at my neighborhood wine shop the other day, I felt no shame at all in opening it — okay, sure, with the air cranked down — and enjoyed it after dinner with a few bites of rich, creamy cheese. It was fine, and we'll probably drink up the rest well before the leaves fall.
Another night recently, I was just as happy to follow protocol with an exceptionally delicious rosé from the Loire Valley, Pascal Jolivet 2017 "Attitude" Loire Valley Rosé. You'll find my tasting reports on both wines below.
Recommended wine book:
Cork Dork: A sommelier's offbeat journey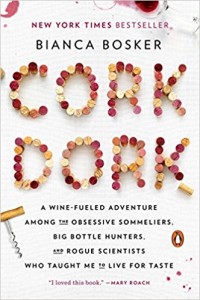 I ran across a wine book the other day that, once I got into it, proved to be a light, humorous and yet very serious account of a young woman's increasingly obsessive quest to learn about wine … by taking on the difficult quest of becoming a certified sommelier.
Bianca Bosker's Cork Dork is well summarized by its longish subtitle: A Wine-Fueled Adventure Among the Obsessive Sommeliers, Big Bottle Hunters, and Rogue Scientists Who Taught Me to Live for Taste.
Bosker left a job as technology reporter at Huffington Post to follow her wine dream, and her background in journalism shows in her clear, descriptive prose. The light humor that blends with an observer's eye and critic's voice is all her own.
Her journey began when she and her husband-to-be, Dave, went out to Sunday dinner at a Manhattan restaurant with a wine list and sommelier. Bosker liked wine at that point, she says, but she didn't know much about it:
For you, a glass of wine might be your happy place. The thing you reach for at the end of a long day, when you switch off a part of your brain. If you want to keep it that way, then stay far, far away from the individuals in this book.

On the other hand, if you've ever wondered what all the fuss is about wine, whether there's really a discernible difference between a $20 and $200 bottle, or what would happen if you pushed your senses to their limits—well then, I have some people I'd like you to meet.
The sommelier, Morgan, seemed to speak a different language, one filled with wine-geek terms that Bosker quickly tuned out. But then she heard him say that he was preparing for the World's Best Sommelier Competition. What? She had never heard of such a thing, but it captured her fancy and, she goes on to tell, changed her life.
"With boundless curiosity, humor, and a healthy dose of skepticism," the book jacket summarizes, "Bosker takes the reader inside underground tasting groups, exclusive New York City restaurants, California mass-market wine factories, and even a neuroscientist's fMRI machine as she attempts to answer the most nagging question of all: what's the big deal about wine? What she learns will change the way you drink wine – and, perhaps, the way you live – forever."
Bianca Bosker's Cork Dork is available in several formats on Amazon.com. Click to buy it now.
Today's Tasting Reports
Croft Reserve Tawny Porto ($11.99)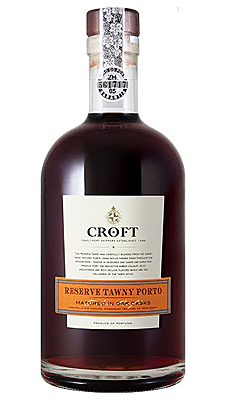 Clear reddish-amber, a pretty color that looks almost more like a light red than a tawny. Interesting aromas of caramel and dried cherries loft from the glass, with more subtle grace notes of aromatic brown spices. The nutty walnut and pecan flavors typical of tawny Port are more evident in the luscious, full-bodied flavor, but there's good sweet red fruit there, too. The smooth sweetness somewhat conceals the potent 20 percent alcohol, but its gentle heat becomes more evident along with soft tannins in a long finish that speaks of dried fruit and caramel. A fine tawny and a very good value. U.S. importer: Kobrand Corp., Purchase, N.Y. (July 26, 2018)
FOOD MATCH: It's really fine sipped on its own or with a good cheddar or fine blue cheese — English Stilton is traditional. The importer also suggests dried fruit, pecans, walnuts, figs, roasted almonds, desserts made with nuts (pecan pie), coffee or caramel, or crème brûlée.
WHEN TO DRINK: on the one hand, there's absolutely no hurry to drink this wine, which is essentially pre-aged and will last for a long time. On the other hand, it won't evolve much in the bottle, so there's no good reason not to enjoy it soon.
VALUE:
It's unlikely that you'll be able to match the back-up-the-truck $12 sale price that I caught, but if you do, take full advantage. Indeed, Wine-Searcher.com's $20 average retail or even a little more would be fair for this fine Tawny.
WEB LINK
Importer Kobrand Corp. offers a useful fact sheet on Croft Reserve Tawny here.
FIND THIS WINE ONLINE:
Check prices and identify vendors for Croft Reserve Tawny Porto on Wine-Searcher.com.
Pascal Jolivet 2017 "Attitude" Loire Valley Rosé ($14.99)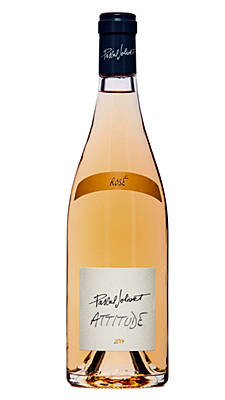 Primarily made with Loire Valley Pinot Noir with some Cabernet Franc and Gamay also in the blend, this is an attractive light copper color. Pleasant, subtle mixed berries and pears on the nose invite a taste, which is bright and fresh, gently acidic and quite dry, with just a touch of prickly petillance. Its crisp, fresh character and modest 12.5% alcohol makes it easy to sip on a summer afternoon, and friendly at the table with lighter fare. U.S. importer: Frederick Wildman & Sons Ltd., NYC. (July 15, 2018)
FOOD MATCH: It was fine with a summer caprese salad, although better with the olive oil-drenched fresh tomatoes and local mozzarella than with the fresh basil leaves; it didn't work and play as well with the herbs. It would go well with salads in general — try it with a Salade Niçoise — and would be worth a try with chicken salad or a chilled raw bar.
WHEN TO DRINK: No immediate rush, but I'm generally in favor of buying rosé young and drinking it up soon.
VALUE:
Wine-Searcher.com lists a $15 average retail, matching my local price. It's a fine value in the middle teens.
WEB LINK
Here is importer Wildman's fact sheet on the 2017 Attitude Rosé.
Pascal Jolivet's Website also offers this brief information sheet.
FIND THIS WINE ONLINE:
Locate vendors and check prices for Pascal Jolivet "Attitude" Loire Valley Rosé on Wine-Searcher.com.
More affordable wines
Want tips to more good, inexpensive wines? Here are Wine-Searcher links to vendors and prices for a bunch more wines for $10 or less that I've told you about during the past few months. Please tell us about your favorites!
Wine Forum and Social Media
If you have questions, comments or ideas to share about today's article or wine in general, you're always welcome to drop by our online WineLovers Discussion Group, the Internet's first and most civil online community.
Discussions are open for public viewing, but you must register to post. If you're a Facebook user, you can join our forum with a single click! All you need to do is visit the forum and click "Social Login" at upper right.
We'd also be delighted to have you visit and "Like" our WineLovers Facebook Page. This way you can get Facebook notifications when there's a new The 30 Second Wine Advisor issue or a topic of particular interest on the WineLovers Discussion Group (WLDG).
Subscriptions and Administrivia
Unsubscribe:
We're sorry if you must leave us, but simply click the "unsubscribe" link at the bottom of your Email edition to be instantly removed from the mailing list.
Change address:
The quickest and easiest way to change your email address is simply to unsubscribe from your old address and register again from the new one: Subscribe to The 30 Second Wine Advisor (free).
Archives:
Read nearly 20 years of past articles in the Wine Advisor Archives.
Sponsorship Opportunities:
For information, email Robin Garr at wine@wineloverspage.com