Croft Reserve Tawny Porto ($11.99)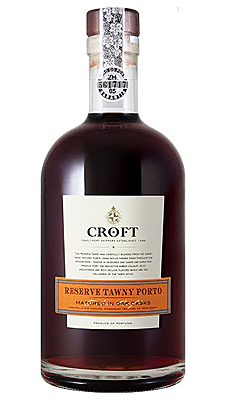 Clear reddish-amber, a pretty color that looks almost more like a light red than a tawny. Interesting aromas of caramel and dried cherries loft from the glass, with more subtle grace notes of aromatic brown spices, cardamom and cloves. The nutty walnut and pecan flavors typical of tawny Port are more evident in the luscious, full-bodied flavor, but there's good sweet red fruit there, too. The smooth sweetness somewhat conceals the potent 20 percent alcohol, but its gentle heat becomes more evident along with soft tannins in a long finish that speaks of dried fruit and caramel. A fine tawny and a very good value. U.S. importer: Kobrand Corp., Purchase, N.Y. (July 26, 2018)
FOOD MATCH: It's really fine sipped on its own or with a good cheddar or fine blue cheese — English Stilton is traditional. The importer also suggests dried fruit, pecans, walnuts, figs, roasted almonds, desserts made with nuts (pecan pie), coffee or caramel, or crème brûlée.
WHEN TO DRINK: on the one hand, there's absolutely no hurry to drink this wine, which is essentially pre-aged and will last for a long time. On the other hand, it won't evolve much in the bottle, so there's no good reason not to enjoy it soon.
VALUE:
It's unlikely that you'll be able to match the back-up-the-truck $12 sale price that I caught, but if you do, take full advantage. Indeed, Wine-Searcher.com's $20 average retail or even a little more would be fair for this fine Tawny.
WEB LINK
Importer Kobrand Corp. offers a useful fact sheet on Croft Reserve Tawny here.
FIND THIS WINE ONLINE:
Check prices and identify vendors for Croft Reserve Tawny Porto on Wine-Searcher.com.