Julien Braud 2016 "Les Vignes du Bourg" Muscadet Sèvre et Maine sur lie ($13.99)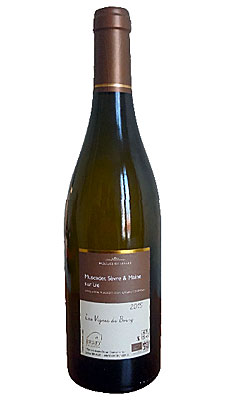 Transparent light gold color, a pretty hue in the glass, perhaps an effect of Muscadet's sur lie wine making in which the fermented yeast remains in the wine as it develops in fermenting tanks. The combination of sur lie, the chalky soil in its vineyards near the mouth of the Loire Valley, against the rather neutral palate of the Melon ("Meh-lawN") de Bourgogne grape, pave the way for a wine of surprising complexity and flavor interest for a relatively affordable white. Notes of pears and white flowers are accented by chalky notes on the nose and a distinct minerality in the dry, gently acidic, medium-bodied flavor. Moderate 12% alcohol makes it easy to enjoy another glass; don't serve it too cold, so you can enjoy its flavor nuances. U.S. importer: WineCRAFT, Cincinnati. (Sept. 27, 2018)
FOOD MATCH: Oysters on the half-shell are its natural match, or shellfish in general in subtle preparations. It's good with goat cheese, too, prompting a light spinach frittata topped with dabs of mild Capriole Indiana goat cheese.
WHEN TO DRINK: Its Diam technical cork will insure against cork taint, but I'm inclined to drink up Muscadet within a few years after the vintage anyway.
VALUE:
It's a fine value at Wine-Searcher.com's $14 average retail. I'm tempted to go back for more.
WEB LINK
The importer's Web page is limited to the basics; also check the WineCRAFT Facebook page.
FIND THIS WINE ONLINE:
Find vendors and compare prices for Julien Braud "Les Vignes du Bourg" Muscadet on Wine-Searcher.com.
If you can't find this particular label near you, use this link to browse WineSearcher.com; page down to find a large variety of other Muscadets and their vendors.