Farmer's Botanical Small Batch Organic Gin ($22.99)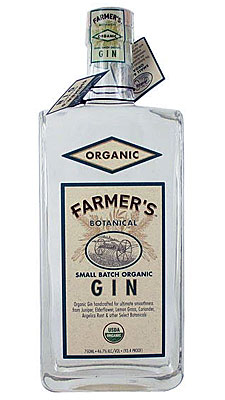 Clear, watery pale with just a hint of buff color. If you're used to the distinct juniper scent of more traditional gins, this American organic gin may surprise you: Juniper is there, but a pleasant soft citric vegetal scent of lemongrass dominates the scent for me, with earthy spicy notes of coriander seed and other subtle botanicals. It's a bit warm on the palate at 93.4 proof, but its smooth, mellow character holds the heat under control and makes it an excellent mixer in negronis, martinis, gin and tonics or whatever you like. (Oct. 11, 2018)
VALUE:
I got a good deal compared with Wine-Searcher.com's $30 average retail, but in the realm of artisanal gins, $30 is certainly a reasonable price.
WEB LINK
Don't bother to click. At this point, the Farmer's Gin website is limited to a single sentence, "The new Farmer's Gin website is coming soon!"
FIND THIS DRINK ONLINE:
Find vendors and compare prices for Farmer's Botanical Small Batch Organic Gin on Wine-Searcher.com.
Learn about gin and browse a list of brands and stores on this Wine-Searcher link.