Château de Poncie 2015 "Le Prê Roi" Fleurie ($20.99)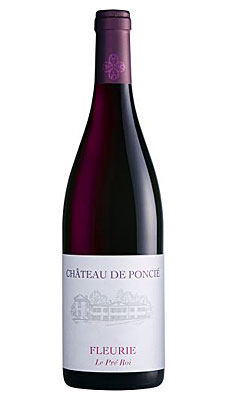 This is a clear, dark garnet Beaujolais, with reddish-orange glints against the light. Pleasant red-fruit aromas, subtle cherries and raspberries, are backed by a pleasant earthy sense of damp red clay. Delicious cherry-berry flavors are framed by surprising tannins for a Beaujolais, crisp, mouth-watering acidity and firm but not overwhelming 13.5 percent alcohol. A good wine that clearly shows the style of named-village Cru Beaujolais. U.S. importer: Henriot Inc., NYC. (Oct. 11, 2018)
FOOD MATCH: Fleurie makes a good match with poultry, particularly roast chicken or turkey; lighter-style pork dishes, cheeses and even more delicate pizza toppings. It was fine with a veggie pizza with onions and green peppers, mushrooms, green and black olives and banana peppers with rather light rations of cheese and tomato sauce.
WHEN TO DRINK: Conventional wisdom hold that Cru Beaujolais can evolve with cellar time, but as a practical matter, this 2015 is a good vintage, drinking well now. I wouldn't hold it more than another year or two, other than as an experiment in cellaring.
VALUE:
Be prepared to pay a bit more for named Beaujolais Cru villages than standard Beaujolais, but this fine Fleurie is well worth Wine-Searcher.com's $20 average retail or my $21 local price.
WEB LINK
This link will take you to a short fact sheet on Château de Poncie "Le Prê Roi" Fleurie, with following links to more detailed specifications.
FIND THIS WINE ONLINE:
Check prices and view vendors for Château de Poncie "Le Prê Roi" Fleurie on Wine-Searcher.com.
For an extensive list of other Fleurie producers and vendors, view this Wine-Searcher link.