If you want to argue that the world of fine wine is never confusing, you should probably avert your eyes from Vino Nobile di Montepulciano and Montepulciano d'Abruzzo.
This peculiar coincidence of Italian names leads to one of the more confusing issues that shoppers confront on wine-shop shelves: Depending on where the wine comes from, "Montepulciano" may represent either a location or a grape; and the difference matters.
Vino Nobile di Montepulciano ("The Noble Wine of Montepulciano") is named for the ancient Tuscan village that the region's vineyards surround. It's an upscale cousin of Chianti made from the same grapes as Chianti (Sangiovese, Canaiolo and others) in a small part of Tuscany close to Umbria near Lake Trasimeno.
The other Montepulciano is made a long way from Tuscany in Abruzzo, on the Adriatic across Italy from Rome. Montepulciano d'Abruzzo is named for the grape from which the wine is made. It's a decent but modest table wine that often sells for less that $10, and it shares only its name but nothing else with the Tuscan village and its wine.
But here's interesting news: Frustrated at last with the ongoing confusion, wine makers in Vino Nobile's home village are taking drastic action: "Vino Nobile di Montepulciano has finally changed its name, my Facebook friend Max Avignonesi reported on his Tuscan Wine page. "It is now officially called Nobile."
There's been very little publicity about the change to this point, and I expect it will be next year before the first 2015 vintage wines bearing the "Nobile" label become widely available. But it seems to be firm and final. Avignonesi said the change has been approved by the Consorzio Vino Nobile Montepulciano, although that institution, the regional wine industry's trade group, has yet to change the name on its own website.
In fact, the change will initially involve only the six Tuscan wineries united in Alliance Vinum, The (Wine) Alliance, a group of Vino Nobile di Montepulciano producers – Salcheto, Poliziano, La Braccesca, Dei, Boscarelli and Avignonesi – "that believes that now is the time to elevate and preserve a wine of true nobility," according to its website.
Further, although a change of this type would normally require signoff from the European Union's beady-eyed bureaucrats, Avignonesi said, "Forget the Brussels level for the time being, I don't want to be too technical, but the treaty regulating DOGC has not yet been endorsed by the Italian parliament yet. It may take years, therefore as we speak the authority for these matters remains local, however ultimately it'll go to Brussels for sure."
The mood on Avignonesi's Facebook thread seemed mixed between joyous and skeptical, but probably more joyous. Said Avignonesi, "It's not easy to change things in a wonderful country where they keep walls around their cities 600 years after artillery was created."
And toward that end, while the front label will now proudly bear the name Nobile alone, to make sure no one is in doubt where the wine came from, the back label will continue to bear the full name Vino Nobile di Montepulciano.
Just-plain Nobile isn't here yet, and I wasn't able to pick up a Vino Nobile in time for this week's column. But I did discover a nice bottle of the other Montepulciano, the one from Abruzzi, for a bargain $8.99. It's a bit on the simple and rustic side, but fine with food, and at that price, who's complaining? You'll find my notes on La Fiera Montepulciano d'Abruzzo below.
Today's Sponsor:
Treat Yourself & Save 50%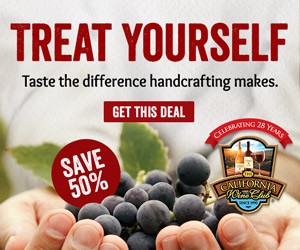 Enjoy the convenience of having hand-selected, handcrafted wines delivered to your door. Try any one of The California Wine Club's five club levels (including Aged Cabernet) and you'll save 50% on your first delivery.
The California Wine Club visits the wineries, meets the families and winemakers behind the wines and then invites them to share their favorite wines with wine club members.  Every wine featured comes from a real working winery.
If quality and service matter to you, and you've been searching for a wine of the month club to try out, give The California Wine Club a try and get to know the artisan wineries they feature.
Redeem this Offer
50% off Offer expires 10/31/2018. Some restrictions may apply.
About The California Wine Club
There are thousands of small family wineries handcrafting extraordinary wine in quantities too limited to be found in local stores or shops. In 1990 The California Wine Club Founders Bruce and Pam Boring discovered that these winemaking families were the most passionate in the wine world and that their wines were the hidden gems of wine country! Together Bruce and Pam embarked on a journey to help these artisan wineries introduce their exquisite wines to the world. Learn more.
www.cawineclub.com 1-800-777-4443
Today's Tasting Report
La Fiera 2016 Montepulciano d'Abruzzo ($8.99)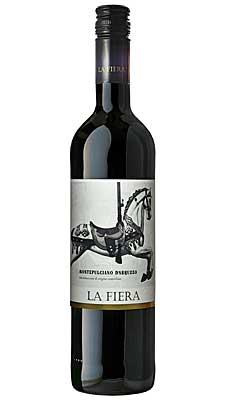 Clear dark reddish-purple, shading to a lighter garnet edge. Simple but fresh, tart cherries and blackberries with an edge of spice on the nose and palate. Fresh-fruit acidity and moderate astringent tannins surround dark fruit on the palate, with appealing cherry-berry fruit lingering in the finish. Its 13 percent alcohol doesn't overwhelm the flavor. U.S. importer: Winesellers LTD, Niles, Ill. (Oct. 25, 2018)
FOOD MATCH: The label suggests tomato-based pastas, pizza and roasted poultry, and I can sign on to all those standard options with Montepulciano. It was good, too, with spicy sausage, although the wine brought up the heat; with creamy cheese, and – perhaps surprisingly – with chocolate.
WHEN TO DRINK: The sturdy metal screw cap will help keep it fresh, but this is a wine for enjoying within the next year or two, not cellaring for years.
VALUE:
This simple, bright Montepulciano might not compete with more complex renditions at higher prices, but it's hard to beat for value at Wine-Searcher.com's $9 average retail.
WEB LINK
This importer's link offers basic information about La Fiera Montepulciano d'Abruzzo, with links to more detailed downloadable information.
FIND THIS WINE ONLINE:
Find vendors and check prices for La Fiera Montepulciano d'Abruzzo on Wine-Searcher.com.
Find dozens of other Montepulciano d'Abruzzo bottlings and vendors on this Wine-Searcher link.
More affordable wines
Want tips to more good, inexpensive wines? Here are Wine-Searcher links to vendors and prices for a bunch more wines for $10 or less that I've told you about during the past few months. Please tell us about your favorites!
Wine Forum and Social Media
If you have questions, comments or ideas to share about today's article or wine in general, you're always welcome to drop by our online WineLovers Discussion Group, the Internet's first and most civil online community.
Discussions are open for public viewing, but you must register to post. If you're a Facebook user, you can join our forum with a single click! All you need to do is visit the forum and click "Social Login" at upper right.
We'd also be delighted to have you visit and "Like" our WineLovers Facebook Page. This way you can get Facebook notifications when there's a new The 30 Second Wine Advisor issue or a topic of particular interest on the WineLovers Discussion Group (WLDG).
Subscriptions and Administrivia
Unsubscribe:
We're sorry if you must leave us, but simply click the "unsubscribe" link at the bottom of your Email edition to be instantly removed from the mailing list.
Change address:
The quickest and easiest way to change your email address is simply to unsubscribe from your old address and register again from the new one: Subscribe to The 30 Second Wine Advisor (free).
Archives:
Read nearly 20 years of past articles in the Wine Advisor Archives.
Sponsorship Opportunities:
For information, email Robin Garr at wine@wineloverspage.com