When I open a bottle of Chianti and fondly breathe in that first whiff of its characteristic spicy tart-cherry aroma, I realize that this is not just a wine that I like. It is a wine that makes me thankful.
Yes, thankful. Among all the wines that I've enjoyed over the years, there are plenty that I like. But a few go beyond that to make me happy, not just because of their taste but because of their memories. These wines actually make me grateful because they hold a special place in my memory. This may be because …
* They are associated with memories of people who were with me, the places where I consumed them, or the meals that partnered with the wine in a memorable gustatory dance.
* They play a special role in the history of wine.
* They play a special role in the history of the world.
* I learned something new when I tasted them.
* Perhaps because of the above, they are my favorites. I just plain love them.
Chianti is like that for me because it goes all the way back to the dawn of my journey with wine. I enjoyed it as a teen-ager, allowed a glass while visiting Italian-American friends in Queens and the Bronx. Ours was mixed with 7-Up, and there was nothing the matter with that. It made me feel grown-up anyway.
I wasn't much older, but able to drink legally, when I parlayed that youthful experience to make Chianti my drink of choice with pizza and pasta at Italian restaurants, and felt sophisticated because I knew the wicker-wrapped bottle was the way to go, or so I thought.
Years after that, when I started writing about wine, it went without saying that Chianti would be the first wine region I would visit outside the United States; and the memories of that trip to Florence, Montalcino, Siena and the wine villages and vineyards of the region remain vivid.
I've been back many times, and seen the wicker-wrapped fiasco bottles give way to standard bottles as Chianti – and its upscale sister "Super Tuscans" – gained respectability and, in many cases, went up in price. Sometimes way up in price. The legally allowed "recipe" changed, minimizing the old, traditional splash of white wine to temper the blend but allowing French varietals, Merlot and Cabernet Sauvignon, into the mix. More power to them. Sometimes, though, I still like nothing more than to pick up a bottle with a familiar old label, open it with a bowl of pasta or a pizza, and enjoy. With gratitude.
So, as Thanksgiving Day draws near in the United States and the winter holidays follow world-wide, that's my story. I'd love to hear yours.
Accordingly, we're inviting wine lovers to share their stories in our WineLovers Discussion Group's Wine Focus this month with a topic that's a little different from our usual regional or varietal approach: Wines that make us thankful.
I hope you'll find this offbeat question interesting and, perhaps, it will prompt us to look at the wines we love from a different point of view. Any time during the month, .
Today's Sponsor:
Wine Grape Varietal Table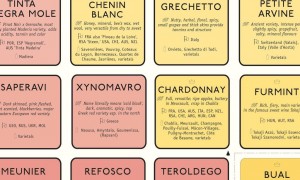 Here's a great present for friends who love wine, or for yourself! Steve and Deborah De Long's Wine Grape Varietal Table is a wine reference in the form of a fine-art print. It looks like the chemical table that we learned in school, but it replaces the elements with a world of wine grape varieties: 184 of the world's favorite grapes organized by body and acidity, clearly showing how they relate. Buy one now, or buy several! The Wine Grape Varietal Table is $25. Click here to order now.
The De Longs also produce stunning, quality poster-size wine maps of France, Italy and other regions for $14.95 to $29.95. Click here to view and order any of the De Long wine maps.
Today's Tasting Report
Ruffino 2015 "Aziano" Chianti Classico ($16.99)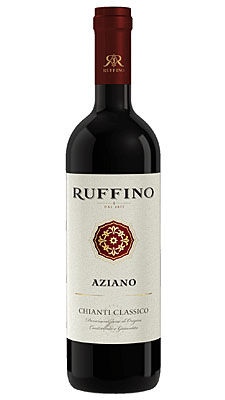 If you want a good Chianti that could serve as the picture next to the definition for Chianti in the dictionary, I don't think you could do much better than the Ruffino "Aziano" Chianti Classico featured in this week's column. It shows the reddish-purple color and ruby flashes that are typical of this beloved Tuscan Sangiovese blend, and its aroma and flavor offer the typical dark cherry and dried-cherry fruit that describe Chianti, plus a subtle earthy note. It's brisk and tart in the mouth, with rational 13 percent alcohol and the mouth-watering acidity that makes Chianti a wonderful companion with the Italian tomato flavors of pasta and pizza sauce and cheese, but it's not too harsh to sip on its own, at least not for me. Sour cherry flavors linger in the long finish, along with crisp acidity and a whiff of tannic astringency. U.S. importer: Ruffino Import Co., Rutherford, Calif. (Nov. , 2018)
FOOD MATCH: As noted, tomato-based pasta and pizza are the standard companions, but Chianti is fine, too, with red meat, game, or grilled poultry, as well as cheeses and cheese sauces that help temper its food-friendly acidity.
WHEN TO DRINK: There's no rush, although it's not a wine meant for extended aging. I'd drink it up by 2020 unless you have excellent cool-temperature storage conditions.
VALUE:
It's a splendid bargain at Wine-Searcher.com's $13 average retail, and I'm not complaining about having spent a few dollars more.
WEB LINK
Here's an English-language fact sheet on Ruffino's Aziano information page.
FIND THIS WINE ONLINE:
Check prices and find places to buy Ruffino "Aziano" Chianti Classico on Wine-Searcher.com.
Find dozens of Chianti Classico wines and vendors, plus a concise article about Chianti Classico on this Wine-Searcher link.
More affordable wines
Want tips to more good, inexpensive wines? Here are Wine-Searcher links to vendors and prices for a bunch more wines for $10 or less that I've told you about during the past few months. Please tell us about your favorites!
Wine Forum and Social Media
If you have questions, comments or ideas to share about today's article or wine in general, you're always welcome to drop by our online WineLovers Discussion Group, the Internet's first and most civil online community.
Discussions are open for public viewing, but you must register to post. If you're a Facebook user, you can join our forum with a single click! All you need to do is visit the forum and click "Social Login" at upper right.
We'd also be delighted to have you visit and "Like" our WineLovers Facebook Page. This way you can get Facebook notifications when there's a new The 30 Second Wine Advisor issue or a topic of particular interest on the WineLovers Discussion Group (WLDG).
Subscriptions and Administrivia
Unsubscribe:
We're sorry if you must leave us, but simply click the "unsubscribe" link at the bottom of your Email edition to be instantly removed from the mailing list.
Change address:
The quickest and easiest way to change your email address is simply to unsubscribe from your old address and register again from the new one: Subscribe to The 30 Second Wine Advisor (free).
Archives:
Read nearly 20 years of past articles in the Wine Advisor Archives.
Sponsorship Opportunities:
For information, email Robin Garr at wine@wineloverspage.com