Mumm Napa NV Brut Prestige ($19.99)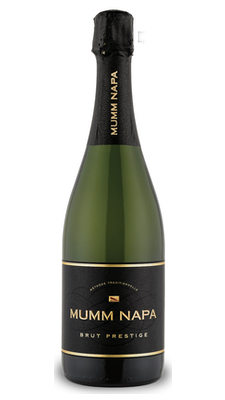 Labeled "methode traditionnelle," Mumm Napa Brut Prestige is made with a typical French Champagne blend of 45% Chardonnay and 45% Pinot Noir, plus smaller amounts of Pinot Gris and Pinot Meunier. Clear, light gold color, it pours out with a mound of white foam that falls back quickly to reveal small, lasting bubbles. Given a little time to warm in the glass, it unveils delicious, subtle scents of pears and peaches. Carbonation yields a creamy, nearly dry mouthfeel, with white fruit consistent with the nose and good, crisp acidity for balance. 12.5% alcohol. (Dec. 28, 2022)
FOOD MATCH: Assuming you aren't drinking it on its own in a celebration or as an aperitif, the producer suggests pairing it with hors d'oeuvres like crab cakes or smoked salmon; fresh green salads, or grilled chicken
and vegetables. We tried it with an Italian pasta dish, spaghetti cacio e pepe, and found the wine's acidity and carbonation did a good job of cutting through the cheesy pasta dish.
WHEN TO DRINK: Drink up, the producer says. It's not a wine meant for aging.
VALUE:
Wine-Searcher.com's $20 average U.S. retail matches my local price, which seems fair for this quality California sparkler from a French maker, although Wine-Searcher.com finds some shops offering it for $15 or less. It sells for $24 plus shipping at the winery.
WEB LINK:
For extensive information about Mumm Napa Brut Prestige, follow this winery link.
FIND THIS WINE ONLINE:
Check prices and find vendors for Mumm Napa Brut Prestige on Wine-Searcher.com.
Read more about Mumm Napa at this Wine-Searcher link and view listings for other wines from this producer.