Inflation tapered off a bit last month as gasoline and grocery prices cooled. But how about wine? Quality wine, as I've lamented before, has largely become a luxury item.
Most top-end wines have been out of my price range for years, and even relatively modest wines often bear price tags in the $20 to $30 range. At one wine shop that places its pricier wines at eye level on the upper shelves, I've taken to crouching down to peer at the dusty rows of affordable bottles down close to the floor.
We've come a long way since the 1980s, when a local wine-shop owner once told me that it was almost impossible to get people to pay more than $5 for a bottle of wine. Five dollars? Nowadays it is hard to find a really good bottle for less than $10.
But it can be done. Good cheap wine is still out there, but it takes a little work – and to be honest, at least a bit of controlling one's expectations – to locate the good values and take them home. As one wine-loving wit used to say, "You have to kiss a lot of frogs before you find a princess."
How can we improve the princess-to-frog ratio? Think ahead and plan. Consider what you like in a wine, and think about what you're willing to give up. Responding to my social media post, Jasper Russo of Sigel's Fine Wine and Spirits in Dallas, laid it out clearly: "Correct varietal character, acid/fruit balance, personality and no obvious winemaking flaws."
That's a good set of criteria for any wine at any price, and when a wine under $10 nails them all, you may want to consider backing up your truck to the wine shop door and loading a lot of it in. But again, how can you find those rare princesses lurking in the frog pond? Here are a few suggestions:
• First, narrow your search. Consider the wine styles, grapes and regions that you like, but set aside the "trophy" choices and focus on the more affordable options within those categories. We can rule out top Bordeaux and Burgundies, the best Super Tuscans and Barolos, top-name Napa Cabernets and such. But that leaves most of the rest of the world. My favorite wines tend to come from Southern France and Italy. I'll look in those sections first when I visit a wine shop, and look for the affordable choices in, for example, the Southern Rhône, Provence, and Languedoc-Roussillon in France, and the generic Toscana reds from Tuscany and Montepulciano from Abruzzo. If you just want a good, honest table wine from Southern France, you can hardly go wrong for everyday drinking with Famille Perrin Ventoux La Vielle Ferme from Provence, widely available for $9 or less.
• Consider more affordable alternatives.
Love Bordeaux? Look for some good Chilean Cabernets instead. No, they won't be the same, but with luck you'll find some of that varietal character, personality, and freedom from flaws; after all, Chile's original wine-making heritage goes back to immigrants from Bordeaux during the 19th century phylloxera vineyard plague. It's hard to beat the popular Concha y Toro Reservado Cabernet Sauvignon for a $6 value, but if that's too downscale for you, you'll find a boatload of under-$10 values from Chile's Central Valley at this Wine-Searcher.com link.
If you crave Burgundy but can't afford the high-end bottles, consider the generic Bourgogne labels; you'll still be hard-pressed to get under $10 in this niche, but you'll still save a bunch. Or look to neighboring Beaujolais, which is made from Gamay, not Pinot Noir, but shares some heritage and is even entitled to carry the words Bourgogne or Burgundy on the label. It's plenty good enough to satisfy the foodies in the region's capital, Lyon, one of France's top cities for dining.
And so it goes, around the world: If your preferred wine is too costly for you today, look for something similar but less sought-after. This may involve some sacrifice of your deepest desires, but it will save you bucks.
Also, don't be shy about asking for advice.
• Ask a friend. Ask in person, ask online. If you have wine-loving friends who might share your tastes, check in with them for good-value suggestions. I tried this on social media and got more than 50 suggestions before dinner. Were all of them to my liking? No. People's opinions and tastes vary, and that's all right. But I did find a lot of good ideas. If no one in your circle can help, drop in on our WineLovers Discussion Group or other online forums. You'll find plenty of advice. Oh, yeah, and watch this biweekly e-letter, too. I may not tell you about a $10 wine every time, but you can count on me to stay in the affordable range every time.
• Ask a friendly wine merchant. Okay, you may be feeling a little cynical about this one. Can you trust the person who wants to sell you something to advise you how to save money? Well, maybe. I might prefer to use my own judgement in a big-box or corporate chain shop. But I wouldn't hesitate to ask at a neighborhood wine shop, or a locally owned store that caters to wine lovers. These folks would rather win your loyalty with good, honest advice than take advantage of you for a few bucks in a transaction that ensures you won't come back. And while you're there, ask them about the best picks in the bargain bin!
So there you have it. It takes a little work, but yes, you can find good, affordable wines that you'll like. Like the Santa Marina Toscana Rosso featured in this week's tasting report. You'll find my notes below.
Support The Wine Advisor:
"Buy me a glass of wine"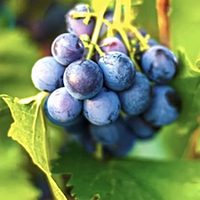 Hi, everyone! As many of you know, I don't accept free wine or other gratuities from the industry, so small donations and a select group of carefully chosen advertisers make this publication possible. Now you can lend a hand directly and cheaply: Buy me a glass of wine for just $5 to chip in on our expenses. Every ten contributions adds up to $50, enough to buy wine for review in at least two editions of The 30 Second Wine Advisor. Click to learn more!
Today's Tasting Report
Santa Marina 2020 Toscana Rosso ($8.99)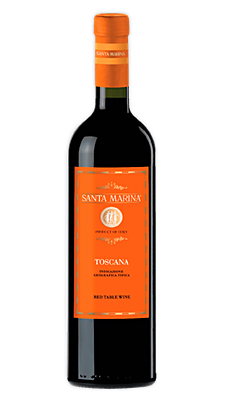 Clear, dark reddish-purple in color with a garnet edge, Santa Marina Toscana Rosso shows the typical character of a Tuscan Sangiovese-based red: Dark cherry and dried-cherry aromas lead into a fresh cherry-berry flavor shaped by a firm acidic structure, with notes of dried fruit with 12.5% alcohol in a fairly long finish. It's a simple, rather rustic, wine, but it's a pleasant and approachable table wine and a very good value. U.S. importer: Chatham Imports Inc., NYC. (Jan. 1, 2022)
FOOD MATCH: The back label suggests hearty tomato pasta dishes, roasts, pizza, and rich chicken dishes. It went very well for us with a hearty meatless lasagna.
WHEN TO DRINK: It's not going to fade in the short run, but it won't benefit from aging. Enjoy it now.
VALUE:
I thought my $9 price was a steal until I saw Wine-Searcher.com's $6 average U.S. retail; some vendors are even selling 1.5-liter magnums for less than $10. Let's face it: This may not be a great wine, but you'll be hard-pressed to find a more drinkable red table wine in the single digits.
WEB LINK:
Here's the importer's link to a page of information about Santa Marina and its wines, including the Toscana Rosso.
FIND THIS WINE ONLINE:
Check prices and find vendors for Santa Marina Toscana Rosso on Wine-Searcher.com.
Follow this Wine-Searcher link to find listings for dozens of other Toscana IGT wine values.
Wine Focus January 2023 – Benchmarks of Tempranillo
Let's get 2023 going with our first monthly Wine Focus of the new year. Throughout the year we will be exploring benchmarks, old and new, one grape per month for twelve different varieties this year.
We're starting off with Tempranillo. This is an interesting case from a benchmark standpoint, as some of the reference standard wines are not 100% Tempranillo but blends: The Rioja wines of Lopez de Heredia incorporate Grenache, Graciano, and Mazuelo. The legendary Vega Sicilia "Unico" from Ribera del Duero incorpoates a small percentage of Cabernet Sauvignon, though more than 95% of the wine comes from Tempranillo.
Tempranillo is interesting for another reason: Some of its benchmark wines have not escalated in price as much as the wines from other grapes.
We hope you'll try a bottle of a Tempranillo or Tempranillo-based blend this month, bring your comments and questions, and join us in Wine Focus for January 2023!
Today's Sponsor: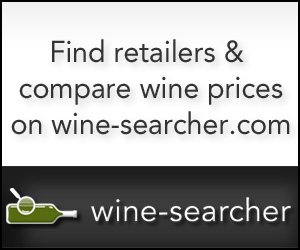 Explore Wine-Searcher
Wine-Searcher.com is the place to go online if you want to find where to buy a particular wine that interests you. What's more, Wine-Searcher.com offers so much more. It's well worth a visit just to discover its many features, including its popular list of the world's Top 10 Best Value Wines.
Good wines we've tried under $10.99!
Want tips to still more good, inexpensive wines? Here are Wine-Searcher links to vendors and prices for a bunch more wines for $10.99 or less that I've told you about in recent years. In some cases the prices may have risen over the $10.99 mark since I reviewed them, but they should still be excellent bargains. Please tell us about your favorites!
Sponsor the Wine Advisor.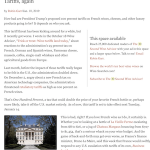 We appreciate your support
Support The 30 Second Wine Advisor and help us pay the rent while reaching 25,000 dedicated readers with your sponsorship message in this space, at the top of this E-letter, and on our social media. If you're an established business in wine, food, and similar ventures, there's no better way to focus your message toward an audience that comes here for just those topics. See our Sponsorship Page, or email Robin Garr for more information.
Wine Forum and Social Media
If you have questions, comments or ideas to share about today's article or wine in general, you're always welcome to drop by our online WineLovers Discussion Group, the Internet's first and most civil online community.
Discussions are open for public viewing, but you must register to post. If you're a Facebook user, you can join our forum with a single click! All you need to do is visit the forum and click "Social Login" at upper right.
We'd also be delighted to have you visit and "like" our WineLovers Facebook Page. This way you can get Facebook notifications when there's a new The 30 Second Wine Advisor issue or a topic of particular interest on the WineLovers Discussion Group (WLDG).