Santa Marina 2020 Toscana Rosso ($8.99)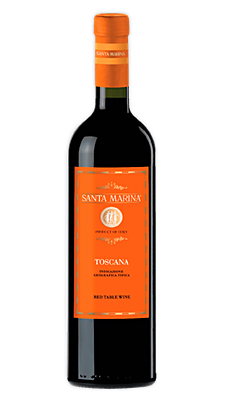 Clear, dark reddish-purple in color with a garnet edge, Santa Marina Toscana Rosso shows the typical character of a Tuscan Sangiovese-based red: Dark cherry and dried-cherry aromas lead into a fresh cherry-berry flavor shaped by a firm acidic structure, with notes of dried fruit with 12.5% alcohol in a fairly long finish. It's a simple, rather rustic, wine, but it's a pleasant and approachable table wine and a very good value. U.S. importer: Chatham Imports Inc., NYC. (Jan. 1, 2022)
FOOD MATCH: The back label suggests hearty tomato pasta dishes, roasts, pizza, and rich chicken dishes. It went very well for us with a hearty meatless lasagna.
WHEN TO DRINK: It's not going to fade in the short run, but it won't benefit from aging. Enjoy it now.
VALUE:
I thought my $9 price was a steal until I saw Wine-Searcher.com's $6 average U.S. retail; some vendors are even selling 1.5-liter magnums for less than $10. Let's face it: This may not be a great wine, but you'll be hard-pressed to find a more drinkable red table wine in the single digits.
WEB LINK:
Here's the importer's link to a page of information about Santa Marina and its wines, including the Toscana Rosso.
FIND THIS WINE ONLINE:
Check prices and find vendors for Santa Marina Toscana Rosso on Wine-Searcher.com.
Follow this Wine-Searcher link to find listings for dozens of other Toscana IGT wine values.