Beaujolais, as I've said, doesn't get a lot of respect. And that goes all the way back to Duke Philip the Bold of Burgundy in 1395.
Philip so despised Gamay, the grape that makes Beaujolais, that he outlawed it throughout the fabled Côte d'Or vineyards in his Bourgogne reign. He ordered all the region's Gamay vines ripped out by the roots and replaced with the more desirable Pinot Noir, which to this day remains essentially the only red grape of Burgundy.
Why the hate? Philip even declared Gamay "disloyal," which seems a strange thing to say about a grape. According to an article by Dustin Soiseth for this month's newsletter from importer Kermit Lynch:
It seems that Philip's subjects were flouting custom by planting Gamay in the best vineyard sites and adding it to their Pinot Noir. These medieval vignerons valued Gamay for its high yields and ease of cultivation, as well as the rich fruitiness of the wine—insurance against the vagaries of fickle Pinot Noir. But in banning the grape, Philip was thinking with his coffers as much as with his palate, because the reds of Burgundy were not only a source of pride and revenue but also a political tool, with barrels sent to leaders all over Europe. A hit to Burgundy's reputation, real or perceived, could be serious.
This may seem odd from our 21st century perspective, but Philip was the Duke, and what he said, went. Gamay was a relatively recent discovery in France, growers were excited about it, but Philip didn't want any changes in a successful formula.
But in Beaujolais just south of Burgundy, Gamay quickly became the primary grape, and it remains so to this day. Gamay thrives in the hilly, granite-laced soils of Beaujolais' best vineyard regions, the Beaujolais-Villages.
Sure, some of Philip's disdain might have carried over to the rest of the world. To this day, Beaujolais lacks the reputation, the gravitas, of sought-after wines like Burgundy and Bordeaux. Beaujolais is generally inexpensive, and much of what we see in wine shops is mass-produced for a mass market: Fruity, tasty even, but well short of memorable.
But here's something to remember about Beaujolais: It's the home region of Lyon, which many consider the gastronomic capital of France – yes, even surpassing Paris. It's no coincidence that Beaujolais is Lyon's hometown drink, made to go with the most haute of the region's haute cuisine.
In short, Gamay makes good wine, in Beaujolais and beyond, so phthbbbb, Philip the Bold. Today's featured wine is an exceptional example: Château de Varennes Beaujolais-Villages, is a very good buy at its typical mid-teens price.
Today's Tasting Report
Paying subscribers on Substack will receive an additional subscriber-only tasting report next week. (Click here if you'd like to become a paying subscriber.)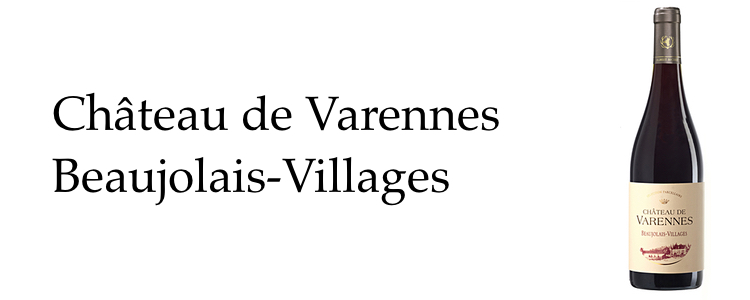 Château de Varennes Beaujolais-Villages, 100% Gamay from Burgundy producer Albert Bichot, shows a pretty dark-cherry color with a thin, clear edge. Its appealing aroma melds subtle strawberries and black plums with hints of wildflowers and stony minerality, all carrying over into a bright, briskly acidic flavor. The label indicates 14% alcohol, but the wine carries it well. Soft tannins leave a touch of astringency as plum flavors take the lead in a very long finish. U.S. importer: Albert Bichot USA LLC, Henrico, Va. (May 10, 2023)
FOOD MATCH: Producer Albert Bichot suggests cold cuts, Italian dishes or savory tarts; Wine-Searcher.com suggests pairing it with duck, goose and game birds. We enjoyed it with pasta with a tomato-based sauce.
WHEN TO DRINK: The producer recommends drinking it within three years of the vintage, which suggests the 2020 ought to be drunk up now. In my judgement, though, it's showing very well. I wouldn't cellar it any longer, but I wouldn't panic about finishing it up, either. Enjoy it this year.
VALUE:
I got an exceptional local price: $11 for this wine that shows a $16 average U.S. retail on Wine-Searcher.com. Even at a mid-teens price point, though, it's a very good value.
WEB LINK:
Here's a detailed fact sheet on this wine in English from producer Albert Bichot.
FIND THIS WINE ONLINE:
Check prices and find vendors for Château de Varennes Beaujolais-Villages on Wine-Searcher.com.
Follow this Wine-Searcher link to read more about Beaujolais-Villages and browse listings for dozens of wines of the region.
Learn more about Gamay and look for wines made from this variety at this Wine-Searcher link.
Wine Focus May 2023 – Benchmarks of Gamay
Along with Tempranillo, Gamay seems to be one of the only major red grapes that has not established an alternative benchmark outside of its home base. Yes there are delicious exceptions (Edmund St. John, anyone?), but for the most part, Gamay equals Beaujolais.
For the month of gaMay, let's explore that benchmark, and see if there are emerging benchmarks in other parts of the world. Bring your wine notes, your comments, and your questions to Wine Focus for May 2023 – Benchmarks of Gamay
Find the wines you want
Explore Wine-Searcher
Wine-Searcher.com is the place to go online if you want to find where to buy a particular wine that interests you. What's more, Wine-Searcher.com offers so much more. It's well worth a visit just to discover its many features, including its popular list of the world's Top 10 Best Value Wines.
Another way to support The Wine Advisor:
"Buy me a glass of wine"
Hi, everyone! As many of you know, I don't accept free wine or other gratuities from the industry, so small donations and a select group of carefully chosen advertisers make this publication possible. Now you can lend a hand directly and cheaply: Buy me a glass of wine for just $5 to chip in on our expenses. Every ten contributions adds up to $50, enough to buy wine for review in at least two editions of The 30 Second Wine Advisor. Click to learn more!
Good wines we've tried under $10.99!
Want tips to still more good, inexpensive wines? Here are Wine-Searcher links to vendors and prices for a bunch more wines for $10.99 or less that I've told you about in recent years. In some cases the prices may have risen over the $10.99 mark since I reviewed them, but they should still be excellent bargains. Please tell us about your favorites!
Sponsor the Wine Advisor.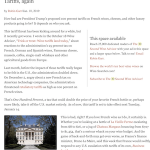 We appreciate your support
Support The 30 Second Wine Advisor and help us pay the rent while reaching 25,000 dedicated readers with your sponsorship message in this space, at the top of this E-letter, and on our social media. If you're an established business in wine, food, and similar ventures, there's no better way to focus your message toward an audience that comes here for just those topics. See our Sponsorship Page, or email Robin Garr for more information.
Wine Forum and Social Media
If you have questions, comments or ideas to share about today's article or wine in general, you're always welcome to drop by our online WineLovers Discussion Group, the Internet's first and most civil online community. Discussions are open for public viewing, but you must register to post. To request registration, please contact me at wine@wineloverspage.com, tell me your name, mention the Wine Advisor, and briefly say why you'd like to participate in the forum. Sorry about the minor red tape, but this is our simple, low-tech way to deter spammers and bots.
We'd also be delighted to have you visit and "like" our WineLovers Facebook Page. This way you can get Facebook notifications when there's a new The 30 Second Wine Advisor issue or a topic of particular interest on the WineLovers Discussion Group (WLDG).