Paying subscribers on Substack will receive an additional subscriber-only tasting report next week. (Click here if you'd like to become a paying subscriber.)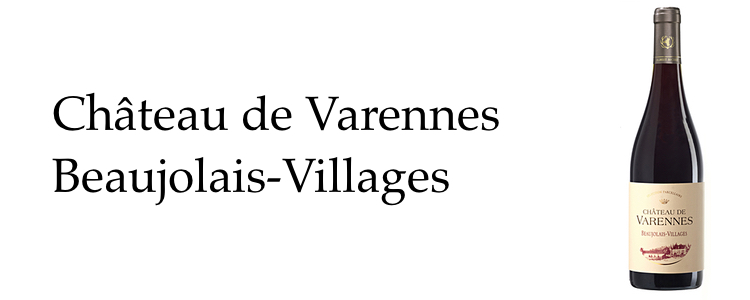 Château de Varennes Beaujolais-Villages, 100% Gamay from Burgundy producer Albert Bichot, shows a pretty dark-cherry color with a thin, clear edge. Its appealing aroma melds subtle strawberries and black plums with hints of wildflowers and stony minerality, all carrying over into a bright, briskly acidic flavor. The label indicates 14% alcohol, but the wine carries it well. Soft tannins leave a touch of astringency as plum flavors take the lead in a very long finish. U.S. importer: Albert Bichot USA LLC, Henrico, Va. (May 10, 2023)
FOOD MATCH: Producer Albert Bichot suggests cold cuts, Italian dishes or savory tarts; Wine-Searcher.com suggests pairing it with duck, goose and game birds. We enjoyed it with pasta with a tomato-based sauce.
WHEN TO DRINK: The producer recommends drinking it within three years of the vintage, which suggests the 2020 ought to be drunk up now. In my judgement, though, it's showing very well. I wouldn't cellar it any longer, but I wouldn't panic about finishing it up, either. Enjoy it this year.
VALUE:
I got an exceptional local price: $11 for this wine that shows a $16 average U.S. retail on Wine-Searcher.com. Even at a mid-teens price point, though, it's a very good value.
WEB LINK:
Here's a detailed fact sheet on this wine in English from producer Albert Bichot.
FIND THIS WINE ONLINE:
Check prices and find vendors for Château de Varennes Beaujolais-Villages on Wine-Searcher.com.
Follow this Wine-Searcher link to read more about Beaujolais-Villages and browse listings for dozens of wines of the region.
Learn more about Gamay and look for wines made from this variety at this Wine-Searcher link.
Wine Focus May 2023 – Benchmarks of Gamay
Along with Tempranillo, Gamay seems to be one of the only major red grapes that has not established an alternative benchmark outside of its home base. Yes there are delicious exceptions (Edmund St. John, anyone?), but for the most part, Gamay equals Beaujolais.
For the month of gaMay, let's explore that benchmark, and see if there are emerging benchmarks in other parts of the world. Bring your wine notes, your comments, and your questions to Wine Focus for May 2023 – Benchmarks of Gamay