Summer is here! Summer is here!
Well, okay, for the sticklers in the back of the room, the Summer Solstice is still almost three weeks off, on June 21. But it's June already, and it's hot. Memorial Day is just behind us and Independence Day is coming up fast.
So let's have a picnic! Who'll bring the wine? And, to the point of today's conversation, does dining outdoors under the summer sun (or enjoying a similar cookout-style meal in comfortable air-conditioning) call for anything different in the way of wine?
I'm going to answer that with a definite "maybe."
Maybe not: The most basic rule of wine, as I've often preached before, is "drink what you like." If you want to bring a treasured bottle from your cellar to eat with hamburgers and hot dogs on a blanket in the park, you have an absolute right to do that. But …
Maybe yes: For most of us, the informal setting of a picnic and the call of tradition suggest something more casual on the picnic table. Hamburgers and hot dogs (or nowadays, their plant-based replicas) may be the stereotypical carnivorous choices, but fried chicken, cold cuts and bread, potato salad, pasta salad, chips and dips and salsa, and plenty of deviled eggs can all find their place at a picnic.
What kind of wine goes with all those goodies? I go back to the simple but decent wines from Europe or the New World that first gained my affection. When I remember enjoying a hearty, relatively simple Chianti from a wicker-wrapped bottle or a modest Zinfandel with pizza or pasta quite a few years ago, I can transfer that happy memory directly to a picnic meal or cookout.
Those bold if rustic wines stood up well against hearty flavors, and they do the same with the possibly distracting context of picnic fare and an outdoor setting. Something more fancy and complex, on the other hand, deserves the relative calm of a quiet dinner indoors, allowing us time to contemplate both the wine and the fare.
So what's my pardon-the-expression pick for a picnic? Red wine calls my name, although I may offer some picnic whites and rosés another day. I've already mentioned Chianti, and this beloved Tuscan red – particularly at the affordable end of the range – remains a favored choice, even without the wicker bottle wrap. A decent red Côtes-du-Rhône will also do the trick, as will a Barbera or a Dolcetto from Northwestern Italy, or an affordable old-school vineyard-blend California Zinfandel.
Today's featured wine, Domaine Lafage 2020 "La Rétro" from importer Eric Solomon, takes another step toward the rustic, homey, and nostalgic. It's a field blend of Grenache (60%), Carignan (30%), Grenache Gris (7%), and the rarely seen Lladoner, a Grenache cousin (3%), all sustainably grown on 20- to 50-plus-year-old vines in the Cotes ,
La Rétro, as the importer describes it, is "unpretentious and joyful … a recreation of a style of wine from the last century." That sounds right to me. This old-school French country red is perfect for a cookout or picnic. You'll find my tasting report below.
This week's sponsor:
Give a Tasteful Gift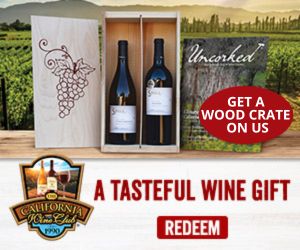 Perfect for Father's Day, college graduations, and weddings. Treat them to a tasteful wine gift featuring delicious deliveries of award-winning, handcrafted wines from The California Wine Club. The first shipment will come in a beautiful wooden wine crate.
All wine club gift subscriptions come with handcrafted wines backed by our Love it Guarantee and include:
• Uncorked®, our beautiful guide to each featured winery
• A $25 Wine Credit
• A VIP Winery Tour and Tasting invitation
See This Offer
About The California Wine Club
Since 1990, The California Wine Club has been helping artisan wineries share their small-batch wines. They visit the wineries, meet the families and winemakers behind the wines, and then invite the wineries to share their favorites with wine club members. Recommended by Food & Wine, Robb Report, the LA Times, Bon Appetit, and thousands of happy customers, The California Wine Club has been the #mostloved wine club for more than 30 years.
www.cawineclub.com 1-800-777-4443
Today's Tasting Report
Domaine Lafage 2020 "La Rétro" Côtes Catalanes "Les Années Folles" ($17.99/liter)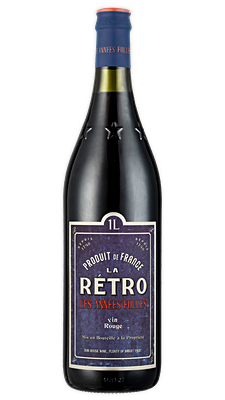 A rustic field blend of traditional grapes, Domaine Lafage 2020 "La Rétro" shows a pretty light-garnet color. Delicious scents of raspberries and strawberries and juicy ripe cherries whet your appetite for more. Cherry-berry fruit continues in the bright and dry flavor over a firm acidic foundation with light but persistent tannins gathering in the long finish. 12.5% alcohol. U.S. importer: European Cellars LLC, Charlotte, N.C., Eric Solomon Selections (May 31, 2023)
FOOD MATCH: As a dry, fruity, acidic and slightly tannic red, it would likely go where just about any simple but tasty red table wine would go: Red meat, certainly, but even better, burgers, sausages, pizza, hard cheeses, rustic bean dishes. And, of course, picnic and cookout fare!
WHEN TO DRINK: It's made to enjoy now, but I see no reason to fear that it will go over the cliff during the next year or two. Buy it and enjoy it at your leisure.
VALUE:
Wine-Searcher.com shows an $14 average U.S. retail, for a 750 ml bottle, which roughly corresponds to my $17 tab for the one-liter bottle. Either way, it's a good value and I'd gladly buy it again.
WEB LINK:
This loving reflection on La Rétro is on importer Eric Solomon's page about the wine. Click "keep reading" on the first section to see it all. Here's a link to a more detailed tech sheet.
FIND THIS WINE ONLINE:
Check prices and find vendors for Lafage "La Rétro" on Wine-Searcher.com.
Follow this Wine-Searcher link to read about Domaine Lafage and its wine maker Jean-Marc Lafage and browse retailers for the producer's other wines.
Wine Focus June 2023 –
Benchmarks of Sauvignon Blanc
Sauvignon Blanc. What can we say? It's one of the most famous grapes in the world. It's certainly one of the big three white grapes, alongside Chardonnay and Riesling. It's also quite easy to recognize in the glass, as it has some very distinctive characteristics, even if those shift depending on where the grapes are grown. Sauvignon Blanc from its ancestral home in the Loire is a very different wine from Sauvignon Blanc in New Zealand. Is Cotat the benchmark, or is it now Cloudy Bay?
Lots to unpack regarding Sauvignon Blanc, and the weather is definitely white-wine friendly in the Northern Hemisphere right now. Grab a glass and join us in let's talk Sauvignon Blanc.
Find the wines you want
Explore Wine-Searcher
Wine-Searcher.com is the place to go online if you want to find where to buy a particular wine that interests you. What's more, Wine-Searcher.com offers so much more. It's well worth a visit just to discover its many features, including its popular list of the world's Top 10 Best Value Wines.
Another way to support The Wine Advisor:
"Buy me a glass of wine"
Hi, everyone! As many of you know, I don't accept free wine or other gratuities from the industry, so small donations and a select group of carefully chosen advertisers make this publication possible. Now you can lend a hand directly and cheaply: Buy me a glass of wine for just $5 to chip in on our expenses. Every ten contributions adds up to $50, enough to buy wine for review in at least two editions of The 30 Second Wine Advisor. Click to learn more!
Good wines we've tried under $10.99!
Want tips to still more good, inexpensive wines? Here are Wine-Searcher links to vendors and prices for a bunch more wines for $10.99 or less that I've told you about in recent years. In some cases the prices may have risen over the $10.99 mark since I reviewed them, but they should still be excellent bargains. Please tell us about your favorites!
Sponsor the Wine Advisor.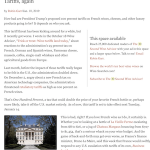 We appreciate your support
Support The 30 Second Wine Advisor and help us pay the rent while reaching 25,000 dedicated readers with your sponsorship message in this space, at the top of this E-letter, and on our social media. If you're an established business in wine, food, and similar ventures, there's no better way to focus your message toward an audience that comes here for just those topics. See our Sponsorship Page, or email Robin Garr for more information.
Wine Forum and Social Media
If you have questions, comments or ideas to share about today's article or wine in general, you're always welcome to drop by our online WineLovers Discussion Group, the Internet's first and most civil online community. Discussions are open for public viewing, but you must register to post. To request registration, please contact me at wine@wineloverspage.com, tell me your name, mention the Wine Advisor, and briefly say why you'd like to participate in the forum. Sorry about the minor red tape, but this is our simple, low-tech way to deter spammers and bots.
We'd also be delighted to have you visit and "like" our WineLovers Facebook Page. This way you can get Facebook notifications when there's a new The 30 Second Wine Advisor issue or a topic of particular interest on the WineLovers Discussion Group (WLDG).