Delaille 2022 Domaine du Salvard Cheverny Loire Rosé ($19.99)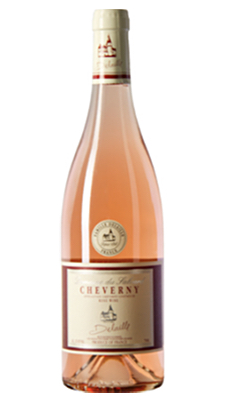 A blend of 65% Pinot Noir and 35% Gamay, Domaine du Salvard Cheverny Loire Rosé is a very pale color in the glass, just off-white with a pretty pale-pink glow; tiny bubbles line the glass and add a pleasant prickly tickle of carbonation to the wine's flavor. Light but pleasant scents of wild strawberries lead in the aroma, with a citric whiff of tangerine and a hint of fresh green herbs in the background. The flavor is prickly, bright and fresh, shaped by zippy acidity, with stony minerality showing up in a very long finish. 12.5% alcohol. U.S. importer: Kermit Lynch Wine Merchant, Berkeley, Calif. (June 15, 2023)
FOOD MATCH: Wine-Searcher.com suggests pairing it with salads and green vegetables, and that sounded good. We enjoyed it with a summer salad of roasted fresh asparagus and mild goat cheese in an oil-and-lemon vinaigrette.
WHEN TO DRINK: Even at the upper ends of the rosé spectrum I'm in favor of drinking it early. This 2022 vintage is deliciously fresh, and I'd enjoy it during the next year while it stays that way.
VALUE:
Wine-Searcher.com's $20 average U.S. retail matches my local price. It's an excellent rosé and easily justifies this price point.
WEB LINK:
Importer Kermit Lynch features Domaine du Salvard's rosé red and white bottlings on this producer page.
Cincinnati-based wine shop Hart & Cru offers a fact sheet on Domaine du Salvard Cheverny Loire Rosé at this link.
FIND THIS WINE ONLINE:
Check prices and find vendors for Domaine du Salvard Cheverny Loire Rosé on Wine-Searcher.com.
Follow this Wine-Searcher link to learn more about the Loire's Cheverny region and browse listings for dozens of its wines.