Would a rosé by any other name taste as sweet? As sultry summer comes in, I think of cool, refreshing drinks. I think I'll have a glass of rosé!
---
Thanks for your support!
• Hello from The 30 Wine Advisor! I'm delighted to have you all as readers of this biweekly edition, which will always be free, as it has been for the past 25 years. If you'd like to offer us additional support, I'd be honored to have you upgrade your status to paid subscriber. As a paid subscriber you'll receive an e-letter every week, including our new paid-tier edition with notes on wines of exceptional value in the $20=$40 range, and the ability to post comments for immediate discussion. I hope you'll seriously consider a paid subscription. I appreciate you!
---
Unfortunately, rosé wine's reputation took a hit in the U.S. during the 1970s, when the industry addressed a shortage of white grapes by creating white Zinfandel (and white Pinot, white Syrah, and a variety of other white wines) made from red grapes.
Initially these new-age beverages were vinified as dry white wines. But these white-from-red wines really took off when some wineries discovered that they sold better when they were redesigned as pretty pink and fairly sweet. Someone came up with the name "blush" wine for the genre; and before long they became a staple of the bargain bins.
Real rosé, overwhelmed in the rush, became a niche item, and it wasn't a particularly large niche. Before long, when most people called for a glass of Zinfandel in a restaurant or bar, they expected something pink, soft, and sweet. If they got a real Zinfandel, dark red, intensely fruity and high in alcohol, they'd send it right back.
But far away from the trend, rosé wines in the Mediterranean tradition – rosés from Provence, the Rhone and Languedoc in France, Rosato from Italy and Rosado from Spain – continued to offer just about everything you could want in a summer wine, or even year-round: Usually bone-dry, fresh, fruity and crisp, often showing delicious nuances of herbs and spice that evoke the lavender-scented hillsides of Provence. They're refreshing when served well chilled, and they go very well with dinner salads and light summer fare.
Rosé is traditionally made from red wine grapes, by separating the color-bearing grape skins from the colorless juice in the fermenting vessel after a short time. In this process, which is sometimes called "saignée" from the French word for "bleeding," the red skins stay in the juice just long enough to impart an attractive pink, copper, salmon or, well, rosy hue to the wine without having it reach the deep color of a serious red.
The resulting wine comes out light, fresh and crisp, and it's usually made bone-dry: a perfect wine to serve chilled on a steamy summer day. Perhaps this is why good rosé's reputation has bounced right back, and you no longer feel the slightest shame about raising a glass of something beautifully pink and delicious.
Like, for example, this week's featured wine, Domaine du Salvard Cheverny Loire Rosé.
This excellent Loire Valley rosé is made from a blend of 65% Pinot Noir and 35% Gamay from 20-year-old vines certified as having high environmental value ("high HVE"), a certification that guarantees a farm's high level of environmental performance. It's vinified in temperature-controlled stainless-steel tanks and aged on the yeast lees without malolactic fermentation.
Domaine du Salvard has been a working domaine since 1898, ¸says importer Kermit Lynch, through five generations of the Delaille family, which continues under the brother team of Emmanuel and Thierry Delaille with help from their father Gilbert. Kermit Lynch has represented Domaine du Salvard in the U.S. since 1992, a year before Cheverny was promoted to controlled appellation (AOC) status.
"To our delight," Lynch writes on the importer's website, "they have carried on the traditions established by their ancestors, producing a true, classic Cheverny that is both simple and elegant. … Gilbert and his sons have also made their own contributions to the heritage of the domaine, including the introduction of sustainable farming practices into the vineyards, as well as temperature-controlled vinification equipment to the winery."
It's a delicious, refreshing rosé. You'll find my tasting notes below.
Find the wines you want
Explore Wine-Searcher
Wine-Searcher.com is the place to go online if you want to find where to buy a particular wine that interests you. What's more, Wine-Searcher.com offers so much more. It's well worth a visit just to discover its many features, including its popular list of the world's Top 10 Best Value Wines.
Today's Tasting Report
Delaille 2022 Domaine du Salvard Cheverny Loire Rosé ($19.99)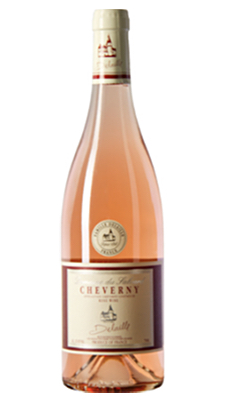 A blend of 65% Pinot Noir and 35% Gamay, Domaine du Salvard Cheverny Loire Rosé is a very pale color in the glass, just off-white with a pretty pale-pink glow; tiny bubbles line the glass and add a pleasant prickly tickle of carbonation to the wine's flavor. Light but pleasant scents of wild strawberries lead in the aroma, with a citric whiff of tangerine and a hint of fresh green herbs in the background. The flavor is prickly, bright and fresh, shaped by zippy acidity, with stony minerality showing up in a very long finish. 12.5% alcohol. U.S. importer: Kermit Lynch Wine Merchant, Berkeley, Calif. (June 15, 2023)
FOOD MATCH: Wine-Searcher.com suggests pairing it with salads and green vegetables, and that sounded good. We enjoyed it with a summer salad of roasted fresh asparagus and mild goat cheese in an oil-and-lemon vinaigrette.
WHEN TO DRINK: Even at the upper ends of the rosé spectrum I'm in favor of drinking it early. This 2022 vintage is deliciously fresh, and I'd enjoy it during the next year while it stays that way.
VALUE:
Wine-Searcher.com's $20 average U.S. retail matches my local price. It's an excellent rosé and easily justifies this price point.
WEB LINK:
Importer Kermit Lynch features Domaine du Salvard's rosé red and white bottlings on this producer page.
Cincinnati-based wine shop Hart & Cru offers a fact sheet on Domaine du Salvard Cheverny Loire Rosé at this link.
FIND THIS WINE ONLINE:
Check prices and find vendors for Domaine du Salvard Cheverny Loire Rosé on Wine-Searcher.com.
Follow this Wine-Searcher link to learn more about the Loire's Cheverny region and browse listings for dozens of its wines.
Wine Focus June 2023 –
Benchmarks of Sauvignon Blanc
Sauvignon Blanc. What can we say? It's one of the most famous grapes in the world. It's certainly one of the big three white grapes, alongside Chardonnay and Riesling. It's also quite easy to recognize in the glass, as it has some very distinctive characteristics, even if those shift depending on where the grapes are grown. Sauvignon Blanc from its ancestral home in the Loire is a very different wine from Sauvignon Blanc in New Zealand. Is Cotat the benchmark, or is it now Cloudy Bay?
Lots to unpack regarding Sauvignon Blanc, and the weather is definitely white-wine friendly in the Northern Hemisphere right now. Grab a glass and let's talk Sauvignon Blanc.
Another way to support The Wine Advisor:
"Buy me a glass of wine"
Hi, everyone! As many of you know, I don't accept free wine or other gratuities from the industry, so small donations and a select group of carefully chosen advertisers make this publication possible. Now you can lend a hand directly and cheaply: Buy me a glass of wine for just $5 to chip in on our expenses. Every ten contributions adds up to $50, enough to buy wine for review in at least two editions of The 30 Second Wine Advisor. Click to learn more!
Good wines we've tried under $10.99!
Want tips to still more good, inexpensive wines? Here are Wine-Searcher links to vendors and prices for a bunch more wines for $10.99 or less that I've told you about in recent years. In some cases the prices may have risen over the $10.99 mark since I reviewed them, but they should still be excellent bargains. Please tell us about your favorites!
Sponsor the Wine Advisor.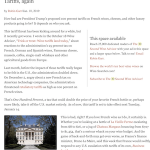 We appreciate your support
Support The 30 Second Wine Advisor and help us pay the rent while reaching 25,000 dedicated readers with your sponsorship message in this space, at the top of this E-letter, and on our social media. If you're an established business in wine, food, and similar ventures, there's no better way to focus your message toward an audience that comes here for just those topics. See our Sponsorship Page, or email Robin Garr for more information.
Wine Forum and Social Media
If you have questions, comments or ideas to share about today's article or wine in general, you're always welcome to drop by our online WineLovers Discussion Group, the Internet's first and most civil online community. Discussions are open for public viewing, but you must register to post. To request registration, please contact me at wine@wineloverspage.com, tell me your name, mention the Wine Advisor, and briefly say why you'd like to participate in the forum. Sorry about the minor red tape, but this is our simple, low-tech way to deter spammers and bots.
We'd also be delighted to have you visit and "like" our WineLovers Facebook Page. This way you can get Facebook notifications when there's a new The 30 Second Wine Advisor issue or a topic of particular interest on the WineLovers Discussion Group (WLDG).